Most portable vape pens are popular for their extremely discreet nature. In a few puffs, you get your vaping needs met. The oil and wax concentrates are known for their basic essence as they are extracted from herbs, and hence, you get the natural benefits and effects are readily felt. There are extremely low power requirements when it comes to heating up oil and wax concentrates, and this will keep you going for a longer period compared to other vape pens with different vape e-liquids.
You need a small battery cell that is enough to power your vape device and elevate your vaping experience. This article ventures into the best Discreet vapes that you can choose whenever you are looking for one in the market.
What is Discreet Vape?
A Discreet vape is a tiny vape device that is capable of offering the required vape functionality. The discreet vape devices are meant to give you the convenience you deserve when carrying out your vaping routines. You can easily carry your discreet vape device to any place you wish, and you can place it in your pocket. You can use a discreet vape device, and you can go unnoticed regardless of where you are.
This article brings you to the following most discreet vape devices that you should try out;
Thunder Stick Vape Pen
The Thunder Stick vape pen is among the best choices when it comes to selecting a discreet vape. The vape device is tiny enough to make you feel its weightless nature on your palm. This makes it ideal for you to carry it in your pocket without complaining about its weight. This vape device button is activated as it lets you enjoy the large clouds. With the single-button control, you are free to switch between the available variable power settings. You can easily adjust between 2.7, 3.1, and 3.6 volts by just clicking thrice.
If your vape device is dealing with thick oil or you are in a cold vaping environment, then you have to click the available single button twice. This will trigger the vape device to operate at a lower power level, that is, 1.8 volts for 15 seconds. This will make the vape e-liquid flow to the wick for it to be vaporized.
Mini Tank 510-Thread Vape Battery
If you are an advanced vape user, then this is your right vape device. This is the best discreet vape device that comes at a very friendly price. The vape device measures only two inches. The vape device comes with luxurious features that make it an interesting vaping companion. You will admire the long battery life it offers as it comes with a powerful 500mAh battery.
This is an awesome vape device that combines the most advanced oil vaping features and delivers them through a single vape device. You will love the hidden threading that allows it to hide the cartridge that is in the vape device's body. You will also meet the Powerwave technology that is meant to help you puff for as you wish. Another exciting feature is the automatic coil preheating. You will be required to click the device's fire button thrice for the coil to start the preheating process.
QuickDraw Vape Pen
It can be a chance that you are searching for a discreet vape device that features a powerful vape battery as well. This vape device is designed to offer a smooth and continuous vaping experience. The vape device achieves a simple design as it comes in a draw-activated make. The vape device operates at a constant controlled power of 3.7 volts. This battery power is compatible with most cartridges that you will find on the market.
There is a 510-thread dongle that is meant for charging this 280mAh battery featured in the amazing QuickDraw Vape pen. For you to conveniently charge your vape device, you have to connect the vape pen to the dongle. After this, you connect the dongle to your computer's USB port. You will have to wait for just an hour for your vape device to completely recharge.
Rage Compact 510-Thread Vape Battery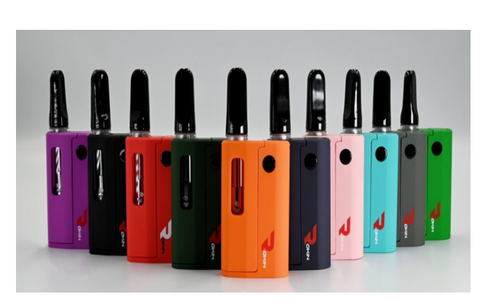 Having this vape product in your access is an underrated opportunity as you will enjoy the discreet nature that it displays. The vape device comes with a 510-thread battery, as this vape device proves to be one of the smallest vape devices you can find. The vape device measures only two inches and can perfectly fit into your pocket.
Thanks to the convenient design that allows the cartridge to hide inside the body of this device. The mouthpiece of this popular vape device is made to extend up from the top of this device to allow you to close your entire hand around the device for discreet vaping. There is a Rage's Powerwave technology feature that allows you to enjoy long and slow puffs in every vaping session. This feature works by automatically lowering the output power in a gradual manner in case you make long puffs to ensure that your coil is protected from overheating.
Frequently Asked Questions about the Discreet Vape
What features should I consider before I buy a Discreet Vape?
This is what you really expect to find in a discreet vape device;
Physical design-For a vape device to qualify to be a discreet product, it has to achieve a compact design. You need a vape device to offer you the absolute portability for you to carry it and use it with ease. The Discreet vape should also allow the cartridge to connect to threading that is recessed in the vape device's body.
The available firing mechanism-this goes with what you prefer. There are vape devices that employ the puff-activated method, and they employ on/off automation. Other vape devices allow activation by pressing the provided button. It is quite simpler and more fun if you employ the automatic firing vape devices. Whichever type you intend to use, you can still enjoy the discreet moments with dense vape clouds for you.
Availability of advanced features- This is one of the most overlooked factors, as you need to know what separates the vape device from the rest. Some of the key features for an ideal Discreet vape include the Powerwave technology. The Powerwave technology is known to lower the vape device output when the vape user employs long puffs. This will ensure the vape coil does not overheat. There is also an automatic preheating function that plays a major role in keeping the oil in the cartridge flowing to the wick for heating.
How often should I preheat my device?
It is best recommended to preheat your vape device only when it is appropriate. The only times that you are expected to preheat your vape device is when the vape device is left in the cold, or it has taken a long time since it was used. The effect of prolonged preheating is adverse as it wears out the coils. You will also receive a burnt taste from your vape e-liquid.
What size cartridge does my device come with?
A discreet vape features a 1.0 glass and a wickless cartridge that displays a 9mm in diameter. If you try to use size five tanks with a discreet as this, make the mouthpiece drop down and make it tricky when you try to remove it.
Alternative Vape Device - UPENDS UpBar GT
It is with great honor and pleasure that we introduce you to the most adorable and popular vape disposable device that brings you more than you need in a vape device. For any passionate vape who dreams of improving the vaping lifestyle, you need the UPENDS UpBar GT vape. The UPENDS UpBar GT disposable vape beats all odds to ensure that you enjoy the most recent and advanced vaping experience that will make any other vaper envious of your high vaping standards.
You will be showered with the most adorable and delicious flavors through the UPENDS UpBar GT disposable. The wonderful vape flavors include Lemon Mojito, Blueberry Peach Ice, Tigar Blood, Mixed berry, Blueberry Ice, White Peach Tea, Ice Mint, and many more hilarious flavors you can explore. All the flavors from this amazing vape device are authentic and are produced with unbelievable intensity.
This disposable vape device comes with a 2ml e-liquid capacity that permits you to enjoy up to 600 flavorful puffs. What impresses most vape users is the way the UPENDS UpBar GT offers ease of use. It employs draw activation technology that makes it easy for even a beginner to begin vaping right away.
Wholesale Vape Equipment Supplier: UPENDS
UPENDS is here to solve all your vaping worries. The UPENDS is a world-class vape equipment supplier that has gained massive adoration from those who have interacted with it. There is every reason why UPENDS should be your number-one vape equipment supplier with premium quality vape products that will help you elevate your vaping lifestyle.