Dinner Lady entered the market in 2016 when it launched its first-ever mouthwatering smack, the Lemon Tart! Since then, this brand has been greasing customers' taste buds with premium flavors in unmatched categories.
Bagging over 50 awards, including "Best Dessert Flavor" for five years in a row, the industry upholds a high-quality delivery system that exceeds the expectations of customers and counterparts alike.
Dinner Lady Disposables exist in 50 flavors that are incorporated into various mind-blowing series of vape bars and sold out to over 100 countries across the globe. This high-delivering brand boasts over 200 outstanding, work-oriented employees with due diligence in mind.
If you have not heard about this brand, this article will give you a feel for its brewing mastery.
The Dinner Lady Disposables line features many vape pens with different performance qualities. These distillates rock! From its deliciously mellowed Strawberry Ice Cream strain to its creamy candy flavor of Banana Ice, Dinner Lady enjoys tremendous attention from the cannabis community.
Let's talk about the brand's flavor profile.
Dinner Lady Disposables began as far back as 2016 with its award-winning Lemon Tart, which still currently holds sway alongside subsequent others like the popularly known Strawberry Macaroon under the Desserts series.
The brand then takes subsequent strides, including introducing the Fruits edition of Dinner Lady Disposables. Vape pens in this category are timeless and ever-refreshing. From its original Pink Berry strain to its recently excellently brewed Fruit Mix, which smacks of grapes and citrus fruits, you definitely can't get enough of Dinner Lady's brewery.
The brand keeps customers abreast of modern innovation with the launch of the Ice flavors! This edition delivers beyond expectations with six flavors: Banana Ice, Strawberry Ice, Mango Ice Smacks, Tropic Chill, Bubblegum Ice, and Lemon Sherbet Ice. This series enjoys rapid popularity in the global vape community, giving customers a classic ice buzz with their vaping experiences.
Dinner Lady Disposables also feature the menthol edition, which is perfect for menthol lovers. This series only features two specials with special effects. The menthol edition is a dispensary of quality alternatives for cigarette smokers. This category of Dinner Lady Disposables keeps vapers high with fruity flavors and menthol strains. 
While we thought there would be no more new series of vape pens, Dinner Lady crowns its mastery with yet another classic edition of the tobacco category! If you love the tobacco experience, don't worry; the Dinner Lady Disposables are here for everyone.
The brand responds to demand with its twist on the classic tobacco series of delicious flavors with a subtle woody taste. This edition is an answer to traditional tobacco smokers who are looking to transition into the vaping lifestyle without finding it strange at all.
The numerous outstanding flavors of this brand are classically incorporated into finely finished e-cigarettes and disposable vape bars with sublime features we cannot help but talk about. Introducing the Dinner Lady Disposable Vape Pen!
It is the only vape device to contain the unmatched quality of Dinner Lady's award-winning distillates ranging from the Fruits, Ice, Menthol, Sweets, Desserts, and Tobacco series. Manufactured under strict guidelines established by outstanding cannabinoid experts, the disposables are highly potent and display attractive layouts.
The Dinner Lady Vape Pen is built with a 1.5-ml e-juice capacity that is prefilled and infused with 20mg of nicotine strength. Every puff comes with a smooth mouth-to-lung buzz and mild throat hits similar to traditional cigarette smoking.
The bars feature a pre-charged Li-Ion battery of 350 mAh capacity capable of delivering over 400 powerful puffs, equivalent to 20 cigarette sticks.
With an impressive premium cotton coil that ensures streamlined vaping experiences, Dinner Lady Disposables are an easy transitional means for any smoker looking to quit smoking cigarettes.
The bars are aesthetically designed with stainless steel layouts and internally installed fiberglass airstreams, making each fireproof and able to resist 9 kg of pressure. The collaboration of its microcontroller and printed circuit board protects its battery while dispensing an adequate voltage for a smooth vaping process.
Features outline:
Delivers up to 400 puffs, equivalent to 20 cigarettes
Leak-proof, non-refillable
Comfortable mouthpiece
Silky smooth aluminum design with a fine metallic finish
Sealed and no fuss
Dinner Lady Disposable–Strawberry Ice Cream (Three Pack Vape Pen Pro)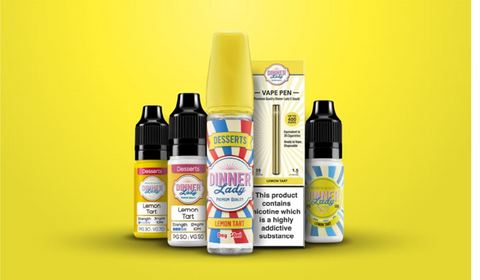 This is a clean combination of class and quality! The Strawberry Ice Cream Vape Pen Pro combines the outstanding outlook of a device with the high-performing potential of a creamy smack to take you down memory lane.
The flavor blends fresh strawberries layered with rich, juicy vanilla cream on ice to produce a long-lasting effect. The device delivers up to 600 puffs of prefilled 2 mL e-juice infused with 20 mg of nicotine strength.
Features:
The Vape Pen Pro delivers up to 600 puffs of iconic smacks suitable for all experience levels—beginners and mature vapers alike.
It comes with a prefilled 2ml capacity of e-juice and is infused with 20mg of nicotine strength. It features a 1.6-ohm coil which produces streamlined throat hits.
Its layout is structured from stainless steel and PETG rubber paint with a friendly print, making it a smooth, durable device.
The Micro Control Unit protects the battery while the Printed Circuit Board regulates voltage output for a clean vaping experience.
The device is fireproof as its internal composition consists of a fiberglassed airflow panel, making it leakproof and capable of resisting 9kg of pressure.
Each comes pre-charged and ready for vaping straightaway as you unbox.
It features a LED light indicator that blinks as one inhales or when the battery is low.
With its top-tier operational facilities in the UK, the Dinner Lady Disposables comply with the British MHRA and TBD regulations.
Usage procedure:
Unpack and remove the vape pen from the box.
The device is sealed in foil packaging that you must tear open to remove the bar.
You'll find a label at the bottom of the device as well as a silicone plug, remove and discard both.
The vape firing process is draw-activated, which means you don't need to press any buttons to start vaping. Just drag through the mouthpiece, and there you go.
The device has a LED light indicator. It will flash each time you draw a puff and when the battery depletes. You are to dispose of the device when the latter is the case.
The device is advised to be kept in a cool place with a maximum temperature of 25 °C.
Keep the device away from direct sunlight, any extreme temperature, or a place with high humidity.
Pros
Up to 600 puffs
Prefilled 2ml e-juice capacity
20mg Nicotine strength
No fuss, no leaks
Stainless Steel + PETG Rubber Paint with Silk Print design
Pre-charged 500mAh Grade-A Li-Ion battery
6ohm atomizer
Compact size
Protection Class III
Cons
No refillable
Can slip off easily for its slim and discreet layout
Dinner lady disposable—Banana Ice (Three Pack Vape Pen Pro)
The banana ice is also a unique distillate of trippy fruity buzz. It is an intelligent blend of the mouthwatering banana strain and the subtle, juicy vanilla cream, ready to get you super baked! This smack has every one of its features similar to strawberry ice but comes with its unique fast-acting effects.
The device's layout is structured with premium stainless steel and PETG rubber paint with a nicely meted silk print that makes it handle easily. It is prefilled with a 2 mL e-juice that produces up to 600 puffs.
The smack is infused with 20 mg of nicotine strength to satisfy your nicotine cravings.
Pros
Up to 600 puffs
Prefilled 2ml e-juice capacity
20mg Nicotine strength
No fuss, no leaks
Stainless Steel + PETG Rubber Paint with Silk Print design
Pre-charged 500mAh Grade-A Li-Ion battery
6ohm atomizer
Compact size
Protection Class III
Cons
No refillable
Can slip off easily for its slim and discreet layout
FAQ
How long do dinner lady disposable vapes last?
Dinner lady disposables deliver 400 to 600 puffs per pen and can last up to 2 days. However, this depends on your level of vaping experience and how often you vape.
Are Dinner Lady Disposables safe?
Yes. With its top-tier operational facilities in the UK, the Dinner Lady Disposables are all made compliant with the British MHRA and TBD regulations.
What percent is dinner lady disposable?
Each dinner lady disposable vape contains 20mg of nicotine strength.
UPENDS: A Leading E-Cigarette Brand Offering Top-Quality Vape Products Globally
We are a remarkable e-cigarette brand that offers excellent vape collections globally. Our extensive brewing system is dedicated to delivering top-notch, customer-oriented designs and manufacturing vapes from the leading e-cigarette foundry in China.
Our company provides user-friendly e-cigs and is renowned for cost-effectively supplying beautifully crafted vape products.
With the dedication of our research-oriented and highly effective production staff, UPENDS strives to offer the market even more satisfying vape items. Our brand regularly updates its inventory to provide vapers worldwide with healthier vaping options, ensuring a smoother vaping experience.
We are currently seeking approved e-cigarette agents, distributors, and wholesalers. If you meet the requirements and are interested, please contact us immediately.