The fusion of technology, design, and user-centric features in Yocan's products has redefined the vaping experience, providing a customizable and satisfying journey for users seeking an alternative to traditional smoking methods.
In this exploration, we will delve deep into the world of Yocan Vape, uncovering the technological marvels and experiential nuances that have propelled this brand to the forefront of the vaping revolution. From its inception to its current offerings, we will navigate through the elements that make Yocan Vape a driving force in shaping the contemporary vaping landscape.
Whether you're a vaping aficionado or a curious newcomer, join us as we embark on a journey to unravel the multifaceted allure of the Yocan Vape experience.
The Development Of Yocan Vape?
China's Shenzhen is the home of the corporation Yocan. To give smokers and health-conscious people the chance to select a more advantageous substitute is one of Yocan's main objectives.
This entails granting equal opportunity to all customers, especially those who are unable to acquire pricey vaporizers to assist them in getting rid of the negative consequences of inhaling smoke from burning materials and plant stuff.
Because of this, their goods are offered at competitive prices without sacrificing the quality of vaporizers that cost twice as much or even three times as much.
Yocan simply isn't in it for the money; instead, they have a deeply ingrained mission that is in line with who they are as residents of the region that gave rise to the contemporary vaporizer.
It is only fitting that a company from the motherland creates a vaporizer that the market actually requires useful, dependable vaping products that won't set consumers back an arm and a leg.
Yocan's products are marketed to a diverse group of people, including patients who are taking medications and leisure users. They even produce equipment for vocalists, performers, and other professionals who utilize specific botanical blends to manage pain and muscular spasms after or during training as well as to handle anxiety so they can remain productive when it matters most.
Yocan vapes are the preferred brand among these people. The Yocan Hive is a wonderful example because it can be used with a wide range of therapeutic essential oils and concentrates.
Pros
Stealthy design
Excellent flavor
Integrated dab container
Good included dab tool
Affordable
Good battery life
Cons
Loses volts as power declines
Quartz coils aren't the strongest
Inhales limited to 15 seconds
Why Choose Yocan Vape
Flexible Temperature
You can change the temperature using the OLED display in one-degree increments all the way up to 480°F/249°C, however, that temperature is actually high enough to cause combustion and is clearly not the optimal vape temperature for dry cannabis. To keep your herb vaped and not burned, be careful not to heat it above 430°F (221°C).
In light of that, this has one advantage: usage with concentrates! For a dry herb vape, fitting a steel mesh disc and placing concentrates on that works fantastically. As a result, it's becoming more and more common to discover inexpensive herb vapes with full temperature control, which is still pleasant to see considering the price.
Quality of Vapor
Although Yocan falsely claims otherwise, the Hit does not actually have convection vapor. It employs a typical ceramic conduction oven that is seen on both high-end and low-cost herb vaporizers.
Although conduction heat is what's happening most of the time, we think there may also be some convective heat present because this dry herb vaporizer's flavor and hit are a little bit stronger than those of other cheap vapes.
Given the price and size of the device, the vapor output is decent but the vapor path is quite short, producing a sharp but highly flavorful impact. It is inferior to certain other cheap herb vapes by a few units but in the middle of the pack.
Production Excellence
Yocan items typically fall short in this area due to their low price. Averagely crafted, the body is generally svelte. The incorporated stir tool is a incredible and useful addition despite the somewhat dull look. It's encouraging to see more units choosing to provide stir tools.
A basic kit comprising the device itself, a USB-C charger, a cleaning brush, and an instruction booklet is included in the box.
It would have been wonderful to have some cleaning supplies and a travel pouch, but we can understand why they weren't included given the low price.
Portability
One of the few dry herb vape pens on the market, the Yocan Hit is incredibly compact and amazingly portable. Even though it's not nearly as narrow as an oil pen, it still carries nicely and is very portable.
It should fit well in any pocket, and it's a wonderful idea if you want to drastically minimize the size of your carry. From a form factor standpoint, we compare the Yocan Hit dry herb vaporizer against the Focusvape Pro.
User-Friendliness
The Yocan Hit can be used in a very straightforward manner. It doesn't take much time to learn how to use it, and even sharing it with friends or acquaintances for a brief session doesn't require detailed instructions.
Another straightforward duty is keeping the Yocan Hit in top shape. Cleaning the chamber and mouthpiece is quick and simple with the help of the included cleaning brush. A thorough cleaning procedure utilizing a cotton swab moistened with isopropyl alcohol should be incorporated after about every six sessions.
This careful method guarantees the efficient removal of any accumulated residue or dirt, leaving your gadget immaculate and operating at peak efficiency.
Related Products:
Upbar-nano
The UpBAR Nano is a compact disposable vape that offers the convenience of vaping on the go. It uses FRESOR technology to maximize the use of e-liquid.
The layer-by-layer flat stacking design and cutting-edge Next-Gen Mesh Coil improve energy efficiency and boost puff count. Thanks to the patented FRESOR technology, the Nano's manufacture is entirely automated, resulting in dependable performance, giving potent flavor, superb flavor replication, thick vapor, and leakproof operation.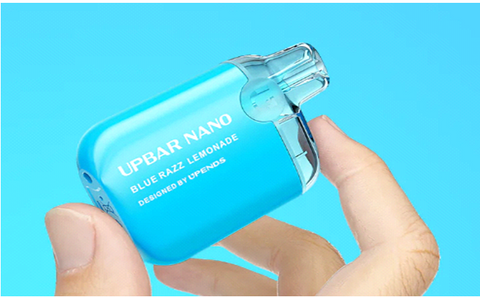 Features
0 E-liquid capacity
410 mAh battery capacity
20 mg/ml nicotine salt
0 Ω Resistance
UPENDS Mirror
The Upends Mirror vape pen boasts a chic, compact design that consistently offers a luxurious vaping experience. Its light structure and smooth surface contribute to its polished appearance. By integrating a state-of-the-art mesh coil, this device raises the bar for vapor production and ensures a more consistent and palatable flavor profile while preserving a stylish aesthetic. The Mirror is a true expert on flavors, and it's obvious.
You may enjoy continuous vaping sessions whenever it's convenient for you with a potent 500mAh battery, big 10mL e-liquid capacity, and simple Type-C charging. You won't have to worry about the battery's life or the e-liquid's level. The Upends Mirror extends an invitation to embark on an extraordinary vaping journey and pledges to enhance your vaping experience.
Features
10mL E-liquid Capacity
0Ω Resistance
500mAh Battery Capacity
Type-C Charging Port
Frequently Asked Questions
What Is A Yocan Vape Pen?
Yocan is well-known in the vaping industry for making premium vape products that are reasonably priced, as seen by their most recent product, the Yocan Hit. The company has made a name for itself as the go-to option for anyone looking to enjoy a premium vape experience without having to pay a premium price.
What Is The Duration Of A Yocan Vape's Lifespan?
Depending on the voltage settings you choose and how frequently you use it, the Yocan UNI Pro can function without needing to be recharged for a period of one to three days. Due to this function, cannabis fans who prefer not to carry a charger everywhere with them will find the Yocan UNI Pro to be especially appealing.
Best Vape Wholesale Supplier-UPENDS
Explore the wonderful world of Vape UPENDS, where innovation and fashion meet in perfect harmony. Get ready for an incredible vaping journey filled with memorable encounters. We kindly encourage you to join our vibrant community, where a number of unique deals are available to improve your vaping experience.
Vape UPENDS' cutting-edge creations, sophisticated designs, and exquisite craftsmanship are the cause of our unending happiness. Our team of skilled artisans puts their love and expertise into making flawless, exquisite creations that will dazzle your senses. We strive to awaken your sophisticated taste with every breath and to kindle an enchantment that will leave you dumbfounded at the incredible experiences we have painstakingly crafted.
Our ultimate objective is to offer a vaping experience that is unsurpassed, and we are eager to embark on this transformational journey with you. While you take a moment to unwind, let us to show you why Vape UPENDS is the best choice for discriminating against those who want nothing less than perfection.
Prepare to enter a world where imagination, style, and pure wonder converge to create an experience that will captivate you and leave you wanting more.