If you are an experienced vaper, you already know there is no way you can talk about cannabis compounds without mentioning the highly psychotropic Delta 9 THC.
Well, and if you're new to the vaping community, the essence of this article is to lead you through the nooks and crannies of this THC component, its effects, and how it is incorporated into various brand disposables.
Delta-9-THC is one of the hundreds of cannabinoids found among cannabis components. This cannabinoid is an actively predominant compound present in marijuana plants and causes the high effects obtained from marijuana consumption. It is also found in hemp plants at a relatively low concentration of 0.3% of the plant's chemical composition.
As an active cannabinoid, Delta-9 THC effectively cleaves to cannabinoid receptors distributed throughout the body to begin a chemical process in which bodily systems can control impulses. This explains its vast range of beneficial psychoactive effects that can influence your physical and mental feelings.
Little wonder Delta 9 Disposable Vape brands get increasingly popular with their ultra-potent devices and strains of trippy buzzy effects in the global vaping community.
Delta 9 Disposable Vape Brands:
Various Delta 9 disposable vape brands exist in the market, but for the sake of this article, we will consider two reliable ones.
Tre House Delta 9 Disposable Vape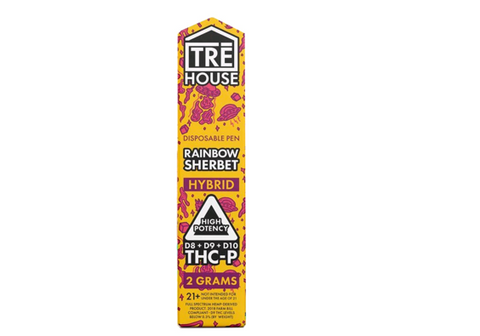 TRE House was founded on a firm foundation by an astute team of cannabis experts that have been in the cannabis game long enough to administer perfect vape products to customers' satisfaction.
The brand's products, including its Delta 9 disposable vapes, are crafted to quench your thirst with their absolute perfection and fresh fruity strains. With strain-specific THC components, no brand's Delta 9 THC comes close to the TRE House's—a composition of high-quality blends and mild psychoactive cannabinoids.
The disposables are long-lasting, potent, convenient, and user-friendly devices. Each of these contains the smart composition of Delta 8, Delta 9, Delta 10, and THC-P for an ultra-active buzz that gets you wondering why other vapers have to choose something different! It is a typical combination of unique cannabis materials with extra-potent abilities.
TRE House further takes the game to a completely different level as it introduces its Delta 9 vape cartridges with smoothly finished designs. If possible, you will fall in love with these products more than once.
Packed with interestingly trippy cannabinoids and a tasty twist of fruity flavors, you will vape your way into an elevated vaping experience. An example of this is the Tre House Rainbow Sherbert Delta 9 cart, which provides you with the sweet, creamy taste of rainbow sherbet combined with fresh, moist, sticky, and highly potent cannabinoids.
Vape Cart Features
It contains 1250mg of Delta 8 per pen
It contains 5mg of Delta-9 per pen
It contains 500mg of Delta-10 per pen
It contains 60mg of THC-O per pen
It tastes like the popular Rainbow Sherbet Cannabis Strain
It is rechargeable for maximum enjoyment
It delivers up to 800 puffs per pen
It is disposable
It is easy to use
It has a pre-charged integrated battery
It contains 2gram of prefilled e-juice quantity
Extrax Delta 9 Disposable Vape
Delta Extrax, also known as Delta Effex, is a notable disposable vape brand that also specializes in classic THC disposables with satisfying psychotropic effects. The brand has its vape THC-P products tested in the lab when they are in raw form and again when they are manufactured.
Its Delta 9 disposable vapes are a top-tier combination of properly outsourced THC-O and the legal amount of Delta 9 THC, producing a synergy of active compounds and a heavy buzz.
Delta Effex is also known for its carefully chosen hemp plant extracts. It sources only the best quality based on delta-9 THC and THC-O from fresh, typical bits of hemp. The brand is also meticulous about its infusion of terpenes in their cleanest natural forms into these vape products to bring you the fresh fruity flavors you have desired for a long time.
This company's Sugar Extrax Disposables demonstrate its brewing mastery of excellently streamlined vaping. The Sugar Extrax Disposables are a high-performing vape product with cool features enough to be loved. Its puffs are powerful and can offer an energetic buzzy headspace that lasts longer than expected.
The distillate is a combination of Delta 9 THC, THC-O, and highly delicious terpenes of various fruity undertones. It comes with a collection of widespread, predominant, unique, well-placed strains that will get you ripped the first time.
When vaping this device, you can lose track of time as its effects could be relaxing and refreshing at the same time. The device comes in a prefilled 2 grams of live resin-infused e-juice quantity. This implies that the flavor and combination of THC-O + Delta 9 THC are doubled.
Strains:
Candyland Sativa: this strain is a combination of candy-like flavor along with sweet, fruity, berry flavors blended with earthy piney savor.
Acai Berry Gelato: this flavor is a pure blend of sweet, tart berry smacks with a creamy frozen yogurt taste.
Master Kush: the smack is a mixture of traditional Hemp flavor along with sweet notes of lemon citrus.
Diablo OG: this is a unique flavor with a sweet melody of grapefruit classically blended with notes of blueberry, along with other sweet, spicy, zesty aromas.
Headbanger: the strain is known to have a subtle citrus undertone blended with diesel flavor.
OG Shark: this strain has more of a natural berry, tasty spice, and skunk type of flavor.
Features
Prefilled 2gram of live resin-infused e-juice
The device is rechargeable
NOT Refillable
Integrated 280 mAh battery
Pre-charged
Come with a USB type-C charging port
Compact size
lightweight structure
Combination of Delta 9, THC-O, and tasty terpenes
Nice collection of trippy flavors
The direction of use:
No Light when plugged into the charger: this implies that your vape device is fully charged. And if this is not the case, it is probably not working; you should contact your vendor or the company.
A white light while charging:it means the device is still charging. This takes just 1 hour or less to charge fully.
Red light: this indication means that the battery of your vape disposable is low and needs to be charged.
White light while in use: the led light indicator flashes when the device is activated. This simply means that it is in good working condition.
Feelings and Effects
The Delta 9 disposable vapes do not have a scientifically proven long-term definitive guide on their effects. Thus, this information is based on firsthand user experiences with Delta 9.
According to these pieces of information, you may experience an intense buzz, body and mental relaxation, physical relief, happy occasions, and relaxation.
However, this information is not medical advice, and the disposable device does not diagnose, treat, cure, or prevent any diseases, conditions, or any other ailment. The effects are based on firsthand user experiences; hence, you may experience a slightly different reaction.
FAQ
What Is Delta-9 THc?
Delta-9-THC is a typical THC compound known around the world among the hundreds of cannabinoids. It is a psychotropic cannabis compound with less than 0.3% THC in vape products in compliance with the Federal Act of 2018.
What Are The Benefits Of Delta-9 THC?
Delta-9-THC is known for its various wellness benefits. Vapers can use it for recreational purposes. So, we could agree that the main advantage of Delta 9 disposable vaporizers is that they get you super baked and give you a socially active feeling.
How potent is hemp-derived Delta-9 THC?
Hemp-derived Delta-9 THC disposables are generously potent and can last a long time. An example is the Sugar Extrax Disposable, which is hemp-extracted yet delivers very powerful effects. It is actually suggested that you only take one puff of it in 15-minute intervals to avoid negative side effects.
UPENDS: Delivering Exceptional E-Cigarette Vapes Worldwide
We are an exceptional e-cigarette brand that offers a diverse range of outstanding vape collections across the world. Our extensive brewing system is dedicated to satisfying the market with top-notch, customer-oriented designs and vapes manufactured by China's leading e-cigarette factory.
Our company takes pride in providing easy-to-handle e-cigs and is renowned for delivering cost-effective, beautifully crafted vape items. With the help of our research-oriented and highly effective production staff, UPENDS is capable of supplying the market with even more gratifying vape items.
We are committed to updating our product list periodically to offer vapers worldwide healthier vaping options and to provide an even smoother vaping experience in the future.
We are currently seeking the services of approved e-cigarette agents, distributors, and wholesalers. If you are qualified and interested, please don't hesitate to contact us right away!