Disposable devices have become one of the most popular ways to vape, often because they come ready to use and are more convenient than other vaping kits. The popularity of disposable and portable vape devices has grown because vaping has grown significantly as an alternative to smoking traditional cigarettes. Vaping is not just popular among those who want to quit smoking cigarettes but also with the younger generation.
Today, an array of vape options are available in vaping kits, e-liquid, and accessories. Crunch Berry Cake Disposable is one such vaping kit that is gaining immense popularity these days.
What are Disposable Vapes?
Disposable vape devices are ready to vape straight from the box and most of these handheld devices are single-use and extremely portable. Often shaped like a pen, these devices have evolved into a variety of new shapes that users can choose as per their preferences. They contain a pre-filled amount of e-liquid or e-juice, a battery, and a coil. These devices cannot be filled or recharged as they are made to be disposed of after finishing.
What is Crunch Berry Cake Disposable? 
This is a vape pen with Crunch Berry Cake e-liquid flavor and comes pre-filled and pre-charged. The effects of this flavor are quite pleasant when used carefully and in moderation. It delivers a balanced flavor that leaves users satisfied even during the initial inhale. The device comes ready to use and portable to be carried around.
The Crunch Berry Cake Disposable is designed to be portable and, therefore, travel-friendly. Most of these vape pens come in a size of around 3.5 inches and have a cylindrical shape. The packaging of the vape pen reflects the flavor packed in a colorful package. Also, it is designed to be user-friendly, making it an ideal option for beginners.
Users just need to remove the vape pen from the package, remove the cap, and start using it. Most of these pens do not have any buttons to press or settings to adjust, making them an easy-to-use and hassle-free vaping option. Also, the device is designed to be durable so that it can be used while on the go.
While talking about Crunch Berry Cake Disposable, many vape brands are selling a huge variety of products. She Hits Different, Puff Bar, Air Bar, and Hyppe Bar are some top brands in the vaping world selling a wide range of e-liquid flavors. Out of all, she hits differently has gained quite impressive attention.
Features:
Discreetly packaged
Entirely disposable
Delicious taste with a creamy cake base
A fruity and tangy element
A rich and decadent flavor
A unique vaping experience
Bright and functional package
Ideal for both beginners and experienced vapers
A moderately resistant vape pen
Easy to use
Great battery life
A sturdy and durable device
Crunch Berry Cake Disposable Reviews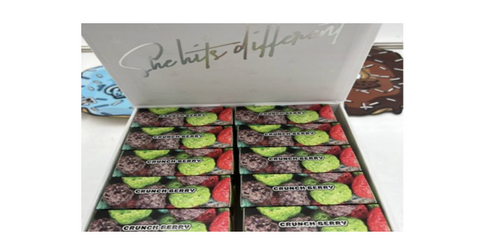 Great Battery Life
While other disposables may not have a great battery life, the She Hits Different Crunch Berry Cake Disposable offers an impressive, long-lasting battery.
A Wide Range of Flavors
Apart from Crunch Berry Cake, the disposable vaping kit is available in many different flavors like Cereal Milk, Gorilla Milk, Blueberry, Cookies & Cream, Sour Apple, and more.
A Mind-Blowing Flavor Profile
The Crunch Berry Cake Disposable vaping flavor combines the delicious taste of crunch berries topped with a creamy cake base.
It provides a rich yet smooth flavor that gives a hint of a fruity and tangy element. Some found it a perfect balance of sweetness and tanginess.
Unique Mix of Flavor and Functionality
Compared to other disposable vape pens, the Crunch Berry Cake Disposable stands out for its features, flavors, and functionality. It is neither too sweet nor tangy but comes with a fruity twist.
Features and Functionality
The Crunch Berry Cake Disposable features a sleek and compact design, making it an ideal choice for travelers. The cylindrical shape and portable design make it easy for users to carry it around.
Ideal for Beginners and Experienced Vapers
The vape pen is easy to use there are no buttons or settings, making it an ideal option for both beginners and experienced vapers.
A Moderate Resistance
When it comes to draw resistance, the Crunch Berry Cake disposable vape pens often have a moderate resistance, allowing a smooth yet satisfying vaping experience.
A Smooth Throat Hit
The Crunch Berry Cake flavor gives a smooth throat hit as it combines a wonderful mix of fruity flavors. It can be a great option for those looking for a satisfying experience with no harshness.
7 Things to Keep in Mind About Vaping Products
Before buying any vaping products, there are certain things to give attention to, such as…
E-Cigarettes Contain Nicotine
: Nicotine is a substance that may cause several health conditions and vaping products contain nicotine.
Vaping May Lead to Addiction
: Since vaping is sometimes advertised as a safe alternative to help people quit smoking, vaping itself may be addictive.
E-cigarettes Are Not Safe
: Just because vaping products like e-cigs are water vapor doesn't mean they are safe. They may have many harmful chemicals.
It is Important to Know the Product
: Vape devices are appealing to almost everyone and come in many shapes, sizes, and flavors. So, it is important to know everything before buying.
Great Quality Comes with a Price
: Although it's quite easy to find good quality vapes these days, there's nothing like heavily discounted or free stuff.
E-Juices with Higher VG taste sweeter
: E-liquids that are higher in VG cause less irritation, have thicker clouds, and taste sweeter but need to take in moderation.
Not All Wholesalers Are Reliable
: Most people search for a 'reliable vape wholesale supplier' because not all of them out there sell genuine and quality products.
FAQ: Know Your Product Better
What is the best way to find the right disposable vape device?
Researching and understanding all the possibilities is the best way to reduce options and make an informed decision. 
What does Crunch Berry Cake disposable vape taste like?
Crunch Berry Cake flavor is tangy and sweet as Crunch Berry are a deep evergreen color with a distinct sweet berry aroma.
How long does the Crunch Berry Cake Disposable battery last?
Most Crunch Berry Cake Disposable vape pens last for around 300 to 400 puffs but it may also depend on the brand you choose and how you use it.
What are the most frequently used PG/VG ratios?
The most popular PG/VG ratios include 50PG/50VG, 40PG/60VG, 30PG/70VG, 20PG/80VG, 10PG/85VG, 10PG/90VG, AD MAX VG.
Do disposable Vapes taste better?
These days, disposable vapes are dominating the vaping industry as they offer ease of use, convenience, portability, and everything at a great price.                   
What is E-Juice?
E-juice is a liquid for vape pens and consists of Vegetable Glycerin (VG), Propylene Glycol (PG), Nicotine, and Flavorings.
Is Crunch Berry Cake Disposable worth buying?
Many brands are providing a huge range of Crunch Berry Cake disposable vape devices but only some of them are of great quality.
Can Crunch Berry Cake Disposable be refilled or recharged?
The Crunch Berry Cake Disposable cannot be refilled or recharged as it is designed to be disposed of once finished.
Where to find the best Crunch Berry Cake Disposable vape device?
There is a sizable market for vape devices and you'll be bombarded with tens of thousands of options available. You can also use the store locator to locate the nearby vape shops.
UPENDS: A One-Stop Shop for All Vape Products
The vaping industry is booming and a lot of vape manufacturers and retailers are providing a huge variety of vape products. However, not all of them are worth giving your time and money to as they may lack quality or the price may be too high. UPENDS brand is a well-recognized name in the vaping industry for offering a wide range of high-quality, reliable vaping products.
From Disposables and Pod Systems to Pod Mods and Accessories, UPENDS stocks a wide range of lab-tested, genuine vape products. We follow an extensive manufacturing process to ensure customer-oriented designs and value for their money. We are a globally recognized brand name for providing user-friendly and durable vaping products at affordable prices.
It is not just the highest quality standards of the products that make UPENDS brand stand out. It is also the company's policy of using eco-friendly products and packaging that makes it a perfect choice in the vaping world. The company also has a recycling program to make sure that everyone contributes to the environment by choosing more sustainable ways for vaping.
To make a global impact, the company is looking for wholesalers and distributors at different locations. If you feel like being a part of a research-driven and innovative team, we welcome you to get in touch.