The vaping industry is flourishing rapidly, thanks to the introduction of new and innovative vape devices. Today, a lot of vape manufacturers are providing high-quality products but not all of them immediately grab eyeballs. Only a few vape brands manage to grab the attention immediately and become a buzz of the moment.
One such brand that is liked by vape users is Crave Disposable Vape. The product has gained considerable attention from both beginners and experienced vape users. But whether this disposable vape is here to stay or just fade away. Let's check out…
What is Crave Disposable?
Crave Disposable is an all-new disposable e-cigarette that comes ready to use straight out of the box. This is a disposable device that comes charged and ready to vape. When it is empty, you can just throw it away mindfully and get a new one. As it is a one-time-use kind of vape device, you can simply use it with no messy refills.
Crave Disposable Full Series Overview
Crave Vape is popular for providing best-in-class, premium-quality vape products. Here is a quick rundown of some of the most sought-after Crave Disposable Vapes.
Crave Max (2500 Puffs)
Crave Max is unarguably the best option for vaping as it is an improvised version of its predecessor, Crave +. Powered by a 1300mAh battery, this disposable vape device features a 6.5mL e-liquid capacity. It has a compact design and requires no refilling, charging, or maintenance. Moreover, it doesn't have any complex features or settings to adjust.
Best of all, Crave Max comes in 63 vape flavors. Isn't it amazing? The company provides a huge variety of flavors to satisfy even the most demanding users. The vape device comes pre-filled and pre-charged and can provide approximately 2500 vapes without running out of power. It is draw-activated and can be used right away.
Popular Flavors Available…
Blue Razz Bubblegum
Blue Razz Lemonade
Classic Tobacco (5%)
Clear (3%)
Clear (5%)
Cotton Clouds
Exotic Soda
Grape Ice
Guava Ice
Ice Blue Razz
Lady Killer
Lush Ice
Mango Ice
Mint
Mixed Berries
Passion Fruit Lemon
Peach Ice
Pina Colada Ice
Pineapple Peach Lemon Ice
Raspberry Watermelon
Red Apple Ice
Strawberry
Virginia Tobacco
Watermelon
Crave Mega (5500 Puffs)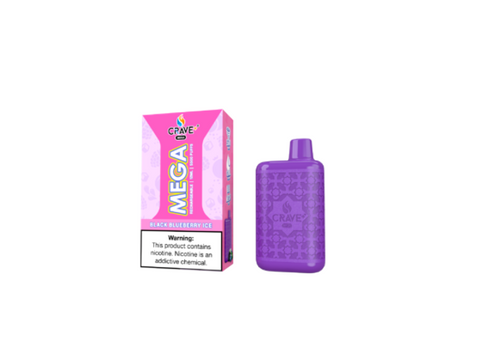 Crave Mega is known for its luxurious look, premium feel, and recharging capabilities. It comes pre-filled with a 12mL tank and supports a 650mAh battery. It is designed to deliver a whopping 5000 puffs, allowing users to satisfy their cravings. The disposable vape device features a mesh coil and has a box-like shape with engraved rubber coverings.
Although Crave Mega comes pre-filled with e-liquid, it can be recharged via any Type-C charger. The rechargeable device will take around 30 minutes to charge. It is compatible with many flavors and looks wonderful. It is designed to be aesthetically wonderful and cater to different taste buds. Moreover, it is available in different color options such as orange, blue, black, green, and more.
Popular Flavors Available…
Blueberry Ice
Black Ice
Blue Razz Ice
Cali Orange
Clear (5%)
Cool Mint
Fruit Candy
Green Apple Ice
Lush Ice
Mango Tajin
Peach Mango Pineapple
Strawberry Kiwi
Strawberry Mango
Ultra Clear (3%)
Ultra Clear (5%)
Crave Max Pro (4000 Puffs)
Crave Max Pro is a non-rechargeable disposable vape device that is designed to deliver top-notch flavor and a satisfying vaping experience. It has a 2200mAh battery packed in a compact and discreet device. The device is designed to provide convenient vaping to both beginners and experienced vapers.
It comes pre-filled with 8mL of e-liquid and provides around 4000 puffs. It is a non-rechargeable vape device which means you don't have to worry about refilling or recharging and maintaining it. As far as its design is concerned, it has a slender body and is available in many different color options.
Popular Flavors Available…
Banana Vanilla Ice Cream
Black Ice
Blue Razz Cherry Lime
Blue Razz Ice
Blue Razz Lemonade
Blueberry Ice
Bubblegum Minty
Clear (3%)
Clear (5%)
Cranberry Grape
Exotic Soda
Hawaiian Ice
Lush Ice
Menthol
Minty OG
Passion fruit Lemonade Ice
Peach Ice
Pineapple Ice/Lemonade Ice
Pink Lemonade Ice
Rainbow Clouds
Snow Cone Ice
Sour Apple
Strawberry Bubblegum/Kiwi
Triple Berry Ice
Tropical Rainbow Blast
Ultra Clear (3% or 5%)
White Gummy Bear
4 Best-Selling Crave Disposable Vape Devices
With so many Crave Disposables available out there, it can be overwhelming to pick the most suitable one. Although it will depend on your taste and preferences on what product you choose, here are some most sought-after Crave Disposables…
Crave Mega Leather Black Blueberry Ice: It is a combination of sweet and sour flavors that can refresh your taste buds. Powered by a 650mAh battery, it features a mesh coil, 12mL e-liquid capacity, and a box-like look. The device is rechargeable and can provide around 5500 puffs.
Crave Mega Leather Black Ice: It features a rich deep Blackberry flavor and comes packed with a 650mAh battery. The tank can hold 12mL of e-liquid and provides approximately 5500 puffs. This is a rechargeable device and is known for its luxurious look and premium feel.
Crave Max Blue Razz Bubblegum: It features a candy flavor and is a perfect vape device for those looking for a combination of sweet and sour. It is powered with a whopping 1300mAh battery and comes pre-filled with 6.5mL of vape juice. It provides around 2500 puffs.
Crave Max Blue Razz Lemonade: A tangy flavor for those who prefer something sweet and sour. The device features a 1300mAh battery and comes pre-filled with 6.5mL of e-juice. It provides around 2500 puffs from each device and is 100% disposable.
Crave Disposable Pros/Cons
Pros…
A huge Variety of Flavors
Easy-to-Use
Compact and Lightweight
No Maintenance Required
Seamless and Streamlined Design
No Messy Refills
2500/4000/5500 Puffs
Several Color Options
Discreet and Travel-Friendly
Huge Range of Different Models
Cons…
A lot of wastage
Not Environment Friendly
A Shorter Lifespan
May be Expensive in the Long Run
FAQs: Know Everything About Crave Disposable
What are the most popular Crave Disposable flavors?
Some of the most sought-after flavors include Grape Ice, Banana Vanilla Ice Cream, Sour Apple, Blueberry Ice, Blue Razz Lemonade, Classic Tobacco, Raspberry Watermelon, Cotton Clouds, Mango Ice, Snow Cone, and Mint.
How long do Crave Disposable vapes last?
It will depend on the Crave model you're buying, your usage, and your vaping frequency. However, if you're looking for something that provides a long-lasting vaping experience, you can go for Crave Max or Crave Mega vapes.
How to turn on the Crave Disposable Vape?
All Crave Disposable Vapes are draw-activated and all you need to do is take it out of the box and make a puff. This will automatically turn the device on and ready to use.
Can I charge Crave Vapes?
All Crave Vapes are non-rechargeable except Crave Lux and Crave Mega. The disposable vapes come pre-filled with an e-liquid and cannot be charged.
What nicotine strength does Crape Disposable Vape offer?
You can choose from a variety of nicotine strengths, ranging from 0 to 5% as per your taste and vaping needs.
How many puffs are there in Crave Vapes?
The Crave+ provides around 1000 puffs while Crave Max is designed to provide approximately 2500 puffs. The Crave Mega can satisfy your taste bus with around 5500 puffs while Crave Max Pro offers around 4000 flavorful puffs.
Why Should I Buy a Crave Disposable Vape?
The all-new Crave Disposable e-cigarette comes pre-filled and pre-charged. It means you can use it right away without worrying about messy refills or charging it.
UPENDS: Your Best Place to Find Quality Vapes
UPENDS Brand is a renowned name in the vaping world and offers premium-quality products at the most reasonable prices. The company is dedicated to revolutionizing the vaping industry by providing the most innovative and customer-oriented vape products.
Some of the best-selling products include UPENDS Mirror which combines state-of-the-art technology and UPENDS UpBar which is inspired by the sports car. These two devices bring a new level of vaping experience and sophistication to the vaping community.
Mirror Vape series has some amazing features such as Magnetic Siphon Technology, a leak-proof design, and a consistent flow of e-liquid. Moreover, it has an intuitive airflow control, long-lasting batteries, and versatile coil compatibility for a smooth vaping experience.
Furthermore, the teams at UPENDS believe in research and development to create a vaping
experience that not only provides complete satisfaction but also surpasses all expectations. Therefore, the entire product lineup is known for its style, functionality, and convenience.
Interested in becoming a Crave Vape reseller? UPENDS is currently looking for vape distributors and agents in different locations. Contact us to find out more about it…