Are you ready to embark on an interstellar journey of flavor and relaxation? Galaxy Treats presents their latest creation: the THC-O and HHC Blast Bars. These meticulously crafted disposable vape devices are designed to take you on a cosmic adventure, all while indulging in the benefits of hemp-derived extracts.
With each Blast Bar containing 2 grams of carefully infused hemp extract, you have the choice between two distinct cannabinoids: THC-O and HHC. Get ready to explore new dimensions of enjoyment as we delve into the captivating world of Galaxy Treats THC-O and HHC Blast Bars.
What sets THC apart from HHC?
When comparing HHC and THC, whether referring to delta-8 or delta-9 variants, both are cannabinoids that share similarities in their structure and impact on the endocannabinoid system. HHC, like delta-8 and delta-9, possesses psychoactive properties.
However, HHC is significantly less potent than either delta-8 or delta-9. Delta-9, in particular, is twice as potent as delta-8, while HHC is even less potent than delta-8. It's worth mentioning that the manufacturing processes of HHC can produce two distinct forms of the molecule: 9R HHC and 9S HHC.
While 9R HHC binds to cannabinoid receptors in the endocannabinoid system, the 9S molecules do not exhibit a significant affinity for these receptors. Unfortunately, separating the two molecules during synthesis is a challenging task, resulting in a mixture of active and inactive compounds. As a result, most consumers may require a higher dosage of HHC to experience any psychoactive effects comparable to delta-8 or delta-9.
What are THC-O Blast Bars Disposable Vapes?
The Blast Bars THC-O Disposable Vapes by Galaxy Treats are portable and convenient disposable vaping devices. Designed with a compact form factor, these devices are easily carried wherever you go. Each Blast Bar features a pre-charged integrated battery, eliminating the need for external charging.
What sets these devices apart is that they come pre-filled with 2 grams of THC-O and strain-specific terpenes, ensuring a flavorful and enjoyable experience with every puff. With a generous 2mL capacity of THC-O and an array of delightful flavors, such as the popular Orbital Peach, these Blast Bars are sure to become your go-to choice. Whether you prefer Sativa, Indica, or Hybrid strains, these THC-O Blast Bars offer a convenient and pleasurable vaping experience.
THC-O Blast Bars Disposable Vape Flavor Reviews
Gravity Melon
Gravity Melon is undoubtedly a flavor you'll want to take into consideration because it offers an intriguing flavor that is all about the taste of melons. It is an indica strain that will help you relax completely from head to toe and lighten your mood.
Pineapple Eclipse
Pineapple Eclipse is the flavor you've been seeking, creating yet another gorgeous flavor. It gives you a juicy, tasty experience that never gets old while delivering the essence of pineapple. This Sativa strain's energizing properties should keep you moving throughout the day.
Solar Stranana
Solar Stranana is just what you've been seeking, boasting a complex flavor that you'll want to puff on whenever you get the chance. Delicious strawberries and bananas are combined in this fruit. It is a Sativa strain that energizes you with each hit.
Orbital Peach
Orbital Peach is an extraordinary hybrid strain that captivates your senses with its luscious, delightful, and exceptionally potent qualities. Each inhalation offers an astonishing burst of flavor that perfectly imitates the exquisite taste of peaches. Prepare to be transported to euphoric heights as this strain's remarkable effects launch you to the moon.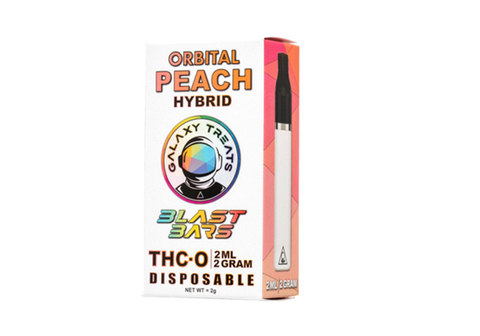 What are HHC Blast Bars Disposable Vapes
The HHC Blast Bars Disposable Vapes is a range of portable and convenient vaping devices offered by Galaxy Treats. These disposable vapes are designed with a compact form factor, making them easy to carry and use on the go. Each Blast Bar comes pre-filled with 2 grams of HHC (hexahydrocannabinol) and is infused with strain-specific terpenes, delivering a flavorful and satisfying vaping experience.
With a generous 2mL capacity, the HHC Blast Bars offer ample vaping sessions. They are available in a variety of flavors, providing options to suit different preferences. Whether you're in the mood for the enticing taste of Gravity Melon, the refreshing Pineapple Eclipse, the captivating Solar Stranana, or the juicy Orbital Peach, the HHC Blast Bars possess a flavor that will satisfy your palate.
These disposable vapes are a convenient option for those who want to explore the benefits of HHC without the hassle of refilling or recharging. Simply enjoy the flavor and effects of HHC with each puff, and dispose of the device when finished. The HHC Blast Bars are a great choice for those seeking a portable and enjoyable HHC vaping experience.
Galaxy HHC Blast Bars Disposable Vape Flavor Reviews
Cosmic Cherry
Prepare to be transported to a cosmic realm of flavor with Cosmic Cherry. This HHC Blast Bar flavor captures the essence of succulent cherries, delivering a burst of sweet and tangy goodness with every puff. Indulge your taste buds and experience the delightful combination of cherry's natural sweetness with the unique touch of the cosmos.
Galactic Grape
Embark on a galactic taste adventure with Galactic Grape. This HHC Blast Bar flavor brings you the irresistible essence of juicy grapes, offering a refreshing and satisfying vaping experience. Immerse yourself in the delightful flavors reminiscent of vine-ripened grapes, and let the cosmic grape flavor transport you to the vast expanse of the universe.
Lunar Lemon
Experience the zest and vibrancy of Lunar Lemon, a flavor that captures the essence of freshly squeezed lemons. With its bright and tangy profile, this HHC Blast Bar flavor provides a refreshing burst of citrusy goodness. Let the Lunar Lemon flavor awaken your senses and uplift your vaping experience to new heights.
Planet Blue
Discover the enchanting flavor of Planet Blue. This HHC Blast Bar flavor combines the essence of juicy blueberries with a hint of mystery, creating a truly captivating taste experience. Immerse yourself in the deep and rich blueberry notes, and let the flavor of Planet Blue take you on a cosmic journey of delectable indulgence.
Features
Capacity: 2 grams (2000mg)
Battery: Built-in rechargeable battery
Cannabinoids: Delta-8, THCo, Terpenes
Concentrate: Distillate
Heating Element: Ceramic Coil
Activation: Draw-activated
LED Battery Life Indicator Light
Chassis Construction: Polycarbonate
Less than 0.3% Delta-9 THC
No fillers
3rd Party Lab Tested
Charging Port: Type-C
Why choose  Galaxy Treats THC-O And HHC Blast Bars
High-Quality Products: Galaxy Treats takes pride in manufacturing high-quality products. Their THC-O and HHC Blast Bars are crafted with care, using top-notch, industrial hemp and undergoing third-party lab testing for potency and purity.
Variety of Options: Galaxy Treats offers a range of options with their THC-O and HHC Blast Bars. You can choose between different cannabinoids, such as THC-O and HHC, allowing you to explore different experiences and effects based on your preferences.
Flavorful Experience: Blast Bars are available in various delicious flavors like Cosmic Cherry, Galactic Grape, Lunar Lemon, and Planet Blue. These flavors have been meticulously created to offer a gratifying and enjoyable vaping experience.
Compliance with Legal Limits: Galaxy Treats ensures that their THC-O and HHC Blast Bars contain less than 0.3% Delta-9 THC, complying with the legal limits set for hemp-derived products.
Trust and Transparency: Galaxy Treats prioritizes the trust of its customers. By subjecting their products to third-party lab testing, they demonstrate their commitment to transparency and provide assurance regarding the quality and purity of their products.
FAQs About Galaxy Treats THC-O And HHC Blast Bars
Are the HHC Blast Bars tested for quality and purity?
Yes, all Galaxy Treats products, including HHC Blast Bars, undergo third-party lab testing to ensure potency, purity, and safety.
Are HHC Blast Bars safe to use?
Galaxy Treats takes pride in manufacturing safe and high-quality products. However, it is essential to follow the recommended usage guidelines and consult with a healthcare professional if you have any specific concerns or medical conditions.
Best Vape Wholesale Supplier-UPENDS
Explore the world of Vape UPENDS, where innovation and style are seamlessly woven together, on a fascinating journey. Prepare to go on a captivating vape adventure that will leave you in awe. We cordially invite you to become a member of our community, where you'll find a wealth of exclusive offers created to further your enjoyment of vaping.
At Vape UPENDS, we are extremely proud of the cutting-edge inventions, sophisticated designs, and thorough attention to detail that we produce. Our talented artisans work tirelessly to create perfect, gorgeous products that will arouse your senses. Every time you breathe in, we work to titillate your sophisticated taste buds, kindling a sense of enchantment that will leave you astounded by the remarkable experiences we have in store.
Our main goal is to give you a remarkable vaping experience, and we are pleased to set out on this transformative adventure with you. So, relax for a while and allow us to show you why Vape UPENDS is the top option for discerning customers who want nothing less than the best. Get ready to immerse yourself in a universe where wonder, creativity, and fashion collide to create an experience that will have you enthralled and wishing for more.