In recent years, vaping has been extremely popular with more and more people shifting from traditional ways to more innovative alternatives. Disposable vapes have taken off worldwide due to the ease of use and convenience to carry they offer. Also, the abundance of options available makes them everyone's favorite.
For those looking for a rich and intense flavor, a coffee-flavored disposable vape can be a handy pick. Coffee lovers are going gaga over it as they wonder how it might feel to inhale their daily caffeine using a disposable vape. We've also heard many times that nicotine pairs great with coffee. So here's it - coffee-flavored vapes…
What is a Coffee Flavored Disposable Vape?
Yes, coffee vapes are now a thing as vapers look for more innovative and unique vape products. These are designed to keep users energized without actually sipping coffee as according to its manufacturers, it's a coffee alternative. It is a discrete option available for coffee lovers who want something strong and tasty without the smell or mess of traditional drinks.
Coffee-flavored disposable vapes come pre-filled with e-juice that comes in a wide variety of distinct flavors and here we talk about coffee. The salt nicotine juice is made to take like coffee and it can be a rare treat for vape users as there aren't a lot of coffee vapes out there. As these devices  come pre-filled with e-juice, users can easily dispose of them after use.    
Product Highlights
Strong blends of caffeine
Rich and intense flavor
The immense variety of vapes available
Blended with cream to complement the rich coffee flavor
The convenience of a pre-filled vape device
Easy to use and requires no maintenance
An alternative to traditional coffee drinks
Compact disposable vape pens or pods make smoking simple
The hassle-free alternative to traditional coffee
Great quality at an affordable price
Optional in choosing nicotine strength
No annoying odor
Portable to be carried around anywhere
Best Coffee Flavored Disposable Vape Brands to Consider
Coffee-flavored disposable vapes have seen explosive growth over the last few years and have become the hottest-selling products across the world. There is a mountain of flavors available out there which is great but can also make it difficult to pick the right one. There are many brands out there providing a huge variety of coffee-flavored disposable vapes and below mentioned are some popular names…
Fizzy Juice: It is the most popular vape pen with coffee flavor as voted by vapers. Fizzy Juice Hazelnut Coffee features a mix of coffee and hazelnut flavors.
Vape Club: It offers coffee vapes with a blend of cream and milk. The top products include Espresso Elux Bar 600, White Russian Cream DotMod Dot E, Coffee Ice Beco Bar 2, and Cappuccino Elf Bar Cigalike disposable vapes.
Salt Switch: Salt Switch Disposable Vape pod coffee tobacco flavor is known for its ergonomic design and smooth puffs.
Puff Bar: The brand offers some great coffee flavors such as Cappuccino, Americano, and Cafe Latte.
GST Plus Vape:GST Plus Coffee disposable vape features a strong and aromatic coffee taste. It brings a whole new level of vaping to users.
The above-mentioned are just a few popular vape brands and it's time to know some of the most favored coffee-flavored disposable vapes…
Most Favored Coffee-Flavored Disposable Vapes
Fizzy Juice Hazelnut Coffee Disposable Vape
Hazelnut is said to be a perfect match for coffee and this product from Fizzy Juice, a UK-based company, comes in 10mg and 20mg nicotine strength. It is a compact device that comes with pre-filled e-liquid and has a capacity of 1.3ml and is designed to be compact and easy to use.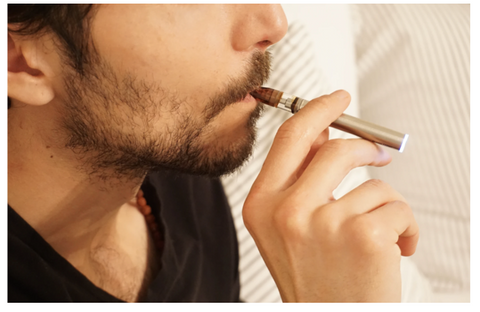 Features:
A moreish coffee blend
A rich hazelnut aroma
Compact and convenient vape disposable kit
600 puff per bar
Beginner-friendly and easy to use
10/20mg Nic Salt
Smooth and satisfying throat hit
GST Plus Coffee Disposable Vape 
GST Plus Coffee Disposable Vape comes pre-filled with e-liquid coffee flavor and can be a great option for individuals who are looking for a simple, travel-friendly option. The device is designed to be simple as it can be activated by inhaling on the mouthpiece.
Features:
600 puffs
Designed for a single use
No charging or maintenance required
Compact and portable
A built-in battery
Salt Switch Coffee Tobacco Disposable Vape
Salt Switch Coffee Tobacco Disposable Vape features a mix of Coffee and Tobacco Flavors. As per many users, it tastes extremely good with no overpowering taste of coffee. The device is popular for its ergonomic and leakproof design and soft-touch surface. It can be a great option for those who are looking for a pocket-sized disposable vape pen.
Features:
Coffee and Tobacco flavors
Nice and smooth hit
350mAh battery capacity
2ml e-juice capacity
20 mg/ml nicotine
Coffee-Flavored Disposable Vape Reviews: Is It Worth Spending?
Flavor preferences in disposable vapes are unique to each individual but the coffee flavor is gaining huge popularity among vape users. Coffee is a popular vape flavor that rose in popularity and today almost every vape juice manufacturer is coming up with some great options and coffee-packed vape pens and pen pods.
The coffee-flavored e-liquids are rich and intense in flavor. They are commonly blended with some cream to accentuate the overall flavor. The form of e-cigarette is designed to give the taste and aroma of coffee to coffee lovers. The disposables come pre-filled with e-juice that can be inhaled in the form of vapor and when finished the device can be disposed of.
Some popular options that are reviewed and rated by vapers include…
Vanilla Coffee E-Liquid
Hazelnut Nic Salt E-Liquid
Crispy Coffee E-Liquid
Butterscotch Nic Salt E-Liquid
Caramel E-Liquid
Maple Syrup Nic Salt E-Liquid
Caramel Latte Nic Salt E-Liquid
White Chocolate Mocha E-Liquid
Flat White Brewed E-Liquid
Maple Syrup E-Liquid
Cappuccino Tobacco E-Liquid
Salted Caramel E-Liquid
Mocha Frappe Latte Brewed E-Liquid
White Chocolate Mocha E-Liquid
Coffee Milk E-Liquid
Hazelnut Latte E-Liquid
Coffee vapes are becoming the next big thing as vape manufacturers and retailers are advertising them as an alternative to morning coffee. It can also be used as an all-day vape for users who happen to be coffee lovers. Most of these flavors come as straight coffee while some are also available as a mix with mocha or vanilla flavors.
FAQ: Know Your Products Better Before Buying
Is there a coffee-flavored disposable vape?
Yes, there are many coffee-flavored disposable vapes available out there for people who love coffee. Coffee nic salts e-liquid are made to provide the strong yet smooth aroma of coffee.
Do coffee-flavored disposable vapes have caffeine?
Although coffee or chocolate-flavored vaping products are marketed to contain low caffeine, they still have nicotine that can be harmful to health if not used correctly and in moderation.
What vape flavor goes perfectly with coffee?
Though this depends on the user's taste, some flavors go perfectly well with coffee such as tobacco, reserve blend, vanilla, and caramel tobacco.
What should be avoided while using a disposable vape?
It is recommended that users should not just throw e-cigs or their components into the trash, but should be taken to hazardous waste facilities.
Are coffee disposable vapes safe?
Coffee vapes may be flavor-fueled to get people addicted to nicotine substances and therefore should be taken in moderation and with utmost care.
Are there any side effects of caffeine vapes?
Consuming too much caffeine in any form can be harmful to health and can lead to symptoms like upset stomach, lightheadedness, rapid heartbeat, and more.
What does the coffee vape taste like?
Most coffee vapes taste rich just like drinking a cup of coffee and some also come with flavors like vanilla.
UPENDS: A Platform to Find the Best Vape Products
UPENDS brand is known to stock a huge variety of vape products including disposables, pod systems, pod mods, and accessories. The company specializes in manufacturing and supplying high-quality products that are made in a controlled environment and tested for safety. They offer a wide range of products and are committed to using the best materials to ensure safe and reliable products.
Moreover, UPENDS is a reputed brand name in the vaping world and looks for distributors to expand its business to new locations.  
Caution
All being said, vape devices contain nicotine regardless of their flavor and can be addictive. Users should take them with caution and in moderation.