In the present day 21
st
century, it is remarkable to see how the world of vaping has evolved beyond the exhalation of cannabis. Tools like vape pens are now used to offer a more relaxing, unique, and eye-opening experience. Little wonder why they are a fan favorite in the cannabis community.
Irrespective of this notable achievement, the one major issue that is often difficult to tackle is finding the perfect vape pen that would best suit your taste and preferences. Fortunately, you don't have to worry anymore as here is a well-researched review on some of the best Coffee Disposable Vape Pens, which includes all you need to know about the brand and if it is the appropriate product for you.
What is a Coffee Disposable Vape?
Coffee Disposable Vapes are self-explanatory; they are a kind of e-cigarette manufactured to provide consumers with a caffeine kick accompanied with a satisfying hint of the flavor of the coffee. One could also say that they are designed to give users that aroma and taste of coffee while simultaneously offering a portion of nicotine through an aerosolized vapor. The product or vape pen usually comes with a pre-filled e-liquid cartridge, which is heated by an an atomizer and transformed into steam. Once it has been exhausted, it can be easily disposed of.
One factor that has greatly contributed to the rise in popularity of the Coffee Disposable Vape is on account of their convenience, steady increase in demand, and unique flavoring. They are fast becoming a credible alternative to traditional coffee consumption. It is no surprise that they are now a personal favorite among the vape and coffee enthusiasts.
In addition, these products are designed to be portable, discreet, and easy to use. But it is necessary to understand that they contain nicotine that can be additive, which is why it is advised to be used only in moderation and with high caution.
General Features
Design
One prominent feature of the Coffee Disposable Vape is its sleek, simple, and convenient design. Its compact size also allows for easy handling. Not to mention that it is the perfect tool if you are looking for something more discreet. It doesn't need any special skill or knowledge, and you can easily have it on you, either in your back pocket or purse, anywhere and anytime. All of these perks go a long way toward enhancing the overall vaping experience of the user.
Ease of Affordability
With any disposable vape pen, one thing that attracts users is its price level. Most people want the best but don't want to part away with a huge chunk of their cash. This is where a Coffee disposable vape pen comes in as you get the best of both worlds; a lot of disposable coffee vape pen manufacturing companies prioritize high quality and low cost, which is why today you can get a coffee-flavored disposable vape pen at the most affordable of prices and still benefit from its top-notch quality and product packaging.
No Maintenance/Cleaning needed
Another major feature of a disposable vape pen is that compared to other vape pens; they barely require the slightest cleaning or general maintenance. After the content has been exhausted, you can easily dispose of the vape or recycle it. This is one core reason the disposable vape is highly advisable as a suitable device for first-timers. In addition, you can use your pen to the best of their potential and enjoy a relaxing, convenient, and positive vaping experience.
Great Coffee Taste
The coffee taste will definitely not come as a surprise as it is in the name. One thing that is common with every disposable coffee vape is that they provide the user with the aroma and taste of coffee. So if you are a coffee lover and a vape enthusiast, it is a "win-win" for you as it is the perfect blend of both coffee and vaping, the best of both worlds if you ask me. In addition, the taste is exquisite and capable of giving you that kick to prepare you for the day's challenge.
So what are the top Coffee Disposable Vape Pens to check out? Here are our best picks and what we think you should know about them.
Relevant YouTube videos
Coffee Disposable Vape Review: Is Coffee Disposable Vape Pen Good?
Salt Switch Coffee Tobacco Disposable Vape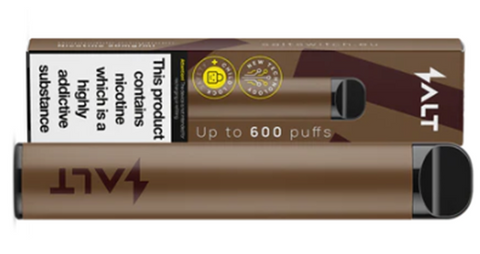 This brand of disposable coffee vape is a perfect blend of coffee and tobacco flavoring. It was manufactured by a US-based company known as Salt Switch, which area of expertise revolves around nicotine salt e-liquids and disposable Vape pens. This disposable vape pen is easy to use, compact, and discreet, and comes pre-filled with an e-liquid ready to use.
It also contains a nicotine strength of 50mg 0r 5%, which is equal to about 300 puffs. It is a good option for those interested in a complex and unique flavor profile. Similar to any disposable pen, it is highly advisable to store it directly away from sunlight in a cool dry place when not in use to ensure that it retains its flavor and performance.
Features
Decent battery life
Lightweight and compact build
Multiple flavors
Guarantees up to 300 puffs
It contains 50mg of nicotine
Pros
Easily Affordable
Requires no maintenance
Allows for discreet use
High-quality product packaging
Standard pull-to-inhale disposable pen
Cons
It contains nicotine which is an addictive substance
It cannot be reused
GST Plus Coffee Disposable Vape
The GST Plus Coffee Disposable Vape is a category of e-cigarettes that comes pre-filled with coffee-flavored e-liquid. It is specifically made for single use and does not need charging or any form of maintenance. Another notable feature of this device is that it is portable and compact, making it perfectly suited for use when you are on the good. It is also easy to use and mainly requires inhaling on the mouthpiece.
Features
Capable of delivering over 500 puffs
High-quality flavor
Simple and sleek design
Disposable/Rechargeable
Efficient battery life
Pros
Lightweight and portable
Offers a relaxing and elevating experience
Perfect for coffee enthusiasts
Easily Affordable
Requires little to no maintenance
Cons
Not advisable for long-term use
It contains nicotine which can lead to addiction
FAQs about Coffee Disposable Vapes
How does a Coffee Disposable Vape work?
As earlier implied, the coffee disposable vape is not difficult to navigate and very easy to use. This device works by heating up the device's content through a coil or heating. Once the e-liquid in the vape has been heated, it transforms into the vapor that the user inhales. The vapor, in turn, delivers the nicotine and coffee flavor contained in the device to the user.
What are the benefits of using a Coffee Disposable Vape?
In retrospect, there are countless benefits, but one of the major advantages of this vape is that it offers convenience to the user, especially as it comes equipped with e-liquid. In addition, it also doesn't require any special maintenance or cleaning. It is also easy to use and is a perfect discreet option for people who are looking to enjoy the taste of coffee without having to go through the mess or smell of traditional coffee drinks.
Is the Coffee Disposable Vape Safe?
The safety of the Coffee Disposable Vape is greatly determined by the type and quality of the ingredients used and the manufacturing process it undergoes. Some disposable vapes usually contain contaminants or harmful agents that can be hazardous to a person's health. It is important to only purchase directly from a highly reputable brand and also endeavor to thoroughly read reviews before buying any disposable vape of any kind.
Are there any downsides to using a Coffee Disposable Vape?
A major downside to using the coffee disposable vape is that it may not necessarily offer the similar satisfaction that you get from a traditional coffee drink. It is also essential to understand that disposable vapes are not exactly environmentally friendly, and when used frequently, the cost tends to add up.
Where can I purchase a Coffee Disposable Vape Pen from?
Purchasing directly from a trusted brand online page or a local retailer near you is essential to get only the best Coffee Disposable Vape Pen. UPENDS is one retailer with an amazing reputation for high-quality vape products. Also, research the brand and the products before buying, as this could make the crucial difference between getting the best quality or below standard device.
Best vape wholesale supplier-UPENDS
Looking for top-notch vaping products at affordable prices? UPENDS is the perfect store for you. We are a reputable retailer of e-cigarette disposable vape brands, and we take pride in offering only the best products sourced from trusted factories in China.
Our team of experts specializes in research and development and carefully monitors every product to ensure that it meets our high standards of quality and excellence. With UPENDS, you can rest assured that you'll have access to a comprehensive catalog of premium disposable e-cigarette products that boast superior quality, taste, design, and appearance.
Whether you're a seasoned vaper or a beginner, UPENDS has something for everyone. Our extensive catalog means that you'll almost always find whatever you're looking for. So, come experience the best in vaping with UPENDS today.
UPENDS is looking for authorized disposable e-cigarette agents, distributors, wholesalers worldwide, if you are interested, please contact us now!