Vaping has become increasingly popular among smokers in recent years, with disposable vape pens taking the market by storm.
This has led manufacturers to pursue the endless pursuit of outdoing their competitors to provide the ultimate luxury vape device, with extravagant prices to match.
If you are looking for some of the cheapest wholesale disposable vapes on the market, you may be overwhelmed by how large a search it would be.
How do you pick the best one that matches both your needs and budget at the same time?
How do you know you're purchasing a high-quality disposable that won't be hazardous to your health or the environment?
Look no further.
This article will highlight some of the cheapest disposable vapes under $4!
Additionally, we will explore some of the best and cheapest wholesale disposable vape brands there are.
By the end of this article, you will have a better idea of which vape is perfect for your needs and budget!
We will also reveal a secret about the best way to shop for cheap disposable vape pens.
What is a disposable vape pen?
A disposable vape pen is an electronic cigarette designed to be a safer fit for smoking.
It is disposable, battery-enabled, pre-filled, and usually comes already charged.
It is easy to use and offers a lot of functionality for the vaping experience.
It is versatile and suits all smokers, no matter their vaping level.
Disposable vapes could be rechargeable or non-rechargeable.
The higher the puff count, the more likely it is to be rechargeable.
They come in a variety of shapes and sizes, often with features like light indicators and airflow or temperature adjusters.
They generally work by heating up, not burning, their vape tank or cartridge to produce vapor
Disposables are very advantageous to smokers.
They are compact, affordable, and often mimic the smoking style of a traditional cigarette.
These small devices afford users a myriad of potent hits and intense flavors.
These small devices afford users a myriad of potent hits and intense flavors.
They also provide convenience, with little or no maintenance required.
The Top Five Cheapest Wholesale Disposable Vapes Under $10
Now that we have described a typical disposable vape pen, we will list the top five cheapest wholesale disposable vapes on the market under $10.
We have considered some important factors, like performance, flavor, quality, and popularity of the brand and its products, with a budget of $10 and below.
S/N

PRODUCT

PRICE

($)

1

Upbar RS disposable

4.88 (500-999 pieces)

2

Supreme Hyppe Max Flow 3000 Disposable Vape

9.88 - 13.88

3

KangVape Onee Stick 2000 Disposable Vape

9.95 - 15.50

4

Pod 2500 Mesh Disposable Vape

8.99 - 9.45

5

Hyde Rebel 4500 Disposable Vape

8.99 - 12.94

6

Flum Ultra Disposable Vape

4.99 - 7.99
Upends Upbar RS disposable
Upends, a vape manufacturer, specializes in designing easy-to-use, affordable, and minimalist disposable devices. Recently, the company launched its latest disposable model, the UpBar RS, which is one of the cheapest wholesale disposable vapes available in the market. It is a simple, small form factor device measuring 96 x 20 x 9 mm.
The UpBar RS disposable by Upends is available in 18 flavors that cover all popular flavor profiles, including mint ice, mango ice, blue raspberry, watermelon breeze, and tobacco. Each vape contains 2mL of 2% salt nicotine e-juice and is powered by a 400mAh battery. The mesh coil delivers warm and smooth hits for up to 800 hits.
The Upends disposable vape has the following specifications: 2ml e-juice, 400mAh battery capacity, 600+ puff counts, and a 1.4Ω mesh coil. Depending on the vendor, the device can be purchased in bulk, with prices ranging from $4.8 for 500 to 999 pieces.
Supreme Hyppe Max Flow 3000 Disposable Vape
Standing strong on the list of the cheapest wholesale disposable vapes is the Supreme Hyppe Max Flow Disposable Vape.
The Hyppe Max Flow has a tank capacity of 8 ml, which is more than the tank capacity of an average disposable pen. This device was made with the specs of a disposable pod!
With a battery strength of 1000 mAh and a nic strength of 50 mg going for as low as $9.88, this device is a huge steal.
It also has a tight airflow adjustable control to allow users to adjust the smoke intake to their preferences.
The best part of this disposable vape is its puff count.
The Hyppe Max Flow has an average of 3000 puffs, enough capacity to go for an entire day or two.
There are seven different flavors and seven different colors for each pen.
KangVape Onee Stick 2000 Disposable Vape
The KangVape Onee Stick 2000 Puffs Disposable Vape is another cheap wholesale disposable vape.
It comes in 17 potent flavors with a nic strength of 50mg and a 7.5 ml tank capacity.
The device is quite easy to use with its auto-draw technology, meaning all you must do is inhale.
Like other modern disposable vapes, the KangVape comes with adjustable airflow to increase or decrease the airflow into the atomizer.
It also comes with an LED indicator light and a mesh heating element for an all-around vaping experience.
Pod 2500 Mesh Disposable Vape
The Pod Mesh Disposable Vape is a stylish device that could last you for a day or two.
It uses a mesh coil technology to hit up the integrated 6.5 ml e-liquid to hit you with up to 16 flavorful dream tastes and a 1000mAh battery to back you up
The device also features an adjustable airflow control ring for your desired hit.
It is easy to use, with no buttons required.
All you have to do is twist the bottom of the pen to your preferred airflow and inhale from the mouthpiece.
Hyde Rebel 4500 Disposable Vape
When it comes to aesthetics, the Hyde Rebel 4500 disposable vape tops the list.
It is a high-spec, durable, disposable vape that pleases its users and is also pleasing to look at.
It delivers 16 beautifully crafted flavors infused with a nicotine concentration of 5%.
The Hyde Rebel Rechargeable is a thoroughly satisfying device with eye-catching colors.
The device boasts a 4500 puff capacity tank that is powered by a rechargeable, built-in, fast-charging 600 mAh battery.
Flum Ultra Disposable Vape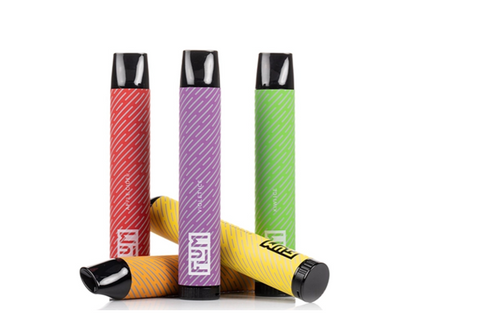 The Flum Ultra Disposable Vape features a 7-ml tank capacity and delivers up to 1800 puffs.
It also features an adjustable airflow control, which allows you to adjust the airflow to suit your preferences in taste and vapor.
Though it is not rechargeable, the battery strength, estimated to be around 650mAh, is suitable to power your device till the very last drop of juice
While these brands offer wholesale plans, some wholesale disposable vape websites sell cheap disposables from leading brands online.
These websites offer products at competitive prices with discounted or no shipping costs!
Some of them include:
EightVape: EightVape offers the most competitive prices for their disposables, at no MOQ at all! They also have over a hundred different brands of disposables that cost less than $10. Other than that, they constantly have jaw-dropping deals on their website for retailers and wholesalers alike.
Budget Vapors: Budget Vapors is not a well-known website. A lot of people have yet to discover this wondrous website. However, they do not relent in providing the best disposables at affordable prices and deals. Budget Vapors offer high-end quality vapes from a wide range of brands (renowned and upcoming)
Vape Wholesale USA: When it comes to cheap wholesale disposable vape suppliers, Vape Wholesale USA is the best choice for quality, variety, and affordability.
However, they only offer sales at a required MOQ.
These MOQs differ from product to product.
This might be a bother to some people looking to buy in small quantities.
However, their unit prices for products are worth the hassle.
These websites, among others, offer some powerful disposable vapes under $10.
They also offer luxury disposable vapes at very competitive prices.
Their wholesale packages are priced low, with very little MOQ required.
They also have a wide range of disposable vapes, available in various nicotine strengths and flavors.
This is a perfect alternative to shopping from wholesale brands because you get to shop from a wide range of brands at a lower cost.
Plus, it saves you some extra shipping fees.
The Secret to Shopping Smarter
Now, for the moment you've been waiting for,
Here is the ultimate secret to the best way to shop for cheap disposable vape pens:
Disposables usually come in different sizes.
However, do not shop based on how big or small a disposable vaporizer looks.
The real deal is in the amount of juice it contains.
Most times, the price is dependent on the number of puffs in the device.
Simply put,
The higher the tank capacity, the more puffs you get.
The more puffs you get, the more you save.
If you are budget-conscious, you should look for disposables with the best puff-to-price ratio.
Conclusion
Vaping has never been more trendy and fun.
The benefits of vaping can never be overemphasized.
It is a profitable business option and poses fewer health risks to smokers.
You should note that disposable vapes were made to be affordable.
To this effect, wholesale disposable vapes should only add more cost efficiency for retailers and users.
It is necessary to make informed decisions when purchasing wholesale disposable vapes.
Likewise, it is advisable to tailor your research to your business needs or personal preferences.
You might hit the jackpot and stumble upon the best deal that matches your needs and budget.