It is often incredible to see disposable vape pens have revolutionized today's world. To think that some years back, they were barely even a thing, but now anyone anywhere can recognize a vape pen. It is often said that variety is the spice of life, and while that is true, it is necessary also to understand that the advent of numerous disposable vape pens has also opened up the public to vape pens with varying standards.
Fortunately, there are still a lot of good disposable vape pens. Check out our detailed review on CBDfx CBD Disposable Vape Pen 500mg, which contains all the necessary information about this brand and whether it is a suitable vaping product.
What is CBDfx CBD Disposable Vape Pen 500mg?
Since its inception, the CBDfx brand has remained committed to providing the ultimate CBD vaping experience combined with 500mg of pure CBD in every premium disposable pen. The CBDfx disposable vape pen offers the ease of vaping your daily serving of CBD in a portable, user-friendly, and convenient product.
The entire product is pre-mixed, pre-charged, and ready to use. The CBDfx disposable vape pen is available in four different flavors to choose from including Tropic Breeze, Strawberry Lemonade, Fresh Mint, and Blue Raspberry.
At CBDfx, every CBD brand product is tested to perfection and free of contaminants. Also, users can view the CBD lab results to ensure that their purchased product actually contains the CBD content it claims it does. Through this, we build transparency with our consumers. In addition, we use only the safest and simplest of ingredients, and all our products are free from fillers and additives like Vitamin E acetate.
General Features

Convenient, Portable, and Discreet
One major feature of the CBDfx CBD Disposable Vape Pen, which also doubles as its major selling point, is that compared to other CBD products, the CBDfx brand provides one of the most straightforward means of benefiting from CBD. It also allows you the ease of keeping your vape pen in your back pocket, leaving it on your desk, or simply tossing it in your bag.
Its simple yet sleek design greatly contributes to this advantage. As a bonus, you can use your CBDfx vape almost anywhere, and it barely leaves any sign of usage except for a little bit of vapor when exhaled.
No Cleaning or Maintenance required
If you are familiar with how a vape kit works, then you don't need anyone to tell you that reusable vape pens tend to require a small amount of cleaning and maintenance every now and then. 
You also have to ensure that your CBD pen parts stay clear of oil and keep them constantly charged. However, with the CBDfx disposable vape pen, you have the freedom to use your pen discreetly and with no extra hassle, without ever having to worry about cleaning on account that they are easily disposable once exhausted.
Variety of Flavors
Another major feature of the CBDfx Disposable Vape pen is the endless options of flavors. Whether you are a fan of the Fresh Mint CBD Vape Pen, Blue Raspberry CBD Vape Pen, Tropic Breeze, or the other numerous flavor variety, you are guaranteed to find the one that best suits your taste.
The CBDfx brand recognizes that everyone has their preference, which is why its vape pen is perfect for beginners, as you can easily go through the numerous options before settling for the one that best identifies with you.
Cost Effective and Easily Affordable
Another reason why the CBDfx disposable Vape product remains a must-have among the cannabis-loving community is due to its easily affordable pricing. Who says you have to spend a huge chunk of cash before you can benefit from the ultimate vaping experience?
You can get yourself a CBDfx CBD Disposable Vape Pen 500mg at an affordable price, which is a very good deal, all things considered. Not to mention that even the most expensive brands aren't capable of providing you with the elevated experience that the CBDfx can.
Relevant YouTube videos
CBD Disposable Vape Pen 500mg reviews: Is the CBDfx CBD Disposable Vape Pen good?
CBDfx Disposable CBD Fresh Mint Vape Pen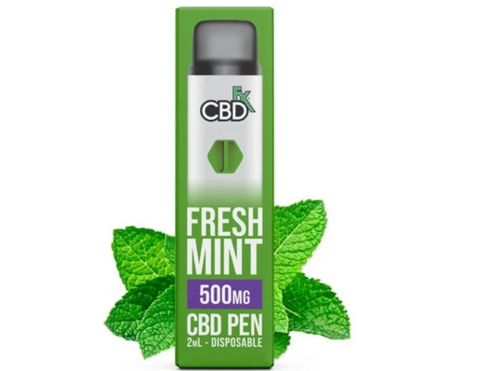 The CBDfx Fresh Mint Disposable Vape Pen provides consumers with a daily serving of CBD in a user-friendly, portable, and convenient product. The content comes pre-mixed, pre-charged, and ready to use. This vape pen also has a cartridge with CBD e-juice. The amazing thing about this is that the 500mg of organic CBD has been carefully formulated to ensure its quality.
It promises at least 800 puffs which is quite a generous amount. A major advantage of this product is that it is purchased fully assembled and charged, which means all you have to do is take the pen out from the packaging and vape to your heart's content.
Features
Simple and efficient design
High-quality flavor
500mg of CBD per pen
It offers around 800 puffs which makes for an excellent lifespan
Disposable/Rechargeable
Pros
Allows for discrete use
A soothing, calming, and pleasant effect
Easily Affordable
Offers Delta -9c THC vapes with CBD for much stronger effects
Requires no maintenance
Cons
The CBD vape option is just CBD
Not a terpene-heavy flavor
GG/VG base, which is not bad but not suitable for everyone 
The CBDfx Tropic Breeze CBD Disposable Vape Pen
The CBDfx Tropic Breeze Disposable Vape pen is highly recommended for those who prefer a sweeter taste when vaping. With every inhale of the Tropic Breeze strain, you get a sundrenched flavor and the perfect blend of mango with other tropical fruits. The pen design is pretty simple and allows for discreet use. Also, it boasts of an impressive performance, not to mention that you feel the CBD quickly, and its taste is superb. It's easy to use and very affordable. 
Features
All-natural flavor, smooth hits, and perfectly crafted
Disposable/Rechargeable
Estimated 800 puffs per pen
500mg CBD per pen
Ceramic coil with 2ml capacity
Pros
2 grams disposable pen
An elevated, calming experience
Multiple flavor strain
Top-quality portable design
Cost-effective
Easy to use
Cons
Disposable device
The PG/VG base is not suitable for everyone
FAQs about CBD Disposable Vape Pen 500mg
What are the benefits of using a CBD Disposable Vape Pen?
One major advantage of the CBD Disposable Vape Pen is that it is portable, small, and allows for discreet use. On account of their small size, they provide the ease of taking them anywhere without any issue. Another benefit of a CBD vape pen like that of the CDBfx brand is that at purchase, they are fully charged, so you don't have to bother about buying chargers. In addition, vape pens are also disposable, so once you have exhausted the content, you can easily throw them away.
Is the CBD Disposable Vape Pen suitable for first-time CBD users?
Yes, this vape pen is very much ready to use from the moment it is freed from its packaging. No user guide or instructions are required. It is a perfect CBD pen for both beginners and experienced CBD vapers and users, especially as it comes equipped with 500mg of broad-spectrum CBD contained in each pen.
Where can I purchase a CBD Disposable Vape Pen from?
It is necessary to be extra vigilant when purchasing a CBD vape pen due to the amount of below-standard products available on the cannabis market. In other to get the best, it is essential to only buy directly from the manufacturer or a trusted retailer like UPENDS. For the CBDfx vape pen, you can easily purchase one from the company's online page, and if that proves tedious or impossible, you can get one from a retailer that stands out.
How to choose the best CBD Disposable Vape Pen?
Choosing a good CBD Disposable Vape Pen doesn't require any special skill and is quite simple; all that you are required to do is understand the features of a vape. One thing you might want to note before purchasing a vape is its packaging, size, and product design. Also, ensure that the product you are buying is in good condition and has not suffered any damage. Also, look out for any foul odor or smell, as it is a clear indication that your product is not in good condition. A portable vape pen allows easy transportation and discreet use anywhere and anytime.
Best vape wholesale supplier-UPENDS
Looking for top-notch vaping products at affordable prices? UPENDS is the perfect store for you. We are a reputable retailer of e-cigarette disposable vape brands, and we take pride in offering only the best products sourced from trusted factories in China.
Our team of experts specializes in research and development and carefully monitors every product to ensure that it meets our high standards of quality and excellence. With UPENDS, you can rest assured that you'll have access to a comprehensive catalog of premium disposable e-cigarette products that boast superior quality, taste, design, and appearance.
Whether you're a seasoned vaper or a beginner, UPENDS has something for everyone. Our extensive catalog means that you'll almost always find whatever you're looking for. So, come experience the best in vaping with UPENDS today
UPENDS is looking for authorized disposable e-cigarette agents, distributors, wholesalers worldwide, if you are interested, please contact us now!