In one way or another, you have heard that vaping is the best alternative to smoking. If not, let it be known to you today that vaping is the best option when you want to quit smoking. Since vaping is the best substitute for smoking, you need to take the correct measures for you to achieve the best from it. The first measure is to identify the best equipment for you to enjoy vaping. The most basic vaping equipment is a vaping pen, so you need to have a basic knowledge of how it works for you to enjoy vaping.
In case you are trying to find the best vape pen that will serve you well, you are lucky to have come across the Cartisan vape; with it, you are going to get the best vaping experience you can ever imagine of.
What Is a Cartisan Vape?
The Cartisan vape is the coolest and most efficient vape pen that you could ever want to possess. You will love it starting from its ease of use, its powerful battery, its compatibility with standard cartridges, and its slim and sleek design and structure.
Its powerful battery of either 650mAh or 900mAh capacity can power your vaping all day long without requiring recharging, plus it is auto draw activation mechanism will fascinate you.
Through this whole article, we will be discussing all that you need to know about the Cartisan vape; you will surely like it!
Why Choose Cartisan Vape
The Cartisan vape is very simple to use, even for first-time vapers. It does not require you to press any button; instead, it auto-draw activated, so you do not have to use any energy struggling to push any button. Just a simple, single, and first puff is just enough to activate it.
The Cartisan vape gives you two variable voltages; 3.3v and 4.8v. These voltages are very flexible and adjustable. You can easily shift from one voltage to another by simply adjusting the dial on the bottom of the Cartisan vape according to your preference.
The Cartisan vape comes with a very powerful battery of 900mAh capacity that enables you to vape for a very long time. You can enjoy vaping for days before it requires the next recharge.
The Cartisan vape is well designed to fit perfectly in the palm of your hand and fit into your pocket as well. This makes it very comfortable, and you can easily carry it along with you.
Cartisan Vape Equipment Review
Cartisan Button VV 900mah Dual Charge Battery
The Cartisan Button VV 900 mAh dual charge battery is a pen-like vape pen that is powered by a 900 mAh battery capacity. This capacity can sustain your vaping for up to 2 days without requiring a recharge. It is charged via a micro-USB or a lightning cable. The twist battery can be used by any 510 cartridge because it includes a skirt adapter.
It is easy to change voltage settings simply by clicking the button 3 times. It has three voltage variables marked by GREEN-3.4V, BLUE-3.7V, and RED-4.0V. Its price is $14.99.
Cartisan Black Box 510 Battery
The Cartisan black box battery is well-crafted to fit into the palm of your hand. Its surface is well rubberized to ensure that it does not slip off your hand. It is fitted with a 900mAh battery and a life indicator that ensures you are not caught off-guard when you are vaping. It is also fitted with two different magnetic adapters and 2 silicon rings that ensure your cartridges fit well with the device.
When you purchase the whole package, this is what you get inside: a Cartisan black box device, a micro-USB cable, two silicon rings, and two adapters- both tall and short.
pen 2.0 Slim Vape 510 Battery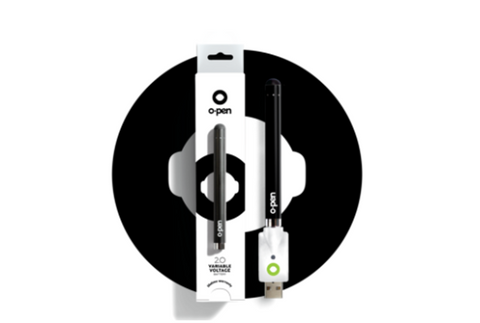 If you are looking for a variable voltage vape pen, the O.pen2.0 Slim Vape 510 battery has got you covered. The variable voltage vaporizer is equipped with 4 voltage modes that give you a wide range of vaping experiences. It is a draw-activated vape pen that does not require the need for buttons. It offers you a very rapid charging period of 20 minutes that does not delay your vaping sessions. Its price is about $29.99.
Cartisan 510 Battery Button VV 350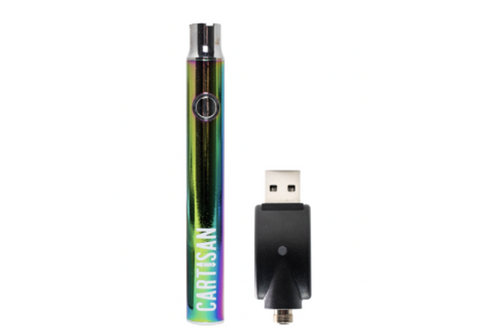 The Cartisan 510 Battery Button VV 350 has a simple pen-like structure that is very portable. It is a voltage variable vaporizer with 510 threading that comes in beautiful retail-ready packaging. You simply click the voltage button three times to vary the voltage according to your taste. Any 510 cartridges resting on top of this Cartisan pen will look excellent because of its compact structure and its pointed end. It retails at about $9.99.
Cartisan Pillar 510 Battery
With the Cartisan Pillar 510 Battery, you will take your vaping to the next level. It is beautifully crafted with strong and tough materials for long-lasting. It has adjustable voltage settings for you to choose from and set your best. It offers great airflow and warms up the cartridge without firing. Its price is about $21.99.
Cartisan Top Twist 650 mAh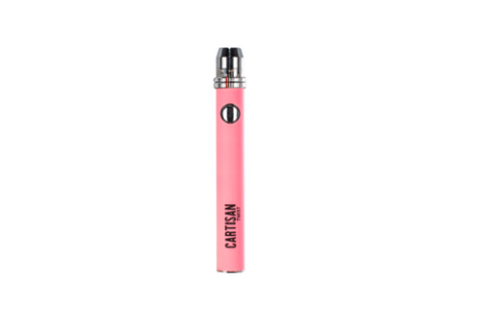 The Cartisan Top twist 650 mAh is also a voltage variable vape pen with eGo and 510 threading that comes in beautiful retail-ready packaging. Its voltage ranges from 2.8V to 4.8V. For you to adjust the voltage settings, you simply twist the top dial, and you are ready to vape at your favorite voltage. Its battery capacity is 650mAh, which can power your device for more than a day without requiring the next recharge. It is charged through a micro-USB port and cable. Its price is about $11.99.
Cartisan Button VV 650 USB-C
The Cartisan VV 650 USB-C is an excellent vape pen that is well-designed and crafted to suit your vaping needs. It comes with a battery capacity of 650 mAh that can serve you for a relatively longer time. It possesses a USB-C type of charging port that greatly increases the time for the battery to be fully charged. It also has a variable voltage that ranges from 3.4V to 4.0V. The voltage power is detected as follows: the green light indicates 3.4V, the blue light indicates 3.7V, and finally, the red light indicates the voltage power of 4.0V, which is the maximum power that can be set. The voltage powers are adjusted by pressing the button three times. The Cartisan 650 USB-C is activated by clicking the power button five times. Its price is about $14.99.
Cartisan 510 Battery Button V 350
The Cartisan button VV 350mAh Dual charge battery also has three variable voltages. You can adjust them by simply clicking the button three times. The green light indicates a voltage of 3.4V, a blue light indicates a voltage of 3.7Vand finally, a red light indicates a voltage of  4.0V. The Cartisan battery is the first battery that can be conveniently charged by a micro-USB or a lightning cable. Its price is about $9.99.
Frequently Asked Questions About the Cartisan Vape
How long do the Cartisan batteries last?
The Cartisan vape is equipped with a 900mAh battery that can last for two days or more without requiring the next recharge.
How do you know when the Cartisan vape is charged?
While the battery is charging, the light on the charge will be red, and the light on the battery will be on. Once the battery is charged fully, the light on the charger will turn green, and the light on the battery will turn off.
How do I know if my vape battery is bad?
The following are some of the indicators that your Cartisan vape battery is faulty:
It does not last long.
It gets too hot.
It leaks fluid.
The battery is constantly low.
It does not charge properly.
Alternative Vape Pen - UPENDS UpBar GT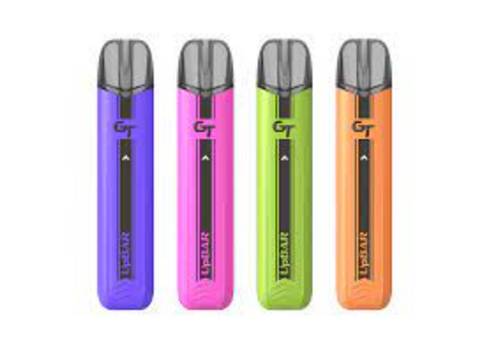 When it comes to providing the greatest vaping experience, the UPENDS UpBar GT is one of the top-tier vaping devices. It is made and created by the UPENDS company, which is situated in China and has over ten years of experience.
The UPENDS UpBar GT boasts a sleek, curved shape that fits well in the hand. Its airflow design is named after the world's fastest automobiles. Its V-shaped structure is supposed to increase flavor quality, reduce condensate, and speed up vapor generation.
The UPENDS UpBar GT comes in a variety of flavors to satisfy all of your flavor preferences. They include Banana Ice, Ice Mint, Tobacco, Blueberry Ice Peach, Whit Peach Ice, Strawberry Smoothie, Lemon Mojito and Mixed Berry.
One of the key factors affecting how simple it is to operate is its drawer-activated function. You may begin vaping right away after purchasing it, thanks to the prefilled E-liquid and the pre-charged battery.
Up to 600 puffs can be obtained from its 2ml of e-liquid, which will last you for several days.
Wholesale Vape Equipment Supplier - UPENDS
UPENDS is the top-tier and most prestigious brand in the vaping sector. It has an outstanding reputation for creating the best-quality vape items. Its goal is to offer its customers high-quality, easy-to-use items in a wide range of delicious flavors at costs that are relatively affordable.