Disposable vape pens are becoming extremely popular these days as they come equipped with a pre-charged battery and are also loaded with cannabis oil of a certain type. Moreover, they can easily be used while on the go, often without an activation button as they are ready to use. Although disposable vape products have gained immense popularity, they also have some drawbacks that buyers should know before buying or using them.
If you're looking for something simple, disposable vapes can be an ideal option. There are so many options available out there that may seem overwhelming especially when you're not used to vaping.
But no need to worry as this article will help you gain a better insight into disposable vapes. 
What is Cannibeast Disposable?
A disposable cannabis vape is a single-use device that comes pre-filled with e-liquid and pre-charged. The device vaporizes oils, distillates, and concentrates. Users just have to take it out of its packaging and start using it as the device is ready to use right away.
Cannibeast is known to offer innovative vaping products being a licensed hemp food manufacturer. The main product categories include D8 Products, D10 Products, CBD Products, HHC Products, and Salt Nicotine Products.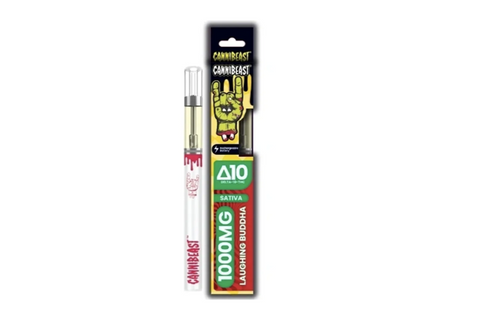 The Cannabeast disposable section has many products under its hood including D8 Disposable, D8 Disposable Noire, D10 Disposable, D10 Disposable Noire, HHC Disposable, and HHC Disposable Noire.
Cannibeast Disposable: The Flavors
The disposables are available in 12 great flavors and these include…
Acapulco Gold
Black Panther Lemonade
Bubba Kush
Doctor Diesel
Grape Ape
Granddaddy Purple
Green Crack
Jack Herer
Laughing Budha
Residential OG
Sweet Skunk
Zkittlez
Cannibeast Disposable Reviews: Is Cannibeast Disposable Good?
Cannibeast Disposables comes with a signature logo and most of the products are available in different flavors. The HHC is derived from hemp and is federally legal. The noires may seem harsh for first-time users as they are a very pure and concentrated product, as per reviews.
The signature disposable vaporizer pens are a great option for those who are looking for something convenient and travel-friendly. The best part is that the bar is rechargeable so that users can enjoy every drop of the product and the carts also fit a 510-threaded battery.
Cannibeast also has combos and other products including Gummies, Edibles, and more. The 6 Flavor Combos come with 3 smoking settings. These flavors include Sweet Panther, Dr. Buddah, Bubba Crack, Grandaddy Ape, Zkitlez Gold, and Presidential Herer.
The combos are available in D8, D8-THC-B, and D8-THC-JD. Gummies come in flavors like Peach, Blue Raspberry, Watermelon, Pink Lemonade, Strawberry, Apple, and Pineapple.
Talking about edibles, they are available in 5 flavors: Crispy Puffer, Blonde Fig, Pot Tart, Pecan Bomber, and Dank Dunk.
As Cannibeast has several options when it comes to vape products, knowing what you want is important to choose the best option.
Which Cannibeast vape pen is great…
Well, Cannibeast Delta-8 THC Disposable Vape Pen has enjoyed pretty great hype. The Raspberry Lemonade flavor attracted many consumers and this is available in 1Gram 1000mg. The Delta vape pens are equipped with a 350mAh rechargeable battery which means no drop is going to waste.
Some disposable vape products are also available in a pack of like 12 and cost a bit less as compared to buying single products.
The Pros and Cons of Using Cannibeast Disposable 
The Pros
Disposable vape devices come in handy to use as they can be used straight away.
Some value the convenience of using disposables while others go for their smaller size as it fits the pocket.
The cost of a disposable vape device is generally lower compared to a rechargeable one.
A disposable vape comes in many flavors so that users can choose as per their tastes and preferences.
A disposable vape pen doesn't require recharging or refilling as they come pre-filled and ready to use.
It can be a great option for those who want something compact and convenient.
The Cons
Once the e-liquid or the battery of a Cannibeast disposable runs out it cannot be refilled or recharged and need to be disposed of.
Although the cost of a disposable vape device is pretty low as compared to the chargeable vape device, this also means the cost of using it is higher in the long run.
Disposables are designed to be thrown away and not for recycling.
Caution for Using Cannibeast Disposable Cartridges
Cannibeast suggests its consumers take 1 to 2 puffs from the cartridge and wait for around 20 minutes to know whether they need more. It is extremely imperative to use caution when using any vaping product and carefully follow the manufacturer's instructions. This will help you enjoy it to the fullest while minimizing the risk of harm.              
FAQ: Answering the Top Questions About Cannibeast Disposable
How to choose the best disposable vape?
The three most important things you need to consider while buying a disposable vape include, flavor, atomizers, and battery life. Vape juice or e-liquid flavor can change the whole game as it separates the great from the good.
What are the different types of Cannibeast Disposable available?
The Cannibeast Disposable range includes D8 Disposable, D8 Disposable Noire, D10 Disposable, D10 Disposable Noire, HHC Disposable, and HHC Disposable Noire. These vape pens are available in 12 different flavors.
How do I use a disposable vape pen?
Turning on a disposable vape pen is a simple process as all you need to do is take the product out of its package, turn on the indication light by pressing a button, inhale slowly using the mouthpiece and exhale the vapor after taking a deep breath.
How long does a disposable vape pen last?
It depends on the quality of a vape pen that how long it lasts. The high-quality vapes offer great value without sacrificing the experience and last pretty long. On average, a disposable vape device will provide 300 to 600 puffs, but it will still depend on the product you choose.
How many hits are in a disposable vape?
Most disposable Vapes give about 200 to 400 puffs which are roughly equal to 20 cigarettes. Some smaller vapes can last you for around 80 to 100 puffs. They pack a battery size of about 280mAh but some also come with a whopping power of 850mAh.
How does a Disposable vape pen work?
The disposable vapes consist of three main components: the pod, coil, and battery. They typically use a pre-filled and closed system pod and the coil is pretty high resistance. With not many buttons to press, users don't have to worry about switching them on or off.
 What type of Nicotine do disposable vapes use?
Most disposable vapes use nicotine salt as it gives a higher strength with no harsh throat. Nicotine salt is also known to have a more natural nicotine hit, which is ideal for those who are looking for an alternative to smoking.
Are disposable vapes regulated?
As disposable vape pens contain nicotine, they are regulated by the concerned government and federally legal. Also, vape manufacturers need to comply with all the rules and regulations of the particular area they are operating in.
UPENDS - Best Vape Wholesale Supplier with a Global Reach
Disposable Vapes have been growing in popularity, with more convenience of online shopping. However, this growth in popularity also comes with several challenges and the first being finding the most suitable platform to buy the most genuine products. UPENDS has an edge by providing some of the best products at a great price.
At times when many retailers do not meet the requirements and compliance regulations, it is important to find an authorized and reliable vape dealer. It is important as a vape retailer, regardless of the type of product, to ensure that all products meet the strict regulations that are set for vaping products in a particular area.
We are widely recognized as a giant factory in China where we manufacture the most innovative and diverse range of vaping products. We believe in creating something that our customers want when it comes to the design, function, and price of our vape products.
UPENDS being a global platform seeks authorized vape product agents, distributors, and wholesalers. The idea is to take our exquisitely crafted products to a global audience. If you think you are a perfect choice, feel free to contact the team.
The Final Verdict
Vape products include a diverse group of devices allowing users to inhale an aerosol. The e-liquids typically contain nicotine flavorings and vary widely in design and features. Although most of them operate similarly, it is important to know your pick before spending money.
The best way is to find the products of your choice, check reviews, know the features, and wallah you're done.