In the past, a seamless collection of vape brands has sprouted, and they have succeeded at offering a vast range of vape kits that serve their customers' expectations and needs. The various companies have proved to deliver quality, and they mostly do not major in aesthetics only. You not only deserve an attractive vape product but what you actually need is top-quality strains that will quench all your vaping thirst.
Meet the one-of-a-kind strain that will not only make your vaping moments count but will always make you want more every moment you wish to have fun. The wonderful strain is the Burst e-liquid.
What is Burst Vape E-liquid?
Burst vape is an e-liquid that is specially created to deliver satisfaction for the huge demand for exquisite strains in the vaping market. The Burst vape has molded itself to be at the top strains that every vaper dreams to taste. The Burst vape juice was established in Santa Ana, California, and since then, it has provided its users with the best flavors that you can try out.
If you are searching for an excellent-tasting fruit-flavored vape e-liquid, then the Burst vape got you sorted. The Burst vape offers you a wide range of fruity-flavored vape juices that include citrus-burst, straw-burst, berry-burst, sher-burst, and others. You will also meet the chilling vape juices that include the melon-burst and blizzard line vape juices. You are free to access even the most flavorful blends of all time.
Burst Vape E-Liquid Review
Key Features
60ml unicorn vape bottles
Crafted and delicious flavor profiles
Nicotine strengths: 0mg, 3mg, 6mg
VG/PG ratio: 70/30
Accessibility: worldwide
Range of explosive flavors: fruits, candies and desserts
Special Features: Child-resistant cap
Burst Vape E-liquid Flavors Review
It is true indeed that we love and wish to taste certain fruit flavors. Vaping with the Burst Vape e-liquid offers you the ultimate chance to explore a vast array of fruity flavors that are dearly adored. Take a few moments to explore the following mouthwatering Burst vape e-liquids.
Straw- Burst:This vape flavor is designed for strawberry flavor enthusiasts, and it is really worth experimenting with. This outstanding vape juice is a pure blend of strawberry and candy that brings you the mouthwatering, chewy strawberry candy taste that will make you look for more.
Sher-Burst:It is high time that you start enjoying the smooth and sweet taste of orange sherbet with Sher-Burst. This is a complex flavor that excellently blends the strawberry, lemon, and limited, which finally delivers you an unmatchable symphony of flavors that you can enjoy for the rest of the day.
Mango-Burst:This is the ideal vape e-liquid for those who love mangoes. The mango burst is packaged with the authentic flavor of mangoes. You will adore the absolute sweetness of this vape flavor that will make you satisfied and help you counter the cravings for the mango flavor.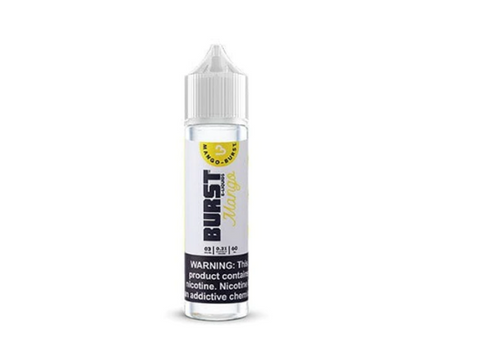 Melon Burst:This is a mind-blowing flavor that is known to combine the delicious honeydew flavor with the sweetness of cantaloupe. This blend creates a refreshing burst of melon flavor.
Citrus-Burst:You will experience a delicious explosion of lemon and lime candy flavor that delivers a citrus-burst finish. From every exhale that you make, your taste buds will approve of an intense rush of citrusy that is accompanied by a fruity flavor on every exhale. This makes the Citrus-Burst flavor worth vaping all day long.
Berry-Burst:This is a delightful blend of berry flavors that feature a berry-burst. For every puff that you take, you will bask in the sweetness of grapes that are mixed with the freshness of strawberries and the richness of blueberries. Other berries are mixed to create a heavenly experience with mouthwatering flavors for a memorable vaping experience.
Kiwi Strawberry:This vape e-liquid gives you an opportunity to give your taste buds a special blend of authentic Kiwi flavor that is combined with the luscious taste of strawberries. The kiwi strawberry flavor gives you a succulent, fruity vape taste that involves a burst of deliciousness in every draw you make.
Apple Watermelon:This vape e-juice welcomes you to the burst of juicy flavors that are achieved by mixing crisp apples with candied watermelon. This well-balanced blend gives you a fruity candy vape flavor that will entice your taste buds. It is really worth trying out this vape flavor.
Peach Raspberry: It will be very rewarding if you indulge in this flavor concoction that brings together the refreshing raspberries and the juicy peaches in a single e-liquid flavor. This savory vape flavor will for sure satisfy your vaping cravings and make you a happy and proud vape user.
Pros & Cons
Pros
They come in a 60ml unicorn bottle
They offer a variable nicotine strength
They are easily accessible
They deliver dense and flavorful vape clouds
They come with easy-to-refill bottles
Cons
They have potential health risks
The flavors may be too strong
Frequently Asked Questions about Burst Vape
Here is what many Burst Vape Juice Vapers tend to inquire about it;
What nicotine strength does Burst E-liquid deliver?
With the Burst Vape e-liquid at your access, you are eligible to enjoy between 0mg, 3mg, and 6mg. This is evidence that you have the power to customize your vaping experience. With nicotine content available in your vape e-liquid, you will love the smooth throat hits that you are eligible to achieve.
Are there any health risks that are associated with vaping Burst E-liquid?
Of course, when nicotine content is involved, it can lead to addiction and other nicotine-related health problems. It is best recommended that you engage nicotine content in your vaping lifestyle in a much more responsible manner. If you have any problem related to nicotine consumption, you should seek professional health care services.
What is the VG/PG ratio of Burst E-liquid?
The Burst E-liquid comes with a balanced ratio of 70/30/ VG/PG. This content in your Burst E-liquid is responsible for the intense and optimized flavor production. You will have a chance to enjoy both mouth-to-lung and direct-to-lung vaping.
Are there any environmental considerations with Burst E-liquid?
The Burst E-liquid is normally packaged inside disposable bottles that contain caps. These plastic bottles are likely to be harmful to the environment. You should ensure that you look for proper disposal mechanisms and minimize the environmental pollution rate.
Can Burst Vape be used by non-vapers?
The Burst Vape E-liquid is meant for those who consume nicotine or cannabis products. If you are a non-vaper, you will not be advised to indulge in this vape e-liquid. It is worth trying other nicotine-free e-liquids for you to have fun in vaping.
Alternative Vape Pen - UPENDS UpBar GT
UPENDS UpBar GT vape is what you need for you to make your vaping journey a real success. This disposable vape device is among the most brilliant vape products that have been found to be highly rated in terms of vape performance. The manufacturer of the UPENDS UpBar GT vape ensures that you are among the few vape users who get the grand chance to use the latest vape features. The UPENDS UpBar GT vape offers you the most authentic flavors and dense vape clouds that will make you a happy vape user.
Your vaping lifestyle will never be the same once you get a chance to indulge in the savory and delicious vape flavors that the UPENDS UpBar GT vape brings. The flavors that you expect to get include the Blueberry Peach Ice, Ice Mint, Strawberry Smoothie, Tigar Blood, Banana Ice, Lemon Mojito, White Peach tea, tobacco, and many other mouthwatering flavors. The e-liquid capacity of the UPENDS UpBar GT vape goes up to 2ml, which is capable of offering you 600 delicious puffs.
You have every reason to adore the UPENDS UpBar GT vape, as it offers the ease of use that every vape user desires. The UPENDS UpBar GT vape comes pre-filled with your favorite vape e-liquid. This wonderful disposable vape also comes pre-charged and allows you to start vaping once you remove it from its package.
Wholesale Vape Equipment Supplier: UPENDS
UPENDS is an excellent e-cigarette brand that boasts of its wide range of premium quality vape equipment available to its customers. Products from UPENDS are designed to be customer-oriented, and they are engineered with the highest quality materials. This makes this vape equipment supplier to be the best e-cigarette foundry in China. Among the key features that are displayed by the vape products from UPENDS is the simplicity and ease of use they display.
UPENDS is committed to providing every vaper with vape products that are easy to operate. This makes the vape products to be used by beginners. The vape products are cost-effective, and this serves as one of the core reasons why most people prefer purchasing vape products from this world-leading vape supplier. This Popular vape company highly emphasizes research and development to ensure that you enjoy up-to-date features.