What is the Bud Touch Vape pen?
The Bud touch Vape pen has gained much attention due to its quality. It is light slim, and an easy to carry vaporizer. The bud touch vaporizer is usually a great choice for those who love thick oil vaping. This device delivers consistent flavours, and its cartridges are also easy to fill.
Normally, The Bud touch Vape pen comes with a battery capacity of 280mAh, which is slightly more than most vape pens in the market. In addition, it has a diameter of 0.3inch/9.6mm, which is best for delivering the best vaping experience.
Something unique about this device is its exterior's flashy looks that are attractive and easily recognizable, meaning chances of losing it or forgetting it are minimal. Its outer casing is made up of stainless steel, meaning it's reliable and long-lasting. In addition, this vape battery is uniquely multifunctional that can also be used on touch screens. 
Bud touch pen company description
Bud touch vape pen is built by Bud touch vapes, one of the highest standard productions in its domain. They have an extensive quality control protocol and have various patents under their belt. In addition, they are one of the first companies to own moulding workshops in the e-cigarettes industry. This has helped them ramp up production whilst maintaining and advancing the quality of their vape products.
Bud touch Vape pen features
From a first impression, The Bud touch is stainless steel. Its vacuum coating technology helps enhance it' toughness up to 4H, which also makes it anti-scratch. It also has a rubber tip on its battery which acts as a stylus for touch screen electronic devices. Its batteries are made up of lithium cobalt oxide, which helps it maintain a long service life.
When buying the Bud touch vape pen, you can easily choose from a range of Black colours, Blue, Silver, Red and white. This device is also compatible with a straight-pipe 510 atomizer. Its weight is 0.03kg.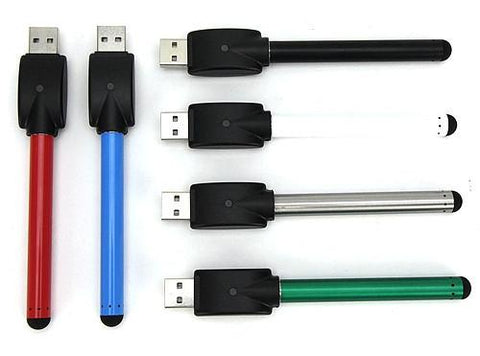 One feature you'll love about the bud touch vape pen is that the built-in LED indicator lights will automatically turn on and off to mimic real smoking when using it. I bet you should try this in the dark!. In addition, it has an automatic alert system that will alert you when the battery is below 3.3v by flashing ten times. 
The Bud touch vape pen is always on standby mode when not in use, and inhaling it will automatically activate it. 
Bud Touch Vape Pen design quality
The Bud touch Vape pen has a sleek design and is visually attractive. It is also easy to use. Its manufacturers have also provided the option to custom order your vape pen with your logo on it. The process of designing and choosing, reviewing and approving it should take an average of 2-3 days.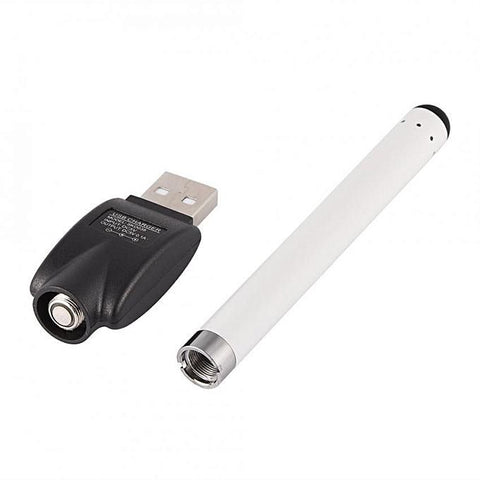 The Bud touch vape pen has a compatible cartridge, and this goes a long way in preventing leakage and malfunction to your device. Its soft edges also make it easy and comfortable to hold.
Bud Touch Vape Pen battery quality
This device is powered by a high battery capacity of 280mAh, which is way higher than most alternatives in the market. 
A fully charged pod provides you with 300 puffs which are way more than other pods. In addition, it has a battery length of 3", battery weight of 0.5 oz, battery working voltage of 3.3 – 4.2 V, and comes with one USB charger.
Its batteries are good to use with smaller vape tanks for sampling. The chip inside allows for the draw of around 10 seconds, and with average use, you can easily use it all day with a single charge!!! And charging it takes almost 30 minutes.
How to use the Bud
This vape pen is easy to use as it is always on standby mode when not in use, and inhaling it will automatically activate it. 
Pros and cons associated with the Bud touch vape pen
Pros
When fully charged, you get 300 puffs

Long battery life

It's made of stainless steel, making it durable and reliable

The rubber tip acts as a stylus. Thus you can use it on touch screen devices.

Built-in high-performance PCB and overcharge protection

Easy to use

No burnt plastic flavour.
Cons
No atomizer

Some people would not prefer a stainless steel casing.

It has no button to hold down while taking a puff
Cleaning and maintaining the Bud touch vape pen
This is one of the most important factors in maintaining a long-lasting vape pen. There are usually various recommendations on maintaining your vape pen, including storing it in a cool, dry place and an upright position.
It's also advised that you avoid storing it where there is direct sunlight as this usually affects its oil content. Maintaining it to get the most out of it will also require you to use compatible cartridges.
While cleaning it, you use cotton swabs with alcohol to remove any residue and even kill bacteria on the pen and mouthpiece. Recapping the cartridge is also recommended that 
FAQs about the Bud touch vape pen
Is there a minimum order quantity for a custom Bud touch vape pen or cartridge?
Most companies will require you to have a minimum order of around 1000 units for both pens and cartridges.
Why do cartridges clog whenever I am at a high altitude?
High altitudes have lower air pressure which results in pressure imbalance. To avoid this, make sure your cartridge is fully capped.
What are the shipping cost and time?
You cannot exactly tell the time required due to various factors like 
Most companies shipping your product will be overseas

Customs vary from one country to another in which some countries process a bit faster while others are slow.
It's recommended to work with a company in your country that shipping a this will inherently decrease shipping costs and the amount of time required to receive your products. Limitation
What are the limitations of the design of my custom logo?
Designs with a gradient effect don't print properly. Use solid colours instead.
What do colours in my vape pen mean?
When there are connection issues, the battery will blink with a green, red, and white mix. These colours show the charge level where green means fully charged, white 50% charge and red battery about to die.
Does my vape pen fit with all cartridges?
Any cartridge with 510 threads will fit with your pen
Where to buy 
These Vape pods are available at many online and offline retailers. You can easily buy them from Amazon, Alibaba, Vaporxlounge, among others.
Alternative Vapes: UPENDS
UPENDS is the new rising e-cigarette brand. With this device, you can put the flavour of your choice. UPENDS is still the leading brand and wholesaler of vaping products.
The developer allows you to enjoy your vaping experience at the comfort of your flavour at a wholesale price. Their products are developed and presented in a pen stylus design, easy to carry along, anytime anywhere one can vape.
UPENDS assure each vapour of great disposal and allow one to vape at a lower cost. In addition, they give a chance of vapours to refill the vaping pens once they are over, which explains why they are of a fair cost.
The Pod Kit is designed for people chasing both hygiene and style. Recharging can go within 1Hour. However, the pod can only sustain 3-5 refilling with your taste on the vape juice you will refill it in.
The brand focuses on each detail during use and strives for a more accessible, unique, and pleasing experience.
Conclusion
This device is ideal for vapours who care more about battery power; having 300 puffs in a single charge is more likely than enough. It also has a battery life of 280mAh, which is pretty decent.
However, if you don't prefer stainless steel casing, you might have to reconsider. Also, it has no button to hold down while puffing; experienced users who have used products with a button might find it hard to adapt at first, though, after some time, you are more likely to appreciate why it's built that way.