If you have ever considered adding quality as well as pleasure to your recreational activities of interest, consider trying vaping. With the right precautions in place, you can get the most out of it.
The outstanding designs and features of disposable vape pens are sure to impress you and guarantee that you have the most incredible experience possible.
They are intended only for personal use. They are filled with the taste of your choice of E-Liquid that is found prefilled in the vapes as you purchase them.
We will now discover more about the Box Air JK Vape, which is currently one of the greatest vaporizers in the market.
What is Box Air Bar JK Vape?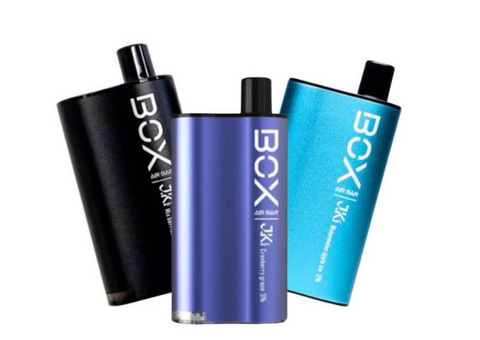 The Box Air JK Vape is a powerful vape that comes with numerous features that you will truly love. It has a capacity of 10ml, where it houses a prefilled E-Liquid that can sustain as much as 3000 puffs. The E-Liquid has 5% nicotine salts content/strength and 60/40 PG/VG.
The Box Air JK Vape is powered by a very powerful internal battery with a 1500mAh capacity. That battery is so powerful that it does not require to be recharged.
The Box Air JK Vape is an incredibly long-lasting disposable vape with a vast range of flavors to choose from.
Box Air JK Vape: Is It Worth It?
Key Specs
1500mah Battery Capacity
Pre-Charged
Not Rechargeable
Disposable
10ml Juice
Approximately 3000 Puffs in Every Device
Prefilled Juice
5% Salt Nicotine
Wide Range of Flavors
Measures 82.6mm by 41.3mm by 22mm
Weighs 68g
E-Liquid Capacities and Flavors
The Box Air JK Vape has a 10ml compartment that acts as a reservoir for the E-liquid. The 10ml vaping juice gives you almost limitless vaping, and you do not have to worry about the E-Liquid running out. The Box Air JK Vape is already prefilled with vaping Juice, guaranteeing you instant vaping as soon as you buy it. This also does away with the burden of purchasing the E-Liquid separately and having to fill it-which might need some equipment for filling.
This 10ml E-Liquid capacity sustains up to 3000 puffs for its lifetime. You may wonder how this number of puffs is calculated. This is done experimentally by counting the number of puffs per vaping session and then multiplying it by the number of vaping sessions, and there you have it!
The Box Air JK Vape has over 40 flavors for you to choose from. This is so amazing and impressive for you to get a chance to discover new flavors and rediscover past flavors. Its mesh coil works best to produce a full flavor from the E-Liquid. Some of these flavors are as follows;
Appel raspberry
Black ice
Blueberry ice
Cherry Lemon
Clear ice
Cool Lemon
Cool mint
Energy drink
Grape ice
Jungle ice
Kiwi shake
Love story
Mango pineapple
Mighty mint
Mix berries
Monster ice
Orange juice
Orange shake
Super mint
Vitamin water
Watermelon apple ice
Watermelon candy
The Box Air JK Vape has organized a collaboration with the leading E-Liquid Naked to create and produce a range of 7 signature NKD100 Max Collab flavors. Some of these flavors include:
Blue razz ice
Cherry kiwi
Sour belt
Peach mango
Watermelon ice
These flavors give their very best, making you experience the feeling of naturality and originality in them.
Cost Of Purchase
The Box Air JK Vape has much consideration for its users' financial abilities and is pocket-friendly. Its price ranges from as low as $15.50 to $18.49. The price is never constant; it keeps on fluctuating. The major cause of these fluctuations is due to the different times of the year that come with different circumstances, which can either raise or lower the price. People living in different localities can buy the same Box Air JK Vape at different prices because of the different retailers.
Ease Of Use
The exterior design of the Box Air JK Vape has an exceptional design. It has a curved shape with a depression at the center, which makes it more ergonomically as it fits well with the contours of the hand. Its small size fits well in the palm of the hand. It also has a smooth texture that does not irritate the hand.
As you purchase your Box Air JK Vape, you will find out that it is already prefilled with the liquid. It is also pre-charged, so you can start your vaping as soon as you buy it. You do not have to charge it for you to start using it.
The Box Air JK Vape has an auto-draw activation system that allows you to activate it with just a simple puff. It does not have a button for activation. This makes it easy to use, even for beginners.
The Box Air JK Vape is equipped with a plastic tube mouthpiece that is properly molded to comply with the contour of your lips as you enjoy vaping, preventing straining of the lips and any harm that might result from straining the lips.
General Performance
The Box Air JK Vape has a powerful battery of 1500mAh capacity that does not require charging. When you buy it, you will find it fully charged; the battery can sustain the vaping process until all the E-Liquid is depleted. This is very convenient as you do not need to be charging your Box Air JK vape. This battery capacity can go up to two weeks for normal and regular vaping sessions.
Its draw activation mechanism gives it a higher rating in terms of performance because of its easy way to start it. A small LED on the underside of the device shows that the Box Air JK is working and that the battery is still charged.
The Box Air JK Vape has a protracted mouthpiece sticking out of the top, so it is easily accessible. The vaping performance is envisioned for mouth-to-lung vapers since the E-Liquid has a high nicotine content.
Its 10ml E-Liquid juice is a great choice of capacity. It is both portable and light as well, and it is also sufficient to serve you for a longer time. The E-Liquid compartment is also leak-proof and does not at any point leak to the outside or to the other compartments.
Speaking of its portability, its small size as well as its light weight are great contributors to its portability. It is easy to carry and has a pocket-friendly structure. You cannot even realize that you are carrying it in your pocket.
In conclusion, the Box Air JK Vape is a great vaping device that you will always love to vape with, and you will never miss it in your regular shopping lists.
Pros & Cons
Pros
The Box Air JK Vape has a long-lasting battery.
It has a good vapor production.
It does not need to be charged.
Cons
Frequently Asked Questions
Does the Box Air JK Vape Recharge?
The Box Air JK Vape does not recharge. Once its battery gets depleted, the E-Liquid gets depleted too. It has a powerful battery of 1500mAh capacity that can sustain vaping for about two weeks.
Can you refill the Box Air JK Vape?
The Box Air JK Vape is a disposable vape; once the E-Liquid gets depleted, there is no refilling, so it is only used once.
How Many Puffs Are in The Box Air JK Vape?
The Box Air JK Vape has a capacity of 10ml of E-Liquid; this capacity is able to offer you approximately 3000 puffs that can sustain your vaping process for about two weeks.
Alternative Vape Equipment - UPENDS UpBar GT
When it comes to providing the greatest vaping experience, the UPENDS UpBar GT is one of the top-tier vaping devices. It is made and designed by the UPENDS company company, which has been in the market for over a decade.
The UPENDS UpBar GTfeatures a sleek, curved shape that fits well in the palm of your hand. Its airflow design is named after the world's fastest automobiles. In addition, its V-shaped structure is made to increase the quality of vapor production, and also reduce condensate, and speed up vapor quality.
The UPENDS UpBar GT offers you multiple flavors to ensure that your flavor preferences are properly met. Its favors include:
Banana ice
Ice mint
Tobacco
Blueberry ice peach
White peach ice
Strawberry smoothie
Lemon Mojito
Mixed Berry
The prefilled state of the E-Liquid and the pre-charged battery enable you to start your vaping process as soon as you purchase it. Its draw-activated mechanism is one of the major contributors to its ease of use.
The UPENDS UpBar GT has a capacity of 2ml that hoses the E-Liquid. This capacity gives you up to 600 puffs, which is quite substantial. These 600 puffs can serve for several days.
Wholesale Vape Equipment Supplier: UPENDS
UPENDS is the top-tier and most prestigious brand in the vaping sector. It has an outstanding reputation for creating the best quality for creating the best quality vape items. Its goal is to offer its customers high-quality, easy-to-use items in a wide range of tantalizing flavors at costs that are relatively affordable.