There are a lot of companies that deal in the production of vape products today and that is all thanks to the fast acceptability that vaping is gaining all around the world. It is however very important that you are sure about the specific brand of vape products you would be going for to avoid buying fake and bad products. One of the fast-growing vape brands in the world presently is the Boulder vape and, in this article, we shall be looking at a detailed review of Boulder Vape, specifically their Boulder Rock Vape, and its instructions.
1.     What is Boulder Vape?
This fast-growing company is located in California and it is one of the leading vape companies out there. The brand has its website as , and they deal in the production of various vape products. The company makes use of the best natural and quality ingredients in the production of all their products and they adhere strictly to rules guiding vape in the country. The brand is the perfect choice for you if you are looking to get the best vape products in the market. They prioritize customers' satisfaction and their products are made in various breath-catching styles. One other unique thing about their product is the fact that they are all very easy to use, you do not have to worry about any difficulty in the use even if you are a first-timer.
They deal in the production of e-nicotine liquid, vaporizers, and various vape accessories. If you are looking to successfully and easily switch from smoking to vaping, then you should try them out. This is because apart from the fact that their products are easy to use, of quality materials and build-up, they are also well affordable! Boulder vape sell their products at cheap prices even though their quality is not cheap! you can also easily access their products as they are well available all around the United States. The Company makes use of a team of highly skilled individuals who use their high professionalism in making sure that all products are carefully, skillfully, and healthily products. The brand is certainly one that you should try out. Some of their top leading vapes are The Boulder Rock Vape Pen Kit, The Aspen Slim Starter Kit, The Aspen Air Starter Kit, and the Boulder X1 Starter Kit.
1.1 Pros
Great Choice for Starters
Quality Material
Outstanding Flavors
Quite Affordable
1.2 Cons
Limited Selection of E-Juice
2.      Is Boulder Vape Good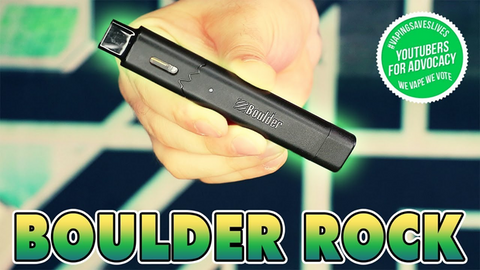 Overall, the brand is a very good one as their products are of high quality and they are well affordable. The ingredients used in the production of their products are natural ingredients that have been carefully extracted from plants- their products speak originality. Talk about their team of workers too, they have well-trained professionals that take care of the careful production of these vape products and ensure that they are all safe, and enjoyable to use. They have lots of fruity flavours available for your enjoyment and their flavours range from mango to cherry, to vanilla, to menthol, and other amazing ones.
The major hitch that you are likely to face with choosing this brand is the fact that they have a limited selection of e-juices available. All their flavours are also mainly fruits. Apart from this, the brand is really good and their products are the best.
3.      Boulder Rock Vape Pen Kit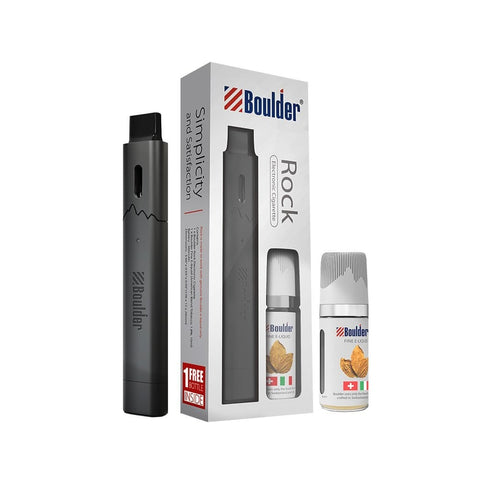 This vape pen right here is one of the best vape pens in the market and it is also the most popular vape pen Boulder vape has produced. This product is beautifully made, with a very attractive design, it is very easy to use, it is a high-quality product, it is quite affordable, and it delivers efficiently! It comes with a battery that is well powerful and has a capacity of 320 mAh, the battery charges within 45 minutes and it powers the product effectively. When fully charged, the battery can last for up to 9 hours without even getting tired- that is quite amazing!
This product produces great vapour and its draw is not too hard or too weak. You do not have to worry about the difficulty involved in refilling vapes while using this product, the product is very simple to power and also refill, with this product, you get to easily and neatly refill e-juices. The product is well portable and can be carried about safely in the pocket without having accidental firing. With Boulder Vape Pen, you get to enjoy a highly satisfying, and relaxing vape experience.
3.1 Pros
3.1.1 Quality Product
One feature that most vapers commonly look out for in vape products is high quality, and this particular product is loaded with it. Being a product of a top-rated brand, the Boulder Rock Vape is made with quality material and ingredients that leaves you asking for more every time. All products used in the production of this vape are original and they are all-natural and safe to use.
3.1.2 Amazing Draw
This product produces a draw that is quite good and that stays just in between. The draw is not too hard such that you get to hurt your throat and it is also not too weak such that it does not give you the satisfaction you are looking for. The draw production of this product is the perfect one for you.
3.1.3 Its Power Button is Carefully Designed
This is a very unique feature of the product. It comes with a power button that is well designed and it makes it quite easy to use and carry about unlike many other vapes. You can carry the Boulder Rock Vape in your pocket without having to worry about firing accidentally.
3.1.4 Strong Battery
The battery that comes with the product is very strong and powers the product efficiently. This battery charges within 45 minutes and when it is fully charged, it can power the product for a period that is up to 9 hours, non-stop.
3.1.5 Easy to Use
The Product is an amazing choice for starters as it does not come with any complexities in its use. It is also very easy to refill and you usually do not even need a manual before doing that successfully.
3.2 Cons
3.2.1 Charging Cap is not so Firm
The major off about this product is the fact that the charging cap that comes with it falls off so easily as it seems not too firm in place. You might find this a bit frustrating when using the product as you have to keep putting it back in place.
4.      Frequently Asked Questions (FAQ)
4.1 How Do I refill Boulder Vape Pod and Tank?
Like we initially noted in the article, refilling most products from Boulder Vape comes quite easy and so to do this, here are the steps:
To refill a Boulder vape pod, the first thing you have to do is to raise the plug that is at the bottom of the pod, after this, you should stick in the nozzle, and then slowly and carefully refill it.
To refill a Boulder vape tank, the first thing you need to do is to detach the tank from the battery, after this, bring out the heating element, and then you slowly and carefully refill it.
4.2 Can I use other E-juices with Boulder Vape Pod?
Of Course, Yes! This even solves the problem of the limited selection of e-juices that Boulder Vape has. You can easily get any other E-juice from various companies and then freely use it with Boulder Vape Pods. Additionally, to bea hundred per cent safe, it is advised that you pour e-juices from other brands into Boulder vape bottles specifically for use. Connecting bottles from other brands directly to the pod can spoil it in some cases.
5. You want another Awesome Vape Store? Try UPENDS!
5.1 UPENDS
Uppen
Upcott
Try checking out the products at UPENDS.com. If you looking to experience a unique and intriguing vaping experience easily accessible at wholesale price.
UPENDS.com is one of the best companies that provide you with the best-vaping devices at wholesale prices. Their products are beautifully designed and very portable to carry anywhere, this makes them very convenient and safe to use too. You get to enjoy the best vaping experience at really affordable prices.
UPENDS, the rising e-cigarette brand is presently recruiting agents worldwide…
6.      Conclusion
Boulder Vape is one of the best vape companies out there and they are well-known for their high-quality products and trustworthiness, this is also in addition to the fact that their products are well affordable and are reasonably healthy to use. The most popular products of this brand are the Boulder Rock Vape Kit and which is the best of its kind out there. The Boulder Rock Vape is quite easy to use and refill, it has a very strong battery life and lasts long, and it is also very safe and easy to carry about. To check out this product and other amazing vape products, check Upends.com.