It's a new dawn to the world of vaping as technology has taken root in changing the whole process of nicotine consumption. Traditional tobacco smoking is now a thing of the past as vaping has gladly and largely been embraced by the public. Vaping products have flooded the vape equipment market, and it is quite hard to find the best vape equipment that will get you covered.
The E-liquid is the major factor that qualifies a vaping experience to be worth having or otherwise. E-liquids come in different flavors, with various nicotine levels and other essential components. This guide welcomes you to the top-ranked e-liquid that will assure you of the best vape experience.
What is Black Note Vape Juice?
Black Note Vape Juice is a unique vape e-liquid that is naturally extracted from real tobacco leaves without any artificial tobacco flavorings. The Black Note Vape Juice is among the oldest styles of e-liquids that deliver you the authentic flavors that you deserve. Whenever vape users interact with natural tobacco extracts, they report their taste to be like that of tobacco smoke. This is the same taste that you are to encounter as you will relate the flavor to fresh pipe tobacco.
The Black Note e-liquids are accessible in a wide range that you can select from. The vape e-liquid is available in a standard line that is composed of eight 50PG/50VG freebase nicotine e-liquids. The vape e-juice is available in 0, 3, 6, 12, and 18mg nicotine levels. It is possible to find a vape e-liquid that offers a 70VG content that allows the addition of the above-mentioned salt nicotine strengths.
Black Note Vape Juice Review
The Black Note Vape Juice is available in a wide range of exceptional flavors that will make you a proud vape user. Here are the top flavors that you are entitled to enjoy once you are a Black Note Vape Juice.;           
Cavendish Tobacco
 This is an excellent vape e-liquid flavor that features a subtly sweet touch that originates from the dark, ripe Virginia tobacco. This e-juice flavor is a rich and intense blend of Virginia tobacco leaves and oak barrels that are cured and streamed to deliver a brilliant intensity taste. This is the perfect flavor for those who dream of tasting a vape flavor without the hard edge of tobacco.
For those who are seeking complex and mild tobacco juice, then this Black Note Vape Juice is the best choice for you. The vape e-juice flavor gives you the unrelenting sweetness that comes with a fire-cured tobacco taste that will always make you come back for more.
American Blend
Welcome to the natural sweetness that emanates from this Virginia tobacco that is mixed with burley and oriental tobacco. This is the right e-liquid flavor that delivers you the original American blend that makes you taste a real cigarette. This is perfectly achieved without any smoke, carbon monoxide, tar, or any burning being produced. This Black Note Vape Juice ensures you celebrate the sweet aroma and the tea-like nature that will water your taste buds.
 Thanks the coil friendliness of the vape e-juice that ensures that you enjoy the earthy quality, that are full of bright notes of Virginia and the sweetness that originates from the oriental tobaccos. The taste that you are entitled to with this vape e-liquid is much more intense than any other special blend. The tobacco flavor taste is well-balanced as you enjoy the top flavor profile that is produced. You will love more of the flavor and get the nicotine satisfaction you need for a better mood.
Kentucky Tobacco
This is the best opportunity to enjoy the earthy and nutty flavor that is attained from the plant's natural resin extracts. This Italian flavor is fire-cured to provide an undeniably earthy flair. This vape e-juice is unique due to its complexity in terms of flavor. You will be impressed by the woody flavor whenever you make your first puff, as you release a legit smokiness when you exhale. You will appreciate a consistent nutty taste that makes it worth spending every penny on it.
This is the ideal vape flavor that assures you of the straight tobacco taste that features a multi-layered flavor profile. Whenever you interact with this vape flavor, you will admire the intensity and fruity taste that will overwhelm your taste buds.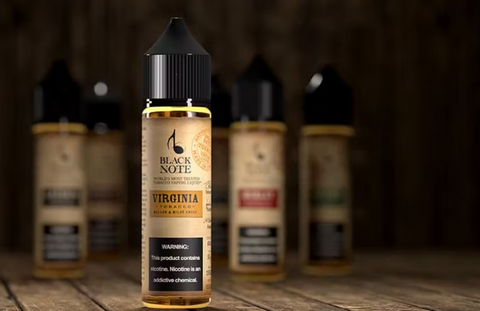 Burley Tobacco
If you are looking for a rich and smooth vaping experience that will make you stand out among vape users, this Black Note Vape Juice flavor is the best for you. The vape e-juice flavor is cultivated on the foothills of the Italian volcano Vesuvius. The tobacco is sun-ripened and shade-cooled, and this is the basis of -its full-bodied flavor.
On your inhale, you will feel the smooth and clean overall taste. You will appreciate the pure tobacco leaf taste that makes this a straightforward flavor that is worth trying out. What makes this Black Note Vape Juice flavor stand out is the authenticity that it delivers, as it makes you achieve an original cigarette taste.
Menthol Tobacco Blend
The Black Note Vape Juice avails you of Turkish small-leaf tobacco that is sun-cured and then overlaid with a menthol extract that is sourced from peppermint leaves. The unique extract delivers you a crisp, fresh, mellow, and super-smooth experience that you will always yearn for. You will love the refreshing mint flavor that keeps you energized.
Most vape users love this vape e-liquid flavor for its flavorful and pronounced taste that gives you an exact impression of an actual cigarette. If you are an experienced vaper, it is wise to try out this amazing Black Note Vape Juice flavor that will make you keep smacking your lips every time you make a puff.
Latakia Tobacco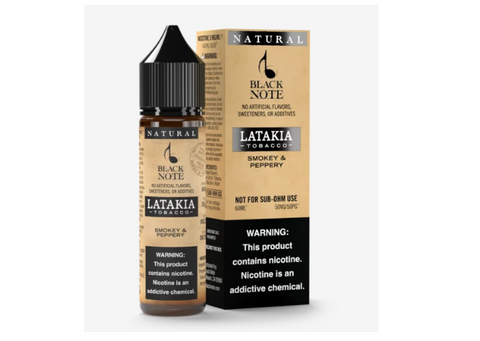 The interesting part of this vape flavor is the way it is capable of incorporating four elements of sun, fire, air, and earth to deliver a rich, intense smokey-peppery tobacco. This is made to happen by the blending of the Syrian Latakia that involves the process of sun-curing the tobacco, which goes along with smoke-curing over-regulated fires of Valok oak. The Aleppo pine, Lebanon, cedar, Greek juniper, and indigenous aromatic are also involved in the smoke curing.
This is one of the most complex and true tobacco tastes that is offered by the Black Note Vape Juice. You will always look forward to enjoying the intense flavors for every vape user. The quality of flavor is sufficient to make you a proud vape user.
FAQs About the Black Note Vape Juice
What is the best Black Note Vape Juice flavor?
The Black Note Vape Juice is known for its excellent flavors that always confuse vape user users. This uncertainty in which flavor is best arises from the competitive nature of the vape flavors, as each seems to be outstanding. This remains to be the user's absolute taste and preference on which flavor among the ones introduced in this article works best.
Is the Black Note Vape Juice Safe?
The Black Note Vape Juice is an ideal vape e-liquid that assures every user of ultimate safety. You will always be served with the best vape taste that is not burnt, as this may indicate that you have to change the e-liquid.
Is the Black Note Vape Juice worth it?
The Black Note Vape Juice welcomes you to the world of sweet and mouthwatering tasty flavors that give you a real cigarette vibe. You are assured of nicotine satisfaction as it comes with up to six salt nicotine options for you to customize your nicotine content intake.
Alternative Vape Device - UPENDS UpBar GT
The best way to make your vaping moments even much more fun is to involve the UPENDS UpBar GT vape. The UPENDS UpBar GT vape device is designed with the latest technology as it achieves the modern and updated features you can dream of. The vape device brings you the ultimate ease of use. The vape device comes with a pre-filled e-liquid that matches your liking. You are never prompted to first charge the vape device before you start using it, as it comes pre-charged.
The UPENDS UpBar GT vape employs the mesh coil that is responsible for the dense and improved flavor of vape clouds. Among the many vape flavors, White Peach Tea, Tigar Blood, Blueberry Pech Ice, Banana Ice, Smoothie, Tobacco, and many other wonderful flavors are available through this vape device. With the UPENDS UpBar GT vape, you are assured of up to 600 puffs from the 2ml e-liquid content.
Wholesale Vape Equipment Supplier: UPENDS
UPENDS company is here to prove to the world that it can offer the best vape experience ever. Every vape product that is offered by this top vape brand achieves the highest quality as they engage the most recent vape features. You are assured of a sensational vaping experience as you are free to acquire premium quality vape products at a very affordable price.