For one to achieve successful vaping, you require the right device that will facilitate the conversion of e-liquid to vapor. There are several vape devices in the market that take the role of producing inhalable vapor. Among the vape devices for vape users are the disposable vape devices that are highly accessible for use. The disposable vape devices come with a pre-charged battery and pre-filled cartridge that makes the vape device ready for use it is purchased.
Disposable vape devices are easy to use as they allow even beginners to vape like seasoned vape users. It can be tricky when one needs to select an ideal disposable vape in the current market that is made of many different disposables. This article makes things simpler for you as it directs you to the Birkinz Disposable Vape, which is the dream of every passionate vaper.
What is Birkinz Disposable Vape?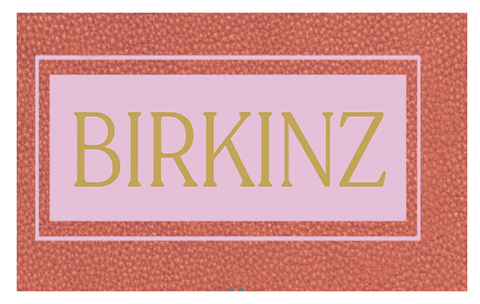 The Birkinz Disposable vape is one of the vape products that have made the Birkinz company enjoy its prestigious rank as one of the most loved vape producers. The Birkinz brand produces over 20 premium quality flavors that let vape users enjoy an e citing journey of various tastes. It is worth spending on the Birkinz disposable vape that is capable of providing you with up to 4000 mouthwatering puffs. This disposable vape features a 13ml pre-filled e-liquid capacity that is responsible for the huge number of puffs.
Thanks to the huge battery capacity that the Birkinz disposable vape comes with. A capacity of 600mAh is powerful enough to deliver until the vape e-liquid is depleted. The battery is as well rechargeable, and this means that you are assured of enjoying the whole amount of e-juice in the device. This wonderful vape device employs a mesh coil that is known to produce pure and high-quality vapor for a brilliant vaping experience.
Pros
It offers a huge puff count
It is easy and simple to use
It has a lightweight design
It features a powerful battery
It has a large e-liquid capacity
It has an attractive physical design
It offers nicotine satisfaction
It is highly portable
Cons
It is non-refillable
It is non-rechargeable
Birkinz Disposable Vape Reviews: Is Birkinz Disposable Vape good?
Most vape customers who purchase vape products sometimes select products that they are not sure of their capabilities and features. The Birkinz Disposable Vape is proven and tested to perform magic during every vaping session. Check out the following Birkinz Disposable Vape models and get to know what they serve once purchased.
Birkinz Nicotine Spiked Lemonade Disposable Vape
This Birkinz Disposable Vape is among the top selected flavors as it brings out a nice burst of lemonade flavor. When inhaling the content in this device, you will feel the mouthwatering flavors that are perfectly complemented by an icy finish as you exhale. This vape device comes with a 600mAh rechargeable battery, and this is a big gain for those who need to make their vaping sessions even longer and more efficient.
The Birkinz Disposable Vape model ensures that the vape user gains nicotine satisfaction and enjoys smoother throat hits. This is made to reality by the inclusion of 50mg nicotine content in the device's e-liquid. The device employs a mesh coil that is known to provide the actual lemonade flavor that you dream of enjoying during your fun time with this vape device. You will be served with up to 4000 puffs that are sourced from the 13ml vape e-liquid capacity.
Pros
It is rechargeable
It has a large e-liquid capacity
It offers nicotine satisfaction
It comes with a powerful battery
It offers the actual lemonade flavor
Cons
It is non-refillable
It is expensive
Birkinz Nicotine Strawberry Clacier Disposable Vape
This is one of the Birkinz disposable vape devices that feature the newly introduced flavors. The Birkinz disposable offers you the real burst of icy strawberries that, when inhaling the flavor, you will feel the juicy and fruity taste you deserve. The vape device comes with a powerful battery that features 600mAh, and it can be recharged once the device runs out of power. Along with the built-in battery, the vape device comes with a USB-C cable that a customer is supposed to buy separately.
Thanks to the mesh coil that is employed in this device, that is capable of efficiently delivering large clouds of vapor that deliver the precise strawberry flavor that you intend to experience. The Birkinz disposable vape considers those vape users who are seeking nicotine satisfaction by including 50mg of nicotine in the selected e-liquid. With the 13ml e-liquid capacity, you are entitled to take up to 4000 flavorful puffs. The VG and PG contents in the vape e-liquid are responsible for the deep and flavorful clouds.
 Pros
It offers nicotine satisfaction
It is rechargeable
It has a classic physical design
It is highly portable
It features a powerful battery
It offers huge puff counts
It offers the actual flavor
Cons
It is non-refillable
It is costly
Birkinz Nicotine Icy Grapevine Disposable Vape
For those who are dreaming of a vape device that can offer a burst of frozen grapes, then this is the right Birkinz disposable vape for you. When inhaling the Icy grapevine flavor, you will adore the grape ice taste that is produced. You will appreciate how the mesh coil in this vape device produces high-quality clouds. The mesh coil is known to best retain the intended flavor of a given e-liquid. Thanks to the VG and PG contents in the e-liquid make your vape clouds even denser and more enjoyable.
The Birkinz disposable vape welcomes you to the sweet and delectable 4000 puffs of the icy grapevine flavor. The flavor that is served by this disposable vape device is what makes ape users come for more. The vape device comes with a 13ml -juice capacity that is enough to keep you sorted out for days. A pre-charged 600mAh battery is installed to keep the Birkinz disposable vape ready for vaping.
Pros and Cons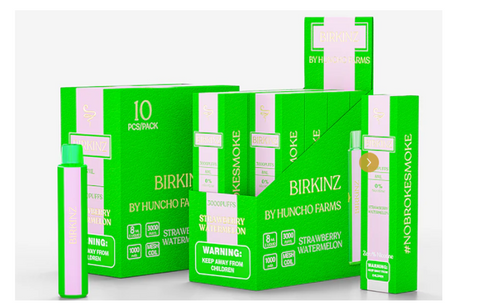 Pros
It offers the pure icy grape flavor
It features a long-lasting battery
It is highly portable
It offers up to 4000 puffs
It allows you to recharge the battery
It offers dense and quality vape clouds
Cons
Birkinz Watermelon Bubblegum Disposable Vape
Welcome to the premium quality Birkinz disposable vape device that comes in a 10-pack of your desired flavor. The vape device is designed to offer you an 8ml e-liquid capacity as it comes pre-filled with the watermelon bubblegum flavor. You are entitled to enjoy up to 3000 puffs which are enough to keep you going for days. From the physical look, the Birkinz disposable vape is worth moving around with. The vape device is light enough to be carried around without fatigue.
The manufacturer of this wonderful vape device installed a 1000mAh battery that is powerful enough to heat the entire vape e-liquid without any fear of power depletion. This makes your Birkinz disposable device highly reliable.
Pros
It features high portability levels
It offers nicotine satisfaction
It is ideal for both beginners and experienced vapers
It has a huge puff count
It has a classic physical design
It uses a mesh coil
Cons
It is non-refillable
It is no-rechargeable
FAQs About Birkinz Disposable Vape
Read the following concerns that arise when it comes to dealing with the Birkinz Disposable vape;
How long does a Birkinz Disposable Vape Last?
The lifespan of a disposable vape pen solely depends on the frequency of its use. The Birkinz disposable vape is designed to offer huge puff counts that will help you vape for a longer period, unlike other vape devices that offer fewer puff counts; hence the Birkinz disposable proves to be more economical and efficient.
Is the Birkinz Disposable Vape worth it?
It is rare to find such a high-quality vape device as the Birkinz disposable vape. This vape device is attractive and hence easily noticeable from the shelf. You are guaranteed high puff counts that deliver you the actual taste of the selected flavor.
How many hits are in a Birkinz Disposable vape?
The Birkinz disposable vape device is known for its high puff counts. Averagely you will find different models of this vape device, and the approximate range of puffs is between 3000 to 4000 puffs.
Best vape wholesale supplier- UPENDS
Welcome to the exponentially rising e-cigarette disposable vape manufacturer. UPENDS is the leading vape product manufacturer in China, and it is known to be a world-class company that delivers premium quality vape products. The UPENDS team has hugely invested in carrying out intensive and extensive research and development. This ensures that the company gives you updated features of their products. Right from its prices, product designs, quality, and taste, it proves to be outstanding in the vape market. In case you intend to acquire any of the UPENDS products, you can easily access them through their online shop and get the best that they offer.