The milk vape juice is a unique vape juice sought after by many vapers because it is associated with a classic cream flavor. So, are you among the vape enthusiasts of milk vape juice? The milk vape juice is a brand manufactured by Jam Monster.
This company is reputable when it comes to the production of vape juices. Suppose you were searching for more information about milk vape juice. We will give you this detail and much more in this guide.
Let's start.
What is Milk Vape Juice/E-Liquid?
This brand of vape juice under Jam Monster has a cream-milky taste with a mix of flavors like berry crunch, cinnamon, and fruit mix. Additionally, it is available in three categories salt nic, short-fills, and monster bars. But we will focus more on the milk vape juice salt nic and short-fills.
What Does Milk Vape Juice/E-Liquid Taste Like?
A cream-milk taste is the primary taste of all milk vape juices. This is because milk is the main ingredient used in making this e-juice. However, additional flavors like berries, cinnamon, and fruit mix give each flavor a delicious taste that will tingle your taste buds.
Top 3 Milk E-Juice/E-Liquid Flavors
Below is a list of milk e-juice on the market.
The Milk Berry Crunch
There is a milk berry crunch short-fill and salt. All these are made using a blend of berries and creamy milk. Thus, they have a uniquely delicious, creamy, and berry taste. The short-fill is available in a 100ml bottle with a 75% VG and 25% PG. This ratio enables the juice to produce high amounts of vapor. Also, it has 0mg and 20mg nicotine levels.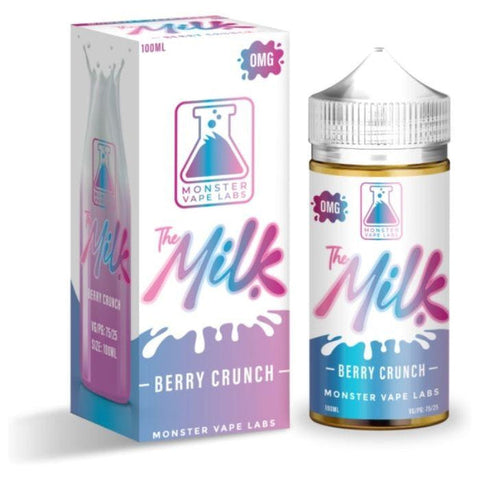 Regarding the milk berry crunch, salt is packed in a 30ml bottle with two nicotine strengths, 24mg and 48mg. Additionally, it has a VG/PG ratio of 50/50.
The Milk Cinnamon
Choose between the short-fill and nic salt cinnamon milk vape juice. The milk cinnamon vape juice blends cinnamon, milk, and cream. This delightful vape juice has a satisfying flavor that will wag your tongue. The short-fill comes in a 100ml bottle with a 75% VG and 25% PG.
Furthermore, it has 0mg, 3mg, and 6mg nicotine levels. The milk cinnamon short-fill is available in a 30ml bottle and has 24 or 48mg nicotine strength. Also, it has a 50/50 VG/PG ratio.
Finally, this vape juice is well crafted to meet your vaping demands.
The Milk Fruity
Do you love a blend of different fruits in one vape juice flavor? Then the milk fruit e-juice has several fruits together with milk and cream for a lovely vape taste. This e-liquid has a classic cereal taste that will make you want more of this flavor.
The milk fruit short-fill has a 75/25 VG/PG ratio which is ideal for you who love high vapor production. As for the nic, salt has a 50/50 VG/PG ratio and comes in 24 or 48 mg nicotine levels.
Note: Suppose you choose the milk vape juice nic salt. Ensure you use it on a pod system or a low-powered vape device.
If you need wholesale vape products, you can contact UPENDS to become a distributor of UPENDS.