Vaping equipment, also known as e-cigarettes or electronic cigarettes, are electronic devices that heat a liquid solution, called e-liquid or vape juice, to produce a vapor that you can inhale as a vaper. The act of using a vaping device is commonly referred to as "vaping."
Vaping devices typically consist of a battery, a coil, and a reservoir for holding the e-liquid. The battery powers the device and can be rechargeable or disposable. The heating element, usually a coil, is responsible for heating the e-liquid and turning it into vapor. The e-liquid comes with a mixture of propylene glycol, vegetable glycerin, flavorings, and often nicotine.
There are numerous types of vaping devices available on the market, including pod systems, disposable devices, and reusable devices, among many more.
Let's discuss more on the best reusable vaping devices in the market:
What are Reusable Vaping Devices?
Reusable vaping devices, also known as refillable or rechargeable vaping devices, are electronic cigarettes designed for repeated use. These devices are equipped with rechargeable batteries and refillable tanks or pods, allowing users to enjoy a sustainable and cost-effective vaping experience.
One popular type of reusable vaping device is the vape pen. Vape pens are cylindrical in shape and typically include a battery component and a refillable tank. They are favored by many vapers due to their simplicity and portability. The tanks in vape pens can be easily refilled with e-liquid, offering you the freedom to select from a variety of flavors and nicotine strengths. When the battery runs low, vape pens can be recharged using a USB cable, ensuring uninterrupted vaping enjoyment.
Another common type of reusable vaping device is the pod system. Pod systems feature a compact device and a detachable pod that houses the e-liquid. These devices are known for their user-friendly design and ease of use. Many pod systems utilize a simple plug-and-play mechanism, allowing users to conveniently replace the pod when it runs out of e-liquid. The pods can be either refilled with e-liquid or replaced with new ones, providing users with flexibility and convenience.
For those seeking more advanced features and customization options, box mods are a popular choice. Box mods are larger, more powerful vaping devices that often come with removable batteries and larger e-liquid capacities. They offer adjustable wattage or temperature controls, allowing users to fine-tune their vaping experience according to their preferences. Box mods cater to experienced vapers who enjoy exploring different vaping techniques and styles.
Why Choose Reusable Vape Devices
The reusable vaping equipment comes with a number of advantages that may give you all the reasons to use them as you vape. Here are some of the reasons to choose reusable vaping devices:
Flexibility and Customization - Reusable vaping devices offer greater flexibility and customization options. You can select from different e-liquid flavors, nicotine strengths, and VG/PG ratios to suit your preferences. They can also adjust settings such as wattage or temperature in advanced devices, allowing for a more personalized vaping experience.
Performance and Longevity - Reusable vaping devices often offer better performance and longevity compared to disposable alternatives. The battery life in reusable devices is typically longer, allowing for more extended vaping sessions without frequent recharging. Additionally, users can maintain and replace individual components, such as coils or pods, ensuring optimal performance over time.
Cost Savings - Reusable vaping devices can be more cost-effective in the long run. While the initial investment may be higher compared to disposable e-cigarettes, the cost of continually purchasing disposable devices can add up over time. With reusable devices, users only need to buy e-liquid and replacement coils or pods, which are generally more affordable than buying multiple disposable devices.
Personalization and Experimentation - Reusable devices enable users to experiment with different e-liquid flavors and nicotine strengths, providing a more customized vaping experience. Vapers can explore a wide range of flavors and find their favorites without being limited to pre-filled options available in disposable devices.
Variety of Device Options - Reusable vaping devices come in various styles and designs to cater to different preferences. Whether it's the sleek and portable vape pens, the user-friendly pod systems, or the advanced box mods, there are options available to suit every vaping style and level of experience.
Environmental Considerations - Reusable vaping devices are more environmentally friendly compared to disposable ones. Disposable e-cigarettes generate significant waste as they are discarded after a single use. By choosing reusable devices with refillable tanks or pods, vapers contribute to reducing waste and the overall environmental impact.
Reusable Vaping Devices Review
Here are some of the best reusable vape devices:
SMOK RPM 5 Vape Pod
Features
2000mAh Capacity Battery
Type-C Charging Cable
2ml E-Liquid Capacity
Side e-liquid filling
DTL Vaping
The SMOK RPM 5 Vape Pod is equipped with a powerful 2000mAh capacity battery, ensuring that you have sufficient power to enjoy your vaping experience for extended periods. This high-capacity battery allows you to vape for longer durations without worrying about running out of power. With such a reliable battery, you can confidently indulge in your favorite e-liquids throughout the day without constantly needing to recharge.
The device boasts a 2ml e-liquid capacity, providing you with a decent amount of e-liquid storage. This capacity allows you to enjoy multiple vaping sessions before needing to refill the pod. It's a practical feature that saves you the hassle of frequently refilling the e-liquid, enabling you to focus more on enjoying your vape and less on maintenance.
The SMOK RPM 5 Vape Pod features side e-liquid filling, which enhances the ease of use. With this design, you can easily refill the e-liquid without the need to disassemble the pod or make a mess. Simply locate the side filling port and insert your e-liquid bottle, ensuring a smooth and hassle-free experience. This user-friendly design ensures that you spend more time enjoying your vape and less time dealing with complicated refilling processes.
The device is optimized for direct-to-lung (DTL) vaping, providing you with an excellent vaping experience. DTL vaping is known for producing thicker clouds and delivering intense flavor. With the SMOK RPM 5 Vape Pod, you can enjoy a satisfying and immersive vaping experience with every puff, immersing yourself in the rich flavors and indulging in the cloud production that DTL vaping offers.
Vaporesso Xros 2
Features
1000mAh Rechargeable Battery
Refillable Leakproof E-Liquid Pods
Button/Draw-Activated
The Vaporesso Xros 2 is a remarkable vape device that offers variable features to enhance your vaping experience. With its 1000mAh rechargeable battery, you can enjoy extended vaping sessions without worrying about running out of power. This high-capacity battery ensures that you have sufficient energy to vape throughout the day, providing you with a reliable and consistent vaping experience.
The Vaporesso Xros 2 features both button and draw-activated mechanisms, giving you flexibility in how you choose to vape. You can either press the button to activate the device and take a puff or simply take a draw without any buttons. This dual activation system provides convenience and caters to personal preferences, allowing you to customize your vaping experience to suit your style.
SMOK Nord 4
Features
2000mAh Capacity Battery
5 – 80W Output Wattage Range
115g Weight
7 x 24.4 x 104.9mm Dimensional Size
15 – 2.5-ohm Resistance Coil
The SMOK Nord 4 is a highly capable vape device that offers several impressive features. First and foremost, it is equipped with a powerful 2000mAh capacity battery. This high-capacity battery ensures that you have ample power to enjoy your vaping sessions for extended periods without the need for frequent recharging. With the SMOK Nord 4, you can confidently vape all day long without worrying about running out of battery.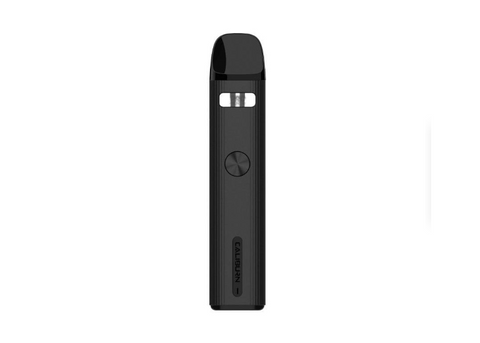 The device also boasts a wide output wattage range of 5 to 80W, providing you with the flexibility to customize your vaping experience. Whether you prefer a lower wattage for a milder vape or a higher wattage for more intense clouds and flavor, the SMOK Nord 4 can accommodate your preferences. This wide range of output wattage allows you to fine-tune your vape to match your desired vaping style.
Uwell Caliburn G2
Features
750mAh Capacity Rechargeable Battery
USB Type-C Fast Charging
MTL Vaping
Refillable E-Liquid Pods
Mesh Coils
Inhale/button Activated
The device features refillable e-liquid pods, allowing you to easily and conveniently fill them with your preferred e-liquid. The refillable pods eliminate the need for constantly purchasing pre-filled pods, providing a cost-effective and customizable vaping experience. You can experiment with various e-liquids and flavors, tailoring your vape to suit your preferences.
The Uwell Caliburn G2 incorporates mesh coils, which are known for their superior flavor production and coil longevity. The mesh coil technology allows for even heat distribution and rapid heating, resulting in a more consistent and flavorful vape. With the mesh coils, you can enjoy a rich and satisfying vaping experience.
UPENDS: Wholesale Vape Equipment Supplier
UPENDS is a reputable wholesale vape equipment supplier. UPENDS specializes in providing a wide range of high-quality vape devices and accessories to retailers and distributors. With a focus on delivering innovative and reliable products, UPENDS offers a comprehensive selection of vape equipment to meet the needs of businesses in the vaping industry. UPENDS has a commitment to quality and customer satisfaction, which has established them as a trusted supplier in the market. Whether you're looking for vape kits, pods, coils, or other vaping accessories, UPENDS offers competitive pricing and excellent service to support your business needs.