Unlike in recent years, pod vape systems are everywhere. Most people have gained confidence in exploring the more portable and simpler-to-use pod system vapes. Pod system vapes are friendly to beginners as they display their small and stylish design. With this massive shift into the use of pod vapes, the current market has been flooded with new pod system vape models and this can lead to confusion on which one performs best for you. You do not have to waste money on buying any pod vape you meet. This article introduces to you the perfect pod system vapes for greater ease of use, quality flavor, and high-end portability.
What is a Pod System?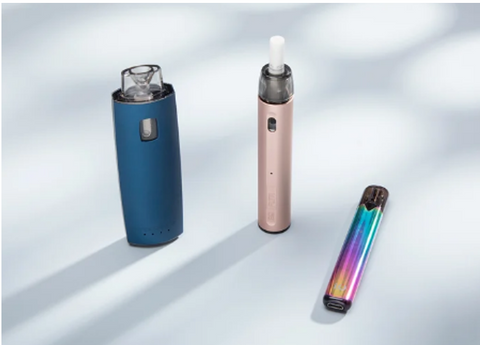 Before you get to know the top pod system vapes, you might tend to ask what a pod system is. A pod system vape is a particularly compact vape device that employs vape pods in place of traditional atomizers. Pod system vapes are engineered to deliver you an extremely compact setup, unlike the traditional atomizers. The introduction of nicotine salts in the pod system vapes is the core reason for the experienced dominance of pod system vapes in the market. Nicotine salts are adored because they give users a much more mouth-to-lung vaping experience when compared to the freebase pods.
Things to Consider when Choosing a Pod System
It can chance that you are shopping for your first vaping device or you desire to upgrade your existing vape with a pod system. You need to make the best decision on which pod system will work magic during your vaping experience. Check out the following essential factors that you must be keen on to acquire an ideal pod system for you;
Adequate Battery life-you can easily select the pod system with longer battery life by considering the size of the pod system itself. The smaller the pod system, the smaller the battery and hence a shorter battery life. So, it is up to you to consider whether you need a long-lasting battery or a more portable pod system.
Replaceable Coils-for your vaping journey to be much more economical, your pod system has to allow you to replace its coils once they are worn out. This is less expensive compared to the use of disposable pod systems, where you need to discard the whole device once its content is depleted. You can as well change a coil type for you to customize your vaping experience.
Adjustable Airflow or Power Levels-the most effective way to customize your vaping apart from replacing your coils is to have a pod system that allows you to control the airflow. This feature gives you a perfect experience as you will enjoy bigger clouds and makes your vaping moments even more memorable.
A More Cigarette-like Experience-if you are accustomed to the emotions and the irresistible sensations of smoking, you need to select a pod system that gives cigarette vibes. The pod system should make you feel the softer filter in your mouth; hence the pod system must feature a soft filter tip to mimic a real cigarette. The pod system should help you enjoy the authentic feeling of tobacco smoking.    
 A Next-Generation Vaping Technology-due to the stiff competition between vape pod models, every brand ensures that they equip their devices with the latest technological features. You need a vape pod that is capable of offering you the most accurate flavors in the most convenient way. A pod system that features a new vaping mode where the coil is adjustable to provide a low and brief current for excellent puffs.
5 Best Pod Systems 2023 Review
Welcome to the top selection of premium quality pod systems that will turn around every aspect of your vaping lifestyle.
Eleaf IORE Lite 2 Pod Kit
This is one of the best-selling pod systems that bring the ultimate portability you are looking for. This brilliant vape pod is palm-sized and hence allows you to use it on the go. The Eleaf IORE LITE 2 Pod Kit features a 490mAh battery capacity with an attractive physical appearance. You will be impressed by the pod device is easy to use as it needs no settings.
The vape pod comes with built-in coils that play a significant role in maintaining an absolute breeze on the vape pod. The vape pod system allows you to enjoy the auto-draw activation technology. This makes these vape devices ultimately interesting. It is an exciting feeling when you plug the device in for charging, and within 40 minutes, only the device is fully recharged. It is worth interacting with this wonderful and reliable vape device.
Pros
It is small and light
It is perfect for loose MTL draw
It features it comes with a good battery and fast charging capability
It is easy to set up and use
Cons
The pod is difficult to remove
OXVA Xlim SE Bonus Edition Pod Kit
A vaping session with the OXVA Xlim SE Bonus Edition Pod Kit will make you forget all about your worries. The pod system offers you greater efficiency as you can enjoy the draw-activation capability. With the first puff, you are set to enjoy the rest of an exciting vaping journey. The pod vape system comes with a 900mAh battery that allows you to enjoy the device's flavors for as long as you desire.
The OXVA Xlim SE Bonus Edition Pod Kit is excellent when it comes to mouth-to-lung vaping. You will be impressed by the seamless and leak-free operation as you celebrate the continuous quality of production from this pod system. The vape device allows you to adjust the airflow for a customizable vaping experience.
Pros
It is highly portable
It is with a powerful and long-lasting battery
It is ideal for MTL vaping
Cons
Uwell Caliburn A3
You will be a lucky vape pod user if get to enjoy the low-profile and lightweight Uwell Caliburn A3 pod system vape. The pod's system gives you the right hits to present you with both freebase e-liquids and nicotine salts. You will love the six colors that it is available in as you are encouraged to use it at any moment. Thanks to its ultra-portability. This is the most ideal device if you dream to enjoy mouth-to-lung vaping.
Surprisingly, the Uwell Caliburn A3 pod system vape is slim but it is capable of containing a 520mAh battery. With a large battery capacity and draw-activation technology, you are set to explore the amazing flavors this vape device delivers. A firing button is as well provided to make the vape pod reliable.
Pro
It has a long battery life
It does not leak
It is portable
It allows button or draw activation
Cons
It has a fill cap that is hard to eject
It does not support pass-thru charging
VAPORESSO LUXE XR MAX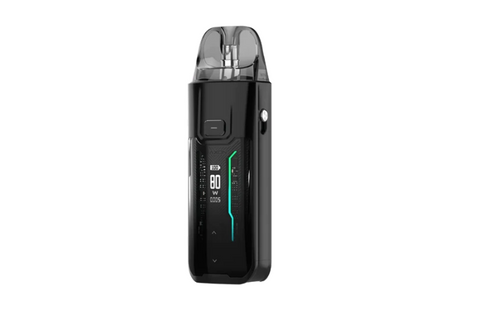 This is yet another wonderful vape pod system that brings you impressive mouth-to-lung, direct-to-lung, and direct-to-lung vaping. This is made possible by the high-level design that allows you to adjust the device's airflow. The Vaporesso Luxe XR Max allows you to rotate it 180° if you want to the device to be looser or tighter. For you to as well to fine-tune your draw, you are provided with an airflow slider.
Thanks to the massive 2800mAh battery that ensures that you experience a heavy vaping session that will last for as long as you wish. The vape device comes with a 2A Type-C charger that gives you nearly instant charging capabilities.
Pros
It comes with touch buttons and screen features
It offers adjustable airflow
It comes with two pods and coils
Cons
It has no draw-activated firing
UPENDS UPPEN Compact Vape
Right from the look and classic feel, this vape pod kit is absolutely irresistible to every buyer's eyes. This is a premium quality vape device that brings you the locking coil system that ensures that you enjoy the accurate taste in any flavor you decide to use. The UPENDS UPPEN Compact Vape comes with a 2ml e-liquid capacity that is delivered in its smooth and delicious state.
This is the most ideal vape pod to engage if you are looking to experiencing mouth to lung vaping. You can achieve nicotine satisfaction by simply employing the UPENDS UPPEN Compact Vape in your vaping lifestyle.
Pros
It offers excellent vapor production
It has a solid coil longevity
It comes with a fast-charging battery
Cons
FAQs About best pod system vapes
Are pod system vapes good?
These devices are ideal for you to access the highest quality flavors that will keep you coming for more.
What e-liquid should you use with pod vapes?
You are free to use the regular nicotine e-juices, nicotine salt e-juices, CBD e-juices, and as well as nicotine-free e-juice.
UPENDS: Wholesale Vape Equipment Supplier
Upends is one of the top-notch wholesaler companies that is known to be the largest in China. For whoever wants to upgrade the usual vaping experience into an exciting adventure, it is best recommended that you visit UPENDS.com. Here you will find a seamless number of premium quality vape products for a wonderful vape time!