In a world where people are now excessively getting busier and busier each and every day, they are always pre-occupied by serious matters like studies, work, and many more things, and essential oils come to their rescue. People tend to be stressed by the nature of work, children, and other responsibilities that might negatively affect them psychologically.
Essential oils will help you relieve stress, keep your brain relaxed and focused on important things in life, and enhance your mood. Essential oil vape pens help you by producing chilling scents that are calming and keep the stress away. Among other ways of managing stress and anxiety, essential oils have been recognized to be very effective in alleviating stress. They achieve this through the use of vaporizing pens.
What Are Essential Oils?
Essential oils are aromatic compounds (compounds that produce sweet scents) that are extracted from plants. They are well-known concentrated fragrances and have potential wellness benefits. They are used in two different ways; they are either gulped or diluted and applied to the skin to indulge a number of ailments. Essential oils have the potential of therapeutic properties that relax the brain. That is why people are striving to get them to their brains via the blood and respiratory system by inhaling them.
What To Have in Mind When Choosing an Essential Oils Vape Pen
Nothing feels good, like realizing that you just made a good decision. Choosing the right essential oil can even be more therapeutic and delightful. For you to make an informed decision, here are the factors to consider:
Quality and purity- Ensure that you look for high-quality essential oils; avoid diluted or synthetic ones, as they may not have the same therapeutic benefits. Remember to check if the oil is labeled as "100% pure".
Purpose- Different oils have different properties that are suited for different purposes. Determine those that are used for relaxation, mood enhancement, skin care, aromatherapy, or pain relief.
Scent and personal preference- Always choose an oil that is pleasing and suitable to you and for the use you intend.
Safety and allergies- beware of any sensitivities or allergies that you may have towards some oils, and choose the one that will affect you the least.
Price- In most cases, the price of the oil is directly proportional to the quality, but it is good to make a choice that balances quality and price.
Brand reputation- Always research and read reviews about the brands you want to choose. Reputable brands often provide high-quality oils.
The extraction method- different extraction methods affect the quality of the oil; choose the one that least affects the oil.
Best Essential Oils Vape Pens
Vaping essential oils requires you to inhale vaporized aromatic compound extracts found in plants using specialized devices called vape pens. Vape pens consist of a battery, a heating element, and a tank that is filled with an amalgamation of essential oils and carrier oils. Vape pens heat the plant extracts to a temperature where they are converted to vapor, which you can now comfortably inhale.
We are now going to look at the top essential oil vape pens.
VIGLORY Aromatherapy Inhaler for Essential Oil Pen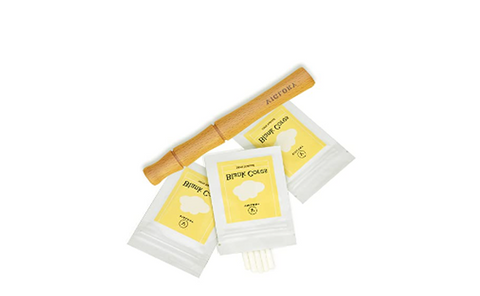 The VIGLORY Aromatherapy Inhaler for Essential Oil Pen is a portable device with an exceptional design that lets you carry it anywhere you go. It is well and carefully handcrafted to fit the required ergonomic standards that make it very well compatible with your hand as you hold it. It is made of wood to ensure that it stays strong and durable.
Features
Nice ergonomic design for comfortable handling.
Its portable thus easy to bring along
Allows you to enjoy the essential oils while you are on the go.
It has a pen-like structure
Made of wood
Pros
Made up of wood that is friendly to the environment.
Its small size is able to fit into your pocket.
It comes with a money-back guarantee.
It can be used with the minimal possible essential oil.
Cons
It is not suitable for those people with respiratory problems.
Essential oils must be bought separately.
It may not be as effective as the traditional methods of smoking-quit aids.
Overall, the VIGLORY Aromatherapy Inhaler for Essential Oil Pen will give you the best in terms of portability and durability.
KETPIONICS Reed Diffuser Ballpoint Pen
KETPIONICS Reed Diffuser Aromatherapy Ballpoint Pen is a vape pen that employs the use of very high technology that combines a pen and a vaping device. With it, you can combine writing with aromatherapy. The pen has a Swiss refill quality that makes writing smooth and effortless. The pen also has a reed diffuser essential stick that helps you calm down, relieve stress, and remove anxiety.
Features
It has a reed diffuser essential stick that promotes calmness at the same time, relieves stress and anxiety.
It has a convenient take-out aroma pen that is easy to take anywhere.
It is highly portable allowing you to easily carry around.
Pros
Aromatherapy and writing all in one.
The pen is portable and easy to take anywhere
Cons
The pen may not be suitable for people with respiratory problems and allergies.
Overall, the KETPIONICS Reed Diffuser Aromatherapy Ballpoint Pen is a good choice that will help you combine writing and aromatherapy either when you are reading, writing, or in meetings.
MONQ Aromatherapy pen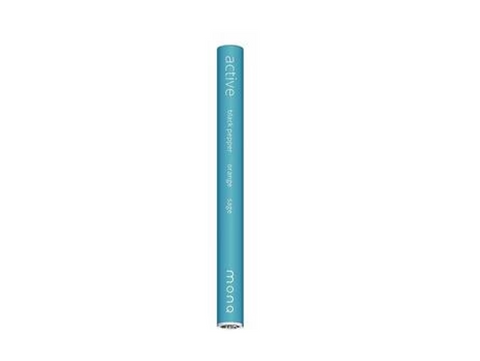 The MONQ Aromatherapy pen is a pen-sized vape pen that is very portable, convenient and pocket friendly. With the MONQ Aromatherapy pen you can get up to 300 draws, depending on how you are using the pen. You will never experience any leakage with The MONQ Aromatherapy pen.
Features
Made from stainless material.
Powered by a 210mAh lithium-ion battery.
The battery runs on 0.88 watts.
It can give up to 300 puffs.
It has a nickel-chromium that is responsible for heating essential oils.
The MONQ Aromatherapy pen also comes in 11 blends that give you the flavors that fulfill your aromatherapy needs. Some of the flavors include Zen, Happy, Sexy, Sleep, Vibrant, Active, Healthy, Forest, and Ocean.
Pros
It allows you to access it in a wide range of flavors.
It is small and portable.
It comes prefilled with essential oil.
Cons
It can neither be refilled nor recharged.
It is costly when you need a range of temperatures.
LUZZ AIR ZEN
If you are troubled with stress, the Luzz Air Zen is the best solution for you. Chamoline and Lavender are super mellow, and even the act of inhaling will help you chill out. The Luzz Air Zen is a perfect replacement for nicotine as nicotine promotes withdrawals that cause so much anxiety. The Luzz Air Zen provides you with a toxic-free puffing substance.
It is flavored with Relaxing lavender vapor that gives you a peaceful calm. Its ingredients include chamomile, valerian root, passionflower, and L-Theanine. Its ingredients are ethically sourced vegan and have no addictive or harmful products. It is also believed to last longer than the available brands. At the bottom, its LED lights flash when the formula has run out.
Pros
Has a nice floral aroma.
Has the calming power of 7 different extracts.
Lasts longer than other brands.
It is very portable.
Cons
It has a relatively small capacity.
BEE-MASTER Vape Pen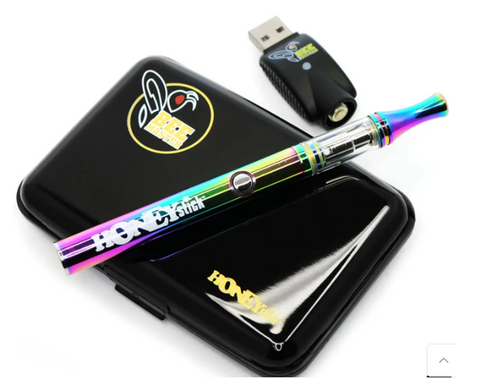 The BEE-MASTER Vape Pen is one of the HoneyStick oil vape pens offered by HoneyStick. It is pen-like and pen-sized. It is highly portable, and allows you to easily carry it around as you travel. It comes in a prefilled state, and it is refillable. It comes with three temperature regulations: 3.6V, 3.8V, and 4.0V. Its powerful battery of 350mAh capacity can serve for a whole day without recharging it.
Pros
It is refillable.
It is rechargeable.
It has a powerful ceramic heater of 1.20-ohm coil resistance.
It is highly portable.
Cons
Its capacity cannot sustain you for long.
MyMoods Detox
MyMoods Detox is a vape pen that will assist you in raising your moods when you feel low. Its dominant taste is orange; it is the one that you will first notice when you take its puff. Other ingredients include Spearmint, Cinnamon, Cedar-Wood Basil. Its deep magenta and tube-like design make it easy to carry around.
Pros
It is very portable.
Its ingredients taste purely original and natural.
Its ingredients offer you vitamin C.
Cons
It lasts only a few days.
There is no refund on used products.
Alternative Vape Equipment - UPENDS UpBar GT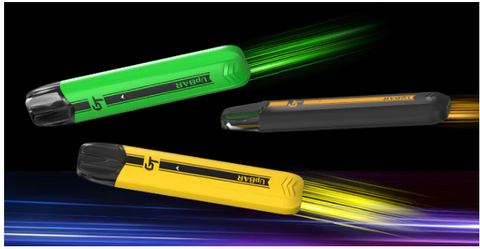 The UPENDS UpBar GT, developed by Chinese company UPENDS, offers a modern, curved design with a 2ml capacity. Its V-shaped design improves flavor quality, reduces condensate, and accelerates vapor formation. The UPENDS UpBar GT offers a variety of flavors, including mixed berries, lemon mojito, blueberry ice peach, tobacco, banana ice, ice mint, and white peach, catering to different taste preferences.
Wholesale vape Equipment Supplier - UPENDS
UPENDS is the best and most prestigious brand in the vaping industry. It has an excellent reputation for producing high-level, high-quality vape items and devices. It aspires to produce high-quality, user-friendly products with a wide selection of delectable flavors at low prices.