Advancement in technology has brought with it various advancements in various fronts of life. Vape juices haven't been left behind in the advancements. As such, there are various brands of vape juices currently available in the market.  This article seeks to give you a review of the best five nicotine-free vape juices.
How to make nicotine-free vape juice
Making your vape juice involves mixing the ingredients, base liquid of PG and VG, nicotine, and flavor concentrates. For nicotine-free vape juice, you'll exclude the nicotine from the ingredients. This applies to all; for example,  you'll exclude from your ingredients the flavor; if you don't want any flavor in your juice, you'll exclude flavor from your ingredients.
It doesn't take chemistry knowledge to be able to make vape juice. As long as you do the ratio math well, you are good to go. Just be sure to mix the ingredients well.
Can you make vape juice without nicotine?
Absolutely YES! Statistics show that people are transitioning to vape juice as it offers more flavor options. Also, study shows that more vapers prefer non-tobacco flavors as they don't use nicotine. Moreover, it is no longer news that extensive nicotine use is harmful to one's health, so many nicotine-free vape juice is health-friendly.
Can vaping without nicotine harm you?
Some of the manufacturers of vape products portray vaping as the absolute way out of smoking. Research into the matter, however, indicates otherwise. The research shows that even without nicotine, vaping could still be harmful to the body.
Generally, vaping has various side effects, including:
General toxicity

Inflammation

Lung and throat irritation
How to get free vape juice
It is possible to get free vape juice, but just like any other product, this comes if you are a regular customer or when there is a promotion.
Best 5 Nicotine Free Vape Juice
VaporFi Nictech Custom Blend
The VaporFi blend seeks to change every smoker's life. All of the e-juice from this brand is made in the USA using kosher grade diacetyl-free ingredients. With this brand, you have dozens of finely crafted flavors to choose from, or you may as well create your personalized blends. The brand also has three VG/PG levels to choose from 50%, 70%, and max VG.
With the UPENDS product, the NicTech custom e-liquid blender makes blending extremely easy, thus helps save on time. When using the VaporFi NicTech tool, you may select up to 3 flavor shots and create your own non-tobacco nicotine e-liquid in just a few easy clicks. You may also blend the NicTech custom e-liquid flavors in any way you choose to.
 The package includes one 30mL Salt or 60mL Bottle of Your E-Liquid Flavor. The specific feature of the e-liquid tool is that you may Select Between 50% PG / 50% VG or MAX VG. As such, with the VaporFi Nictech Custom Blend, you can peacefully make your own nicotine-free vape juice at the comfort of your home.
Kind Juice Once in a Blue Moon
The Kind Juice Once in a Blue Moon is made of fresh first harvest blueberries. The fresh blueberries' essence is very rare to find. Kind juice blends the juice perfectly to give you the best experience of the wild blueberries flavored vape juice. The juice taste as good as it smells.
The ingredients used in the making of the juice include:
Organic vegetable glycerin (USP grade)

Organic flavorings

Wildcrafted botanical extracts

Cold extracted nicotine (USP grade) from USA grown tobacco – not in 0mg strengths.
Additional information about the product is as follows.
| | |
| --- | --- |
| WEIGHT | 3 lbs |
| DIMENSIONS | 3 × 1 × 1 in |
| SIZE | 60 mL, 15 mL, 30 mL |
| NICOTINE LEVEL | 0 mg, 3 mg, 6 mg, 12 mg |
Even though the Kind Juice flavors come ready to vape upon opening, much like a fine wine and depending on the length of time the product has been bottled for, you may still need to aerate them for a short period of time. The aeration helps to vent or let breathe. When you receive your bottle, you will notice strong or rather sharp notes in which there are recommendations on allowing your bottle to aerate at least 24 hours in a cool, dark, and secure place. The aeration for that short time helps solve various problems associated with flavors.
Notably, those who are alcohol sensitive should take precautions when using this product. This because alcohol is used in vaping, and as much as it is steeped off, it is only safe for those who are too sensitive to be cautious.
Black Note Virginia Tobacco
The Black Note provides premium e-juice for the true tobacco connoisseur. The juices are made of naturally extracted tobacco and contain less chemicals. The flavors are robust, authentic, and diacetyl-free. The product also comes with a variety of naturally extracted flavors from which you may choose. Each of the flavors has a 50VG/50PG 
The product is made from Virginia tobacco which has a naturally sweet taste and the pleasantly sweet aroma of caramelized sugar. The tobacco leaves are large, ranging in color from lemon yellow to orange or even mahogany, depending on the stalk position.
The additional information on the UPENDS product includes the following.
| | |
| --- | --- |
| Weight     | 3.7 oz |
| Dimensions | 1.5 × 1.5 × 4.5 in |
| Short Name | Virginia Tobacco |
| SIZE     | 60 mL, 15 mL, 30 mL |
| NICOTINE LEVEL | 0 mg, 3 mg, 6 mg, 12 mg |
Moreover, the product contains no Diacetyl, Acetyl Propionyl, Ethylene Glycol, Diethylene Glycol, Acrolein, or Acetoin. This essentially means no artificial flavors, colors, sweeteners, or additives, giving it a sweet natural taste.
Crypto - OG Classics - Cosmic Fog Vapors
The Cosmic Fog is among the juices with very unique flavors. The flavors have been made by vapers with an interest in culinary art and who observe due diligence.  All of them are made in an ISO 8 laboratory and are free of diacetyl and other contaminants. Each flavor provides an entirely new experience for your taste buds.
Additional information on the product is as follows.
| | |
| --- | --- |
| Chubby Unicorn Bottle | 100mL |
| Ratio | 70% VG 30% PG |
| Available in | 0mg, 3mg, 6mg |
The product is made in the USA and comes with a child-resistant cap. Besides, Crypto by OG Classics is an older formula brought back to life, featuring sweet mellow melons with a coating of hard candy delivering a dose of deliciousness directly to the taste buds.
KAI's Virgin Vapor
This flavor is highly potent, highly concentrated, resulting in a very pure e-liquid that contains no colorants, fillers, diluting agents, or preservatives, and is also vegan, sugar-free, and gluten-free. These precious flavor essences make the e-liquids a fantastic delight to the senses. Flavors are all pure extractions from fruits, flowers, and nuts - any flavor that includes nuts is noted below.
Certified Organic USP Grade Vegetable Glycerin

USP Grade Nicotine

Certified Organic Flavors
The KAI's Virgin Vapor might be clean as it gets. The juices are taken through thorough testing to make sure they are diacetyl-free and match the state of the art GC-MS testing. USP and kosher-grade ingredients and third-party organic flavorings are also used in the making of these juices. Moreover, the juices come in a variety of flavors from which you may choose, and all of the e-juices contain maximum VG content.
5 nicotine-free 0mg disposable electronic cigarettes recommended:
1)Nic Less 0mg Nic Vape 2000 Puffs
$12.95
No Nicotine 0MG
2000 Puffs:
2)ZERO DISPOSABLE VAPE PEN - NICOTINE-FREE (0MG) - 1600 PUFFS
$12.95
Nicotine-Free (0mg) 
Zero Disposable is a 0% nicotine disposable vape pen pod device with more than 1600 puffs. It is super rich in flavor. Choose the e-liquid flavor you love most from 11 available disposable vape flavors.  The Zero is small in size, easy to carry, easy to use and tastes great!
3)0MG SALT SWITCH ZERO DISPOSABLE VAPE 450 PUFFS [7 FLAVOURS]
£6.95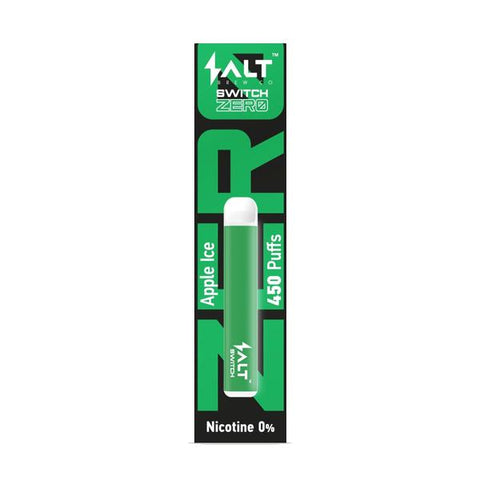 0MG DISPOSABLE VAPES - ZERO NICOTINE 0mg Nicotine or nicotine free disposable vapes are relatively new on the market but are increasingly popular. These convenient and easy to use disposable vape pens have anywhere between 450-3500 puffs and are a great alternative to smoking but without the need for a nicotine hit.
4)ZERO NICOTINE GEEK BAR DISPOSABLE VAPE 575 PUFFS [10 FLAVOURS]
price£4.95
About Zero Nicotine 0mg Geek Bar Disposable Vape
With it's crystal clear appearance, the Geek Bar Disposable Pod Device will look stunning as you puff away. Powered by a 500mAh battery, the Geek Bar Disposable Pod Device can offer up to 575 Puffs. With 2ml pre-filled juice, the Geek Bar Disposable Pod will bring you amazing flavours with the range available.

Along with a real and smooth taste, the Geek Bar Disposable Pod Kit will bring you massive Clouds and a solid throat hit. Just get the Geek Bar Disposable Pod Device got the most outstanding and ultimate flavour than any another disposable pod kit.

Zero Nicotine 0mg Geek Bar Disposable Vape Specification
- Size: 23.2 × 14.3 × 105mm
- Battery: 500mAh built-in battery
- Pod capacity: 2ml pre-filled juice
- Puffs: ≥575 Puffs
- Nicotine content: 0% Nic Salt
- Cigarette material: PCTG + heating wire organic cotton + non-woven fabric + needle cotton
- Main material: PC+ABS two-colour injection
- Standard resistance: 1.40-1.50ohm
- Maximum power: 9W
- Output: Constant voltage 3.6V output
5)ELF BAR 600 DISPOSABLE VAPE POD 600 PUFFS
About Zero Nicotine (0mg) ELF Bar Disposable Vape 600 Puffs:
The Elf Bar 600 Zero Nicotine disposable vape boasts a most fashionable design with a portable body holding 2ml pre-refilled juice that's nicotine free. With its large 550mAh inbuilt battery, this Zero Nic Elf Bar will last up to around 600 puffs.
NICOTINE FREE DISPOSABLES - ELFBAR 0MG NO NICOTINE
Conclusion
Everything has its cons and pros, and vaping is no exception. As such, you should note the problems associated with vaping and its side effects. However, this doesn't mean we should overlook the benefit. As it stands, the benefits are relatively higher as compared to the side effects.
When vaping, always remember to do right by the ratios and mix the ingredients well. Also, remember to choose the right VG/PG concentration for your juice. The above discussed products come in various nicotine concentrations, including those with no nicotine at all. As such, where you want to vape a nicotine-free vape juice, you should go for that with no nicotine concentration at all.