Technology has changed the way people live. Smoking of cigarette has taken a new twist and totally changed how people consume nicotine content. Using electronic cigarette devices, you can now consume nicotine in different flavors of your choice. This include the crispy and refreshing AQUA vape juice, an assorted blend of fruits.
What is Aqua Vape Juice?
Aqua vape juice refers to an e-juice brand produced by Marina in Los Angeles, California. Marina Technology features a powerhouse that has dominated the e-juice industry as from 2014. Their premium e-juice collection reflects true example of Marina's prowess when it comes to crafting quality vape products for consumers.
Aqua represents one of their ever popular lists to date and stands tall because of many critical reasons. In terms of taste, Aqua cape juice has consistently clean, highly refreshing and very contained flavors. It has very deep complexity that most e-liquid enthusiasts love.
In a nutshell, qua e-juice combines a fruit line blended in a single mouth-watering flavors. You can find this refreshing e-juice in five distinct fruit flavor options. According to your choice, you may choose from Flow, Pure, Rainbow Drop, Mist or Oasis and many more. Each of the flavors mentioned come exclusively in 60ml unicorn bottle. This greatly minimizes possible damage in case it drops down, squeezed or hit by other objects. It simply squeezes and avoids such damages.
2.Below we give you an in-depth overview of each of the flavors Aqua produces:(Aqua vape juice flavors)
1.1Aqua Mist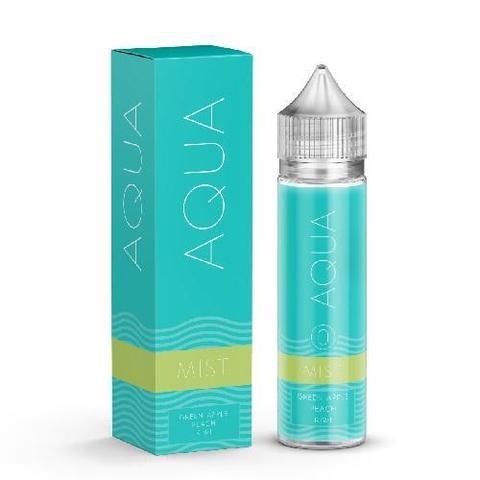 Its name comes from light vapor showers left on your tongue from freshly harvested blend of farm fruits. Aqua mist e-juice features a smooth perfect mixture of delicious green apple, kiwi and pear. It comes as the latest addition to Aqua e-juice flavor lineups with tingling tangy feeling. Your tongue can experience a rich sensation of pear and apples on inhale. By far, the pear predominates in terms of taste with the e-juice filled with a smooth vibe. You exhale the kiwi tart with the vapor coating every single flavor to the tongue, releasing thick cloud filled with very pleasant delicious scent.
1.2 Aqua Pure
Aqua pure e-juice flavor comprises of ripened strawberries, juicy watermelon and sweet apples. The name has a reason because the blend each fruit has in this e-juice resembles specific fruit that takes the taste buds to another peaceful electronic smoking journey. Aqua pure e-juice has the real essence of flavors. This vape juice has intense sensation that leaves you marveled. You enjoy sweet strawberries and sugared watermelon as you exhale sweet apples.
1.3 Aqua Flow
Flow e-juice flavor includes a bottle filled with guava, honey mango and bittersweet pineapple. The beautiful fusion represents a true blend of tart and sweet for the lovers of tropical fruits. This flavor produces a fruitful sensation that combines freshly sliced bittersweet tart and pineapples together with delicious guava intrusion through inhale. On the exhale you release savory mangoes, leaving the sweetest aftertaste from the clouds released from your mouth.
1.4 Aqua Oasis
For the lovers of succulent cantaloupes, papaya and juicy peaches can enjoy Aqua oasis e-juice. It represents a perfect nectarine flavor, combined with the best ever extracts. The three juices produces thick and heavy nutritious sensation, very pleasant as you vape. You simply inhale golden juicy and succulent peaches to soothe and calm down particular cravings.  You exhale exceptional taste of cantaloupe melons and papaya which compliments other juices, creating a superb shock wave of lush tastes.
1.5 Aqua Rainbow Drops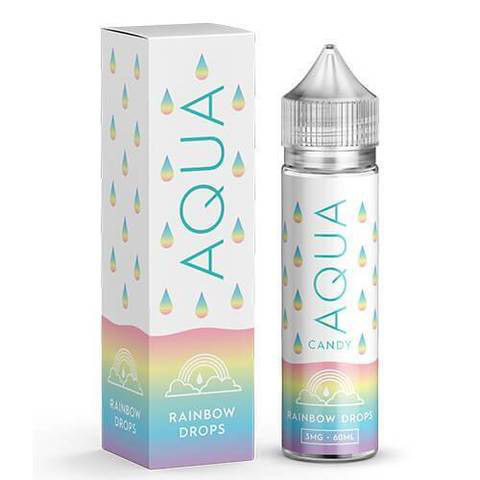 The rainbow drops of Aqua e-juice comprises of assorted fruity chewy candy flavors. Rainbow Drops is a representation of colors, with a mixture of luscious berries, delicious apples, not forgetting sweet grapes. It has a fruity taste that produces sweet sugary taste, blended with balanced tang. This gives you mouth-watering sensation as you inhale strawberry and apple notes and exhale tangy candy citrus flavor. All the combination comes out in a single thick vape cloud from your mouth.
1.6 Aqua Sour Melons
Aqua sour melons features a combination of flavors put into a single bag containing melon-based candies, producing sour tangy sensation. You can figure out a combination of watermelon, cantaloupes as well as honeydew melons. On inhale, the ideal vape juice gives you cantaloupes and honeydew distinct flavor highly released on your tongue. On the exhale, Aqua sour melons releases the nice watermelon combined with sour candy twist for a lush sweet with honeyed notes. You experience the sensation in a single kick consisting of flavored sour candy that lingers on the taste buds. It soothes and puckers your mouth at once.
1.7 Aqua Blue Razz
Aqua Blue Razz is a fruit-flavored sensational e-juice that consists of blue raspberry extracts. It has a super tart and sweet flavor that any first-time vapor searching for something perfect to start from can feel at peace. You can make it your start up vape juice and end up making it your all-time favorite. Its simplicity allows you to inhale and exhale the blue raspberry extracts as you experience lush flavor and earthy undertones worthy to remember.
1.8 Aqua Pure Ice
Pure had a big impact in the e-juice industry that made Aqua make a more flavored iced version. It has since reached a top-selling level because of the cooling menthol sensation it leaves on the tongue. Those who like menthol feeling should try the Pure Ice vape e-juice. It brings a taste of chilled pineapples, juicy mangoes, guavas and bits of ice for a cooling ice effect. Experience the inhale of honeyed mangoes and guavas as you exhale the sweetest tart pleasure of pineapples and slight ice that feels like a cool breeze. All these in a single-filled mouth to leave you satisfied with fruit choice.
1.9 Aqua Mist Ice
The Mist also did very well and Aqua made a decision of icing it for the sake of menthol enthusiasts. The e-juice comes filled with green apples, nectarous peach alongside juicy and fresh kiwis that you can't resist. The unique blend of fruity, tart and sweet inhale leaves a tasty and cooling effect on your tongue. You as you exhale, you feel the cooling sensation that leaves your entire body with goosebumps. This vape juice filled with juicy fruits and the menthol splash does a lot of wonders.
1.10 Aqua Momentum
If you like high nicotine e-juice inspired with ultimate sweet tropical, then Aqua Momentum is here for you. It combines both sour and sweet flavors of freshly sliced ripe juicy mangoes and candy core. It leaves your mouth with unbelievable feeling of chews. Aqua Momentum balances between candy kick and fruit flavor that sends taste buds to another world.
1.11 Aqua Rainbow Drops Ice
The Aqua Rainbow Drops Ice is actually a version of Rainbow Drops but on a different level of pleasure. It features refreshing mixture of fruity candy, combined with bits of menthol leafs. This refreshing intake can perfectly quench all your taste buds when you try this 60ml e-liquid.
1.12 Momentum Mango Chew
The easiest way you can quench that feeling of chewing stickiest and juiciest candy is trying Momentum Mango Chews. This e-liquid can fully satisfy those cravings in a guilt-free approach. Each pull you make explodes in your mouth with fresh mango. Each Aqua Momentum Mango inhale brings an experience of tangy and bright mango juice flavor, with a thought on a certain exotic beach.
1.13 Aqua Glacier
Aqua Glaciers Nicotine e-liquid features a balanced menthol flavor that brings an ever refreshing cool feeling. Each draw you take in lifts you up as you call for more and more. As you satisfy those taste buds, the tongue remains with menthol feeling and thick cloud of delicious smell.
1.14 Aqua Sour Melon Ice
Aqua Sour Melon Ice features the latest version of the odd Aqua Sour Melon. It comes with a strong blend of the watermelon candy with menthol. When you inhale this flavored e-juice, it produces a tasty and cooling effect to the tongue as you exhale flavors of melon and menthol. It easily satisfies the taste buds in a very delicious trance.
Each of Aqua's e-juices come packaged with any flavor you look for. This suits those who wish to switch from desserts and custards. Each bottle has MAX VG that can surprise you with the amount of flavor the vape juice has. They have been around for ages. They still remain headstrong in e-juice industry as they continually produce fruitful and tasty vape juice. You can always quench the test buds with any choice from Aqua.
UPENDS leads in the development and wholesaling of some of high-quality vaping devices. Through our vaping devices, you can enjoy vaping e-juice cost-effectively at wholesale price.
We develop our gadgets with a very sleek design in a form of pen stylus. You can easily carry hem along so that you can enjoy vaping anywhere, anytime.
UPENDS.com assures you of great value on disposable vape as you enjoy a long-lasting vape at competitive cost.