With the different brands of vape out there, vaping enthusiasts would always opt for vape brands that are easy to use, reliable, safe to use, and produced with extra care and the latest technology with their customers in mind. One of the vape brands that comes to mind when it comes to the best vaporizers is the Apollo vape. In this article, we would be looking at some of their best products in the market; their reviews and instructions.
1.     
What is Apollo vape?
Apollo is a top-quality vape brand established in 2010 in San Francisco but has its market in the United Kingdom, and its website is . Their products are manufactured in their ISO-8 certified facility in San Francisco-California, USA. With over 400 e-liquids that are food-grade approved produced in the USA and recipes are prepared and tested by chemists with PhD degrees, they have the highest quality e-vapes in the market. They produce top quality e-cigarettes, e-liquid, vape kits and vape accessories.
2.     
Apollo Top Products
2.1 Apollo e-cigarettes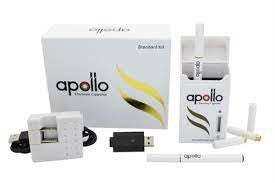 Apollo KR-808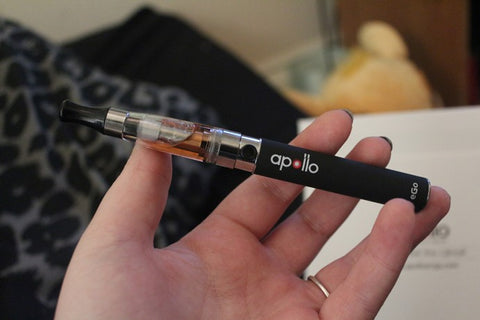 eGo Cigarette
510 e-cigarette
Apollo e-cigarette is one of the popular and oldest e-cigarette brands in the vape market with varieties of starters kit for every vaping enthusiasts who wish to switch from smoking to vaping. Some of the most popular e-cigarette models are KR-808, eGo cigarette, 510 e-cigarettes and a variable-voltage e-cigarette. For beginners to vapes and e-cigarette, Apollo has a beginner's standard kit which includes the 510 e-cigarettes and if you are a little advanced for the beginner's kit, Apollo has just the right kit for you which is the extreme kit and contains KR-808. So, whether you're a beginner or advance to vaping, Apollo has all you need to have a fantastic vaping experience.
2.1.1 Pros
2.1.1.1 Safe to use
One of the reasons why vape users opt for the Apollo e-cigarette is mainly because it's safe to use. It's an alternative to tobacco, the substance inhaled in regular cigarettes which are e-liquid has a potential health benefit for its users. Unlike regular cigarettes that contain harmful substances like carbon monoxide, tar, arsenic, ammonia, cyanide, acetone and many others, e-liquid has just four ingredients which are vegetable glycerin, nicotine, propylene glycol and food-grade flavours.
2.1.1.2 Saves cost
Even though all products from Apollo are of very great quality, they are sold for relatively cheap prices. When you compare them with lots of other e-cig brands out there, the Apollo brand is a superb one for you if you want to save on cost.
2.1.1.3 It is a great choice for Starters
If you are just starting your vape journey, then we recommend that you try out the e-cigarettes from this brand. They are all carefully designed with no complexities which made them very easy to use and a great choice for starters and for people looking to switch from smoking to vaping.
2.1.1.4 Wide Range of Products
The Apollo brand produces varieties of vape products which include e-cigs. Their e-cigs are in varieties and so you can easily choose the exact one you want for an enjoyable vape experience.
2.1.2 Cons
2.1.2.1 Health risk
In as much as e-cigarettes are safe to use, it also has some health risk its users have to be aware of before opting for it. Due to the propylene glycol in the e-liquid that can hold and trap water, a lot of e-cigarette users have complained of dehydration. While some e-smokers have noticed that they were allergic to the propylene glycol in the e-liquid, using the vegetable glycerine-based e-liquid instead. There is also the possibility of nicotine overdose since nicotine is one of the ingredients if taken excessively. However, compared to the severe health risks of using regular cigarettes, one can say it's still quite safe to use the e-cigarette.
2.2 E-cigarette starter's kit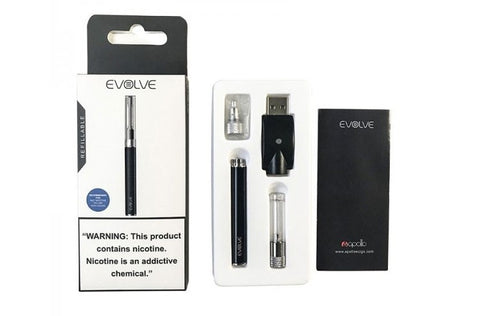 When switching from regular smoking to e-cigarette, it's always best to start with the e-cigarette starters kit. This kit includes the battery, atomizers for vaporizing e-cigarette liquid, charging accessories and enough e-liquid that would last for a week or two. This particular product is not only good for people that are looking to switch from smoking to vaping, but it is also good for experienced vapers too. It is not difficult to use or understand and it delivers so efficiently that you keep asking for it over and over again.
2.3 Apollo E-liquid
The flavoured nicotine liquid that the e-cigarettes vaporizers use is known as e-liquid. It is a vital part of the e-smoking experience than the e-cigarette itself.
The Apollo e-liquid contains both natural and artificial flavours, nicotine and a carrier liquid that vaporizes when heat is applied. The two carriers in the e-liquid are propylene glycol and vegetable glycerin.
E-liquid containing nicotine and flavours can be very dangerous and harmful for human consumption. Hence, the e-liquid carriers are used to dilute the harmful substances to the desired length. These e-liquid carriers vaporize at very low temperatures and have a very neutral taste that doesn't affect the flavour too greatly. While propylene glycol is thinner and less likely to cause dry puffs, it also produces e-liquid flavours more accurately. Unlike, vegetable glycerin which is very thick and brings out thick vapour clouds when puffed in the air and also has a slightly sweet flavour. However, an e-liquid can have either the propylene glycol or the vegetable glycerin carrier or even both. Here are a few of the leading E-Liquids at Apollo vape:
2.4 
Apollo e-liquid flavours
There are over 40 Apollo e-liquid flavours. These large numbers of flavours give e-smokers the ability to choose from the varieties of flavours. Every year, their mixologists come up with an entirely new flavour giving their consumers a new e-smoking experience. Below are some of vapers favourite flavours;
2.4.1 RY4
The RY4 has a fusion of sweet and strong flavours. It has a powerful but unique taste of tobacco with an underlying taste of both vanilla and caramel which makes it desirable to its consumers.
2.4.2 Baja Burst
Baja Burst is a very nice flavour with a fusion of both citrus and tropical fruits. When used with banana flavour or chocolate flavour, it gives its consumers an excitingly unique satisfaction.
  2.4.3 Kiwi watermelon
Kiwi watermelon is another one of the e-liquid flavours. It's a fusion of both kiwi and watermelon fruits and can also be mixed with other flavours.
2.4.4 Grape
Apollo's grape is one of the best grape flavours in the vape market. E-smokers loves to vape with the grape flavour as it is a strong but nice flavour and can be easily vaped all day. To enjoy it better, mixing it with other nice flavours would give a nice vaping experience.
2.4.5 Mango peach
The Apollo e-liquid mango peach flavour is a fusion of both mango and peach giving it a good balance. The peach flavour is more dominant when vaping as you won't feel the mango flavour until you exhale it.
2.4.6 Menthol breeze
The menthol breeze flavour is very refreshing. It's cool and fresh. When mixed with other flavours, it increases its flavour performance giving consumers a refreshing and satisfying feeling.
2.5 Pros
2.5.1 Made under Certified Authorities
Apollo's e-liquid flavours are produced in the ISO-8 certified facility in San Francisco, USA, giving its consumers assurance of top and best quality products used unlike some other shabbily produced e-liquids.
2.5.2 Bulk discounts
Discounts are given to consumers when they buy in large quantities.
Regular offers: there are regular offers given to e-smokers to make the vaping experience better and easy to be able to switch from regular cigarettes.
3.     
Frequently Asked Questions (FAQ)
 3.1 Is Apollo e-cigarette worth it?
Apollo e-cigarette is a great product in the overall view though there are some aspects of the product that could bring down its consumer preference like the battery life and depth of flavour. You can however be satisfied with its vapour production, nicotine level, throat hit and design. Also, the e-liquids would make vaping experience more fun with the varieties of flavours to choose from.
4.     
Do you need a trustworthy online Vape Store? Try UPENDS!
4.1 UPENDS
Uppen
Upcott
Try checking out the products at UPENDS.com. If you looking to experience a unique and intriguing vaping experience easily accessible at wholesale price.
UPENDS.com is one of the best companies that provide you with the best-vaping devices at wholesale prices. Their products are beautifully designed and very portable to carry anywhere, this makes them very convenient and safe to use too. You get to enjoy the best vaping experience at really affordable prices.
UPENDS, the rising e-cigarette brand is presently recruiting agents worldwide…
5.     
Conclusion
The Apollo brand is one of the oldest brands in the vape industry. Established in 2010 in San Francisco, USA. They produce the best of e-cigarettes, e-liquids and e-cigarette accessories. They also have starter kits for beginner e-smokers, standard starter kit or extreme starter kit for advanced e-smokers. Since its launching, Apollo has grown into a reputable consumer-friendly brand in the e-cigarette industry. With an award-winning customer service to its brand name, an easy-to-use website, and a variety of products to cater for all levels of smokers, Apollo is the number one ex-smoker's choice.