Vape Disposables are a great way to enjoy vaping without spending much from your pocket and without requiring much vaping skills and knowledge. This is possible as many of the vape disposables come at affordable prices that you can always afford to buy. Many people also prefer using vape disposables as they are easy to use. Most of the vape disposables come with draw-activated systems that make it easy for every vaper to vape without requiring any vape disposable operating knowledge.
As you plan to buy the best vape disposable for you, you will learn that there are many vape disposables in the market that vary in price, flavor, and size. Even with the large collection of vape disposables, not all of them can work best for you; this is the reason why we have this review article.
One of the best vape disposables that you can get in the market is the Airis Vape Disposable. This device falls among the best vape disposable that gives you outstanding performance in every puff you make. We have taken time to analyze this wonderful vape disposable, and here is all you need to know;
What is Airis Vape Disposable?
Airis Vape Disposable can be defined as a compact, slim and sleek vape disposable pre-filled with 3.2ml of the e-liquid of your own choice. Airis Vape Disposable is pre-filled and pre-charged to make sure you start enjoying your vape as soon as you acquire it from the market. With a 550mAh capacity pre-charged battery, you can enjoy all its 3.2ml pre-filled e-liquid without it running low.
You will also understand Airis Vape Disposable as a vape disposable that comes in 12 variable flavors. The flavors are drawn from the real flavors of your favorite fruits. The flavors include Banana Ice, Blue Raz, Cool Mint, Peach Ice, Blueberry ice, Lychee Ice, and Mixed Berries, among others.
Even with its outstanding features and vaping efficiency, Airis Vape Disposable maintains a slim profile with a dimensional size of 16 x 16 x 104mm. This means that Airis Vape Disposable is pocket-friendly, and you can vape on the move.
Airis Vape Disposable Review
Airis Vape Disposable Specifications
Airis Vape Disposable Specifications

Dimensional Size (mm)

16 x 16 x 104

Battery Capacity

550mAh

Battery Type

In-built, pre-charged

E-Liquid Capacity (ml)

3.2

Puff Count

800

Flavors Count

15+

Nicotine Strength

5%

Coil Resistance (Ohms)

1.8
Battery Life and Charging
Like most vape disposables, Airis Vape Disposable is also powered by a 550mAh capacity battery. Airis Vape Disposable being a disposable vape, its battery is pre-charged, and you don't need to recharge it throughout your vaping duration.
This battery is pre-charged and carries enough charge to allow you to vape and enjoy the 800 puffs without it running low. Because it is pre-charged, you only need to buy Airis Vape Disposable and start vaping without stopping for recharging.
The Airis Vape Disposable battery assures you of steady output for all your vaping time.
Cost Of Purchase
Airis Vape Disposable is available in different vape shops with an average price of $ 9.09. However, the cost of purchase may vary from one vape shop to the other depending on your location and different times of the year. Suppose you are buying Airis Vape Disposable from an online platform. In that case, you also need to make an inquiry about the shipping fees and other customs duties that also may differ from one location to the other.
Ease of Use
Airis Vape Disposable is considered an easy-to-use disposable vape in the market. As Airis Vape Disposable is pre-filled and pre-charged, you escape the inconveniences caused by refilling the cartridge and recharging the battery before starting to enjoy your vape. You only need to choose the flavor that you want, and you will start enjoying your vape.
To activate Airis Vape Disposable for vaping, you only need to place it in your mouth, make a puff and start enjoying the vape. This is because Airis Vape Disposable comes with a puff-activated system. Because it does not come with any physical button, you can easily use it even with little or no vaping experience.
Airis Vape Disposable is further engineered with LED light at its bottom side. This LED glows Blue when you are vaping to indicate that all is well. When the battery is dead, the LED will blink Red, alerting you that it's time for you to replace Airis Vape Disposable.
The ease of use that you get to enjoy when using Airis Vape Disposable makes it the best if you are starting to vape and you have no experience using vape disposables.
General Performance
The performance of Airis Vape Disposable is an outstanding one. First, it comes with an e-liquid capacity that lasts for quite some time, allowing you to vape for a while. The performance of its 1.8ohm coils is also outstanding. This coil is responsible for its pure taste and the dense clouds that you enjoy throughout your vape. With this coil, you will never experience any burnt effect on any of the puffs you make.
Its performance is also owed to its pre-charged battery. This battery comes with a capacity of 550mAh that gives you super performance throughout your vaping period. This battery allows you to vape all 800 puffs without running low at any point during the vaping period.
Pros and Cons
Pros
It comes with a sleek design that is comfortable to hold
It comes with different flavors that you can choose from
It comes with a great puff count for long vaping time
Its battery is powerful enough without any recharge
Airis Vape Disposable is relatively affordable
It makes use of a powerful coil system for a powerful vaping experience
Cons
It is not available in Tobacco or Coffee flavors
Airis Vape Disposable Flavors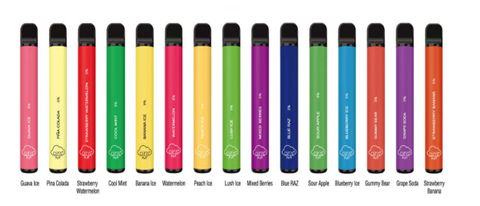 Airis Vape Disposable is available in a number of flavors that you can choose from. These flavors are derived from fruit flavors that give you the real taste of your favorite fruits.
The flavors include;
Pina Colada
Guava Ice
Banana Ice
Cool Mint
Strawberry Watermelon
Peach Ice
Watermelon
Lush Ice
Blue RAZ
Mixed Berries
Blueberry Ice
Sour Apple
Mixed Berries
Strawberry Banana
Grape Sode
Gummy Bear
These flavors are outstanding, and you can always enjoy any of the flavors alongside the ice flavor balance that defines an excellent vape.
FAQS About Airis Vape Disposable
Is Airis Vape Disposable a Good Vape?
Airis Vape Disposable is a good disposable vape. This disposable vape guarantees you the best vaping experience that you deserve. Airis Vape Disposable allows you to vape for a while without it heating on its outside. This, among other features, makes Airis Vape Disposable the best vape disposable for you.
How Many Hits does Airis Vape Disposable Have?
Airis Vape Disposable comes with an e-liquid capacity of 3.2. This capacity allows you to enjoy up to 800 puffs before it is depleted. Once the e-liquid is depleted, you can replace it with a different vape disposable.
How Long Does Airis Vape Disposable Last?
As stated, Airis Vape Disposable has an e-liquid capacity of 3.2ml, which guarantees up to 800 puffs. How long Airis Vape Disposable will last depends on your vaping frequency and techniques. It may last up to a month for moderate vapers.
UPENDS: Wholesale Vape Disposable Supplier
If you are looking for a legitimate supplier of affordable disposable vapes, then UPENDS is the right choice. Here, they develop and supply disposable vapes wholesale, allowing you to enjoy vaping without breaking the bank. All UPENDS disposable vapes are built with long-lasting quality and the latest vaping technology that will allow you the best vaping experience you deserve.