Your vaping experience is determined by the vaping equipment you use. The vape equipment you use not only depends on the type but also depends on the brand which you acquire it from. There are many vape equipment developed by different vape equipment developers. You need to note that not all of the vaping equipment in the market that will work best for you.
One of the best ways to get to know more about the vaping equipment you choose is through reviews. In this review, we give you details of the Aegis Boost Plus Vape Pod Kit.
 What is Aegis Boost Plus Vape Pod Kit?
Aegis Boost Plus Vape Pod Kit is definable on the basis of its outstanding features and its developer (Geekvape). This vape kit is an all-in-one vape kit which is an upgrade of the Aegis Boost Vape Pod Kit. This means that it comes with more advanced features that give an advanced vaping experience.
Aegis Boost Plus Vape Pod Kit is characterized by a number of features, including a single external 18650 battery, variable temperature control, 5.5ml pod capacity, water, dust and shockproof, micro USB charging port, among other features that combine to make a a sure that you get the best time when vaping.
Aegis Boost Plus Vape Pod Kit Review
Key Features and Specs
2 x 49.5 x 28.6mm Dimensional Size
5ml E-Liquid Capacity
18650 Single External Battery
1 – 3-ohm Resistance Range Coil
96-inch Display Screen
100 – 315°C Temperature Range
5-40W Vaping Output Power
<0.02s Firing Time
IP67 Rating (Water, Dust and Shock Proof)
Adjustable Airflow
Overheat Protection
Overtime Protection
Short Circuit Protection
Pros and Cons of Aegis Boost Plus Vape Pod Kit
Pros
It comes with enough e-liquid capacity to allow you to enjoy vaping for a long.
Aegis Boost Plus Vape Pod Kit IP67 Rated making is durable
Its design allows you to comfortably hold it
It allows for an adjustable airflow for customized vaping
It comes with a great build quality
Aegis Boost Plus Vape Pod Kit has a minimum firing time hence fast vaping
Aegis Boost Plus Vape Pod Kit gives an outstanding performance
Cons
Some vapers complain that Aegis Boost Plus Vape Pod Kit is relatively bulkier.
It makes use of Micro-USB, which is not as great as the USB-C Port
Aegis Boost Plus Vape Pod Kit Design and Build Quality
The Aegis Boost Plus Vape Pod Kit offers you an exceptional design and high build quality. It is constructed with a combination of zinc alloy, leather, and silicone materials, ensuring a rugged and durable exterior. This robust build allows the device to withstand accidental drops, shocks, and impacts, making it a reliable option for you.
Ergonomics were carefully considered in the design of the Aegis Boost Plus. It features a comfortable grip and a compact form factor that fits snugly in your hand. This design ensures that you can hold and operate the device with ease, even during extended vaping sessions.
One of the standout features of the Aegis series is its resistance to water and dust, and the Boost Plus is no exception. With its IP67 certification, the device is water-resistant, capable of surviving immersion in water for up to 30 minutes at a depth of 1 meter. Additionally, it is dustproof, ensuring that particles do not interfere with its performance.
To further enhance its durability, the Aegis Boost Plus is shockproof. This attribute provides added protection against accidental drops and impacts, making it suitable for individuals like you who require a vaping device that can withstand more demanding environments.
The button placement on the Aegis Boost Plus is designed for your convenience, allowing easy access and intuitive operation. The firing button is suitably located on the front of the device, while the navigation buttons and display screen are positioned on the side. This layout ensures effortless operation and user-friendly navigation for you.
Aegis Boost Plus Vape Pod Kit Battery and Charging
The Aegis Boost Plus Vape Pod Kit is powered by a single exterior 18650 battery (sold separately) with a capacity of 3000mAh. The battery capacity of 3000mAh provides a decent amount of power to support your vaping sessions.
The actual battery life of the Aegis Boost Plus will vary depending on factors such as your vaping habits, the wattage you use, and the resistance of the coil you have installed. Higher wattage settings and frequent vaping will generally result in shorter battery life, while lower wattage settings and less frequent vaping can extend the battery life.
Additionally, the Aegis Boost Plus supports USB charging, allowing you to recharge the battery conveniently using a compatible USB cable. This feature makes it easier to top up the battery whenever needed, even if you don't have a separate external charger for 18650 batteries.
Other Aegis Boost Plus Vape Pod Kit Specs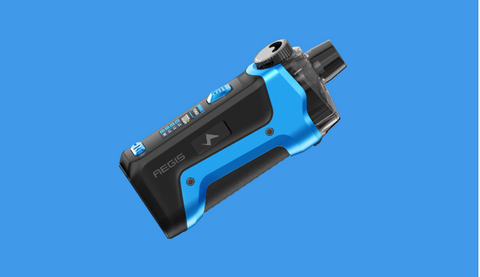 Temperature Range - The Aegis Boost Plus offers a temperature control mode with a range of 100 to 315°C (or 200 to 600°F). This feature allows you to customize and fine-tune the temperature of your vape, catering to your preferences.
Dimensional Size - The Aegis Boost Plus has a compact size measuring approximately 114.2mm x 49.5mm x 28.6mm. Its solid design makes it portable and easy to carry.
E-Liquid Capacity - The kit features a pod with a large e-liquid capacity of 5.5ml. This allows for longer vaping sessions without the need for frequent refills.
Resistance Range Coil - The Aegis Boost Plus supports coils within a resistance range of 0.1 to 3 ohms. This range allows for compatibility with various coil options, giving you the flexibility to customize your vaping experience.
Display Screen - The device is equipped with a 0.96-inch display screen. This screen provides essential information such as wattage, coil resistance, battery life, and puff counter, making it easy to check and adjust your settings.
Vaping Output Power - The device offers a variable wattage output power ranging from 5 to 40 watts. This adjustable power setting allows you to customize the intensity of your vape, providing flexibility in achieving your desired vaping experience.
Firing Time - The Aegis Boost Plus boasts an ultra-fast firing time of less than 0.02 seconds. This quick response time ensures that your device fires instantly when you press the firing button, resulting in a more immediate and satisfying vaping experience.
How to Use Aegis Boost Plus Vape Pod Kit
Using Aegis Boost Plus Vape Pod Kit requires you to take into consideration of the following steps;
Install the Battery- Insert a fully charged 18650 battery (sold separately) into the battery compartment located at the bottom of the device.
Install the e-liquid Pod - Remove the pod cartridge from the device by pulling it upwards. Open the pod's fill port and fill it with your desired e-liquid, taking care not to overfill it. Close the fill port securely. Then, insert the filled pod back into the device until it clicks into place.
Power it On/Off - Press the fire button five times rapidly to turn on the device. Repeat this step when you want to turn it off.
Vaping Settings Adjustment - Use the navigation buttons on the side of the device to navigate through the settings. The specific adjustments may vary depending on the version and firmware of your device, but typically, you can adjust wattage, temperature, and other settings using the buttons and the display screen.
Coil Installation – In the case when you need to replace the coil, first remove the pod from the device. Then, remove the old coil from the pod and replace it with a new one. Ensure the coil is properly seated and connected.
Actual Vaping - Press and hold the fire button while inhaling through the mouthpiece to take a puff. Enjoy your vaping experience.
Charging - If the battery is low, connect the device to a power source using a compatible USB cable for charging. It is generally recommended to use an external charger for 18650 batteries, but the Aegis Boost Plus does support USB charging.
FAQs About Aegis Boost Plus Vape Pod Kit
How do I fill the Aegis Boost Plus pod with e-liquid?
To fill the pod, remove it from the device and locate the fill port. Open the fill port cover, insert the nozzle of your e-liquid bottle into the port, and squeeze the liquid in. Be careful not to overfill, and close the fill port securely before reinserting the pod into the device.
Is the Aegis Boost Plus waterproof?
The Aegis Boost Plus is water-resistant with an IP67 rating, meaning it can withstand immersion in water for up to 30 minutes at a depth of 1 meter. However, it is important to note that the device is not designed to be submerged in water for extended periods or to be used underwater.
UPENDS: Wholesale Vape Pod Kits Supplier
UPENDS pod kits are known for their compactness and portability, making them perfect for vapers on the go. These kits typically feature a pod system, where the e-liquid is housed in a replaceable pod for easy filling and replacement. Depending on the model, UPENDS pod kits may offer different coil options to cater to various vaping styles, including both mouth-to-lung (MTL) and direct-lung (DL) options. Battery capacity and charging methods can vary, with some kits having built-in batteries rechargeable via USB and others utilizing removable batteries. UPENDS pod kits often come equipped with user-friendly features like draw-activated firing and adjustable airflow, ensuring a convenient and tailored vaping experience. Additionally, these kits prioritize design and aesthetics, offering sleek and stylish options to suit individual preferences. For detailed information on specific models, it is recommended to visit the UPENDS website or refer to trusted product reviews and descriptions.