In the ever-evolving world of vaping, enthusiasts are constantly on the lookout for the latest innovations that can take their vaping experience to new heights. Among the various technological advancements, ceramic heating elements in vape pens have emerged as a remarkable breakthrough, promising enhanced flavor, improved performance, and a safer vaping experience.
In this in-depth exploration, we turn our attention to the captivating realm of ceramic heating elements in vape pens. By delving into the science behind this innovative technology, we aim to unravel the secrets behind its rising popularity among vapers worldwide.
What Is Ceramic Vape
A ceramic vape refers to a type of vaping device that utilizes a ceramic heating element. The heating element in these devices is made of ceramic material, which is known for its ability to distribute heat evenly and efficiently. Ceramic vapes are often favored by some users due to their ability to produce smooth and flavorful vapor, as well as their potential for a more consistent and controlled vaping experience.
Benefits Of Ceramic Vape
Even Heat Distribution: Ceramic heating elements provide uniform heat distribution, ensuring that the vaping material is heated evenly. This helps to prevent hot spots and ensures a smoother vaping experience.
Enhanced Flavor: The even heating of ceramic elements preserves the natural flavors of the vaping material, resulting in a more pronounced and enjoyable taste.
Reduced Risk of Burning: Ceramic vapes are less likely to burn the vaping material compared to other heating elements, leading to a more satisfying and consistent vapor production.
Longer Lifespan: Ceramic heating elements tend to have a longer lifespan than other types of coils, making them a cost-effective option for vapers.
Temperature Control: Ceramic vapes can be designed with precise temperature control, allowing users to customize their vaping experience and achieve their preferred vapor density and flavor profile.
Ceramic Vape Products
UTILLIAN 5 (V3)
The Utillian 5 V3 dab pen is specially crafted to cater to the needs of users who prefer waxy THC oils and concentrates. This impressive device boasts a robust, 1500mAh battery that ensures long-lasting performance throughout the day without any concerns.
Additionally, it is equipped with two top-notch coils and offers four adjustable heat settings, enhancing the overall vaping experience. With its appealing design, reasonable price point, and remarkable power, this portable dab pen presents an excellent choice for those seeking to elevate their on-the-go dabbing sessions.
Features
Instantaneous Heat-Up Time
Scratch Resistant & Durable Build
1500mah Battery
Micro USB Charging
4 Preset Temperatures
Dab Tool Mouthpiece Integrated
What's in the box
1Utillian 5 V3 Wax Pen
1Twisted Kanthal Coil
1Triple Titanium Coil
1Dab Tool Mouthpiece
1USB Charger
2Mouthpiece O-Ring
2Atomizer Cap O-Ring
1Instruction Manual
LINX BLAZE KIT
The Linx Blaze wax pen hails from the same talented creators who brought us the renowned Linx Ares honey straw. This innovative device introduces a cutting-edge heating atomizer with a full-quartz in-laid design, accompanied by a sizeable ceramic atomizer that ensures the delivery of exceptionally smooth and flavorful vapor. Despite its compact and sturdy build, the Linx Blaze comes with the added convenience of a carrying case for easy portability.
The Blaze Vaporizer boasts an excellent airflow system that effectively reduces leaks and clogs. Its ceramic chamber features four enhanced air intake holes strategically positioned along the inner edge to ensure optimal and well-balanced airflow.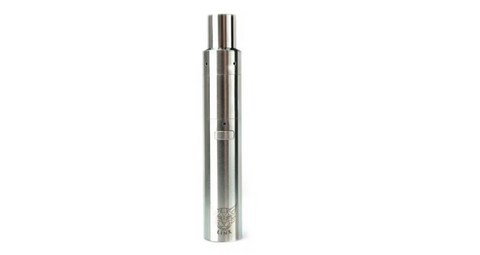 Features
Coilless Ace Atomizer
Ceramic Zero Atomizer
Glass Mouthpiece
4 Voltage Settings
900mah Battery
UTILLIAN 2 KIT
Equipped with four preset voltage options, the Utillian 2 offers abundant versatility. Its lower voltages cater to those seeking pure flavor, while higher voltages are ideal for maximizing vapor production. Simplifying the process, the one-button design eliminates guesswork, ensuring a user-friendly experience on every occasion. Thanks to its dual quartz coil, the Utillian 2 delivers impeccable flavor during sessions, as the quartz rods excel at preserving terpenes to perfection.
The inclusion of a magnetic glass mouthpiece enhances the flavor profile and enables you to savor your extracts fully, ensuring an uncompromised quality experience.
Features
Suitable for Extracts and Wax Concentrates.
Internal 650 mAh Battery.
USB A Charging.
4 Temperature Options: 3.0V | 3.4V | 3.8V | 4.2V.
Dual quartz coil and ceramic donut coil are the two atomizer options.
LED lights on the button and base of the device.
Glass Mouthpiece.
Magnetic Attachments – Eliminating the need for 510 threading.
Heat Up Time: 10 Seconds.
Button Activated.
Automatic Shut-Off Feature.
Available Colors: Gun Metal Grey & Black
The package comes with:
1 x 650 mAh Battery
1 x Dual Quartz Coil
1 x Glass Tipped Mouthpiece
Protective Carry Case
USB A Charger
Cleaning Tool/ Dab Tool
Tronian Pitron
The Tronian Pitron presents vapers with a simple and convenient solution for enjoying oils while on the move. With compatibility for oil cartridges measuring 10.5mm and above, this sleek and stylish pen vape boasts numerous benefits.
Equipped with an impressive 350 mAh battery and micro USB charging, it proves to be the perfect companion for portable use. Its draw-activated feature adds an element of stealthiness to the experience.
Resembling its sibling, the Nutron, the Tronian Pitron does away with buttons and instead relies on your draw to power the cartridge and produce vapor. This user-friendly vape pen allows for easy usage with oil cartridges; simply attach your cartridge to the Tronian Pitron, inhale, and indulge in your vape session.
Features
Draw Activated
350mah Battery
Compatible with all diameters
Vessel
The vessel is a distinguished brand known for its top-tier vaporizers, meticulously crafted to enhance the vaping experience. Their products boast a sleek and sophisticated appearance, crafted from premium materials, setting them apart from their competitors.
The inclusion of an exceptional magnetic USB charger ensures fast and effortless charging, complemented by the convenience of three voltage settings. The overall assembly is impeccable, with an attractive wood finish and precision-machined metals, exuding a luxurious aura that impresses tech enthusiasts and fashion-conscious individuals alike.
Features
3 temperature settings
LED light indicator
15-minute auto shut-off
Cartridge drop-in design with protection
Magnetic charging port
Maximum airflow design
Removable transition module
Long-lasting battery life
Focus V Pro
The Focus V Pro is a substantial pen-style vaporizer equipped with a ceramic heating chamber and Pyrex glass mouthpiece, offering precise temperature control for accurate heating. It comes with a replaceable 18650 battery and a built-in micro USB connector for easy charging. The device delivers dense and flavorful draws through its ceramic oven and conductive heating while allowing airflow customization. Although more suited for home use due to its size, the Focus V Pro boasts fast heating, reaching full temperature in around 30 seconds. Overall, it provides a user-friendly and enjoyable vaping experience.
Features
3 × 2.3 × 17.2 cm
180 g Weight
Conduction Heating Method
35 seconds Heat-up Time
3200 mAh Battery
80°C to 240°C Temperature Range
Flowermate Slick
The Flowermate Slick is the best choice for hassle-free sessions because it offers three temperature settings, a glass mouthpiece, a removable 18650 for rapid battery swaps on the go, and one-button control.
A magnetic cap and tube design protects the glass mouthpiece when traveling.The brand Flowermates is well known for making reliable, inexpensive portable dry herb vaporizers.
A decade ago, Flowermate was extremely well-liked.However, due to slow developments, the unit's vapor capabilities remain substandard. The Flowermate Slick uses the same method of operation as other Flowermates.
Using a single button to operate the unit, five rapid clicks turn the device on, while three rapid presses adjust the temperature.
product suggestions:
UPENDS Mirror
The Upends Mirror vape pen offers an opulent vaping experience with its sleek design and silky finish. Its innovative mesh coil enhances vapor production, providing a smoother and more consistent taste while maintaining its fashionable appeal. With a 500mAh battery, 10mL e-liquid capacity, and Type-C charging, uninterrupted vaping sessions are ensured.
The Mirror is a taste powerhouse that lives up to its reputation, elevating your vaping experience to new heights. Get ready to enjoy flexible and worry-free vaping with the Upends Mirror.
Features
10mL E-liquid Capacity
0Ω Resistance
500mAh Battery Capacity
Type-C Charging Port
Best Vape Wholesale Supplier-UPENDS
Enter the fascinating realm of Vape UPENDS to embark on an unmatched vaping voyage where innovation and creativity collide. Offering exclusive treats to improve your vaping experience, we extend a warm invitation to you.
Our cutting-edge designs, tasteful aesthetics, and meticulous attention to detail are huge sources of pride for us at Vape UPENDS. Every breath you take will be a sensual treat as our expert artisans create faultless and elegant products to titillate your senses.
We are committed to tantalizing your taste buds and providing a remarkable experience that will leave you in wonder about the incredible adventures we have in store for you.
So let's go on this exciting adventure and explore the interesting world of Vape UPENDS! We have a great mission and ground-breaking products, so be prepared to be amazed. We are thrilled to share this thrilling occasion with you because you are now a member of our family.