As more people turn to vaping as an alternative to smoking, the demand for low-nicotine disposable vapes has surged. Making the best decision for your needs can be overwhelming with so many options available. That's why we've put together this comprehensive guide to help you navigate the market and find the best low-nicotine disposable vape for you.
In this guide, we'll explain the benefits of low-nicotine vaping and why it may be a good option for those looking to cut down on their nicotine intake. We'll also discuss the key factors to consider when selecting a low-nicotine disposable vape, including reliability, build quality, and performance. And to make things even easier, we'll review some top low-nicotine vapes currently available on the market.
Whether you're new to vaping or simply looking to switch to a low-nicotine option, this guide has everything you need to make an informed decision. So sit back, relax, and let's explore the world of low-nicotine disposable vapes together.
Benefits Of Low-nicotine Vape
Here are some of the main advantages of low-nicotine vaping:
Lower Health Risks
Nicotine is an addictive substance that can have negative health effects, such as increasing blood pressure and heart rate. By choosing a low-nicotine vape, you can reduce your exposure to nicotine and lower your risk of associated health problems.
Cost-effective
Low-nicotine vapes tend to be less expensive than high-nicotine vapes, making them a more cost-effective option in the long run.
 Reduced Dependence
By picking a low-nicotine vape, you can reduce your dependence on nicotine and make it easier to quit vaping altogether if you decide to do so in the future.
Factors To Consider When Choosing A Low-nicotine Vape
When selecting a low-nicotine disposable vape, there are several factors to consider. The following are a few of the more crucial ones:
Build quality
Build quality is an important factor to consider when picking a low-nicotine disposable vape. While disposable vapes are designed to be used for a limited time, you still want to choose one that is well-made and reliable.
Look for disposable vapes that are made from high-quality materials and have sturdy construction. The device should feel solid in your hand and not feel flimsy or cheap. Check to make sure that the mouthpiece and other parts of the device are securely attached and don't wiggle or come loose.
Brand Reputation
With so many disposable vape brands on the market, it's important to choose one with a good reputation for quality and reliability. Do some research online and read reviews from other users before making your decision.
Nicotine Level
The first and most obvious factor to consider is the nicotine level of the vape. Low-nicotine disposable vapes typically contain between 0-6 mg of nicotine per milliliter of e-liquid.
If you're looking to gradually reduce your nicotine intake, you may want to start with a slightly higher nicotine level and work your way down over time.
Battery life
Disposable vapes are designed to be used for a limited time, typically a few hundred puffs. However, the battery life can vary between different brands and models. Consider how long you expect to use the vape and choose one with a battery life that meets your needs.
Vaal Max
The Vaal Max disposable vape comes with a number of remarkable features, including an 850mAh rechargeable battery, pre-filled 8ml e-juice with 17 mg nicotine level for up to 3500 puffs, and a 0.7-ohm twin mesh coil for the best taste delivery. It also provides a smooth draw due to its lower nicotine levels and comes in a variety of flavors to suit different preferences.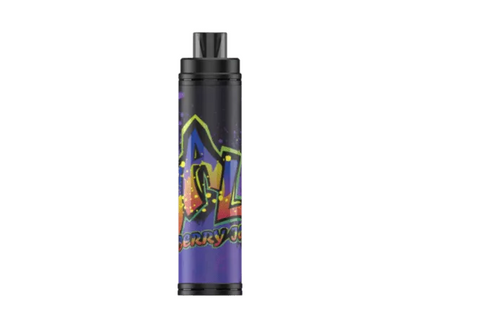 Features
8ml of e-liquid
7% Nicotine level
850mAh battery
3500 puffs
15 different flavors
Pros
Offers excellent performance
Features a well-calibrated draw mechanism
Provides a wide range of fantastic flavors
USB-C port for quick charging is included.
Cons
The design, which is rather loud, may not be appealing to everyone.
UPENDS UpBar
A single-use electronic cigarette from UPENDS called the UpBAR comes pre-filled with 2ml of e-liquid that contains 20mg of nicotine salt. It has a built-in battery and a pre-filled tank, making it easy to use – just take a puff. The UPENDS UpBAR can provide up to 500 puffs.
Features
2ML E-liquid Capacity
400mAh
Non-rechargeable
500 puffs
Pros
Highly portable due to its small and light size
Attractive appearance with a holographic or shiny body
Well-built with good quality materials
Cons
Prone to scratches and marks on the body with ease
Some flavors may lack strength and could be improved
Cloud Nurdz
The Cloud Nurdz disposable vape is a durable and stylish device that features a built-in Type C charging port and a large battery capacity. It has a 10ml vape juice capacity and provides up to 3500 puffs, with a mesh coil ensuring a satisfying flavor. The device is available in various flavors, including Watermelon Berry, Apple Grape, Melon Kiwi, and Blue Raspberry Peach.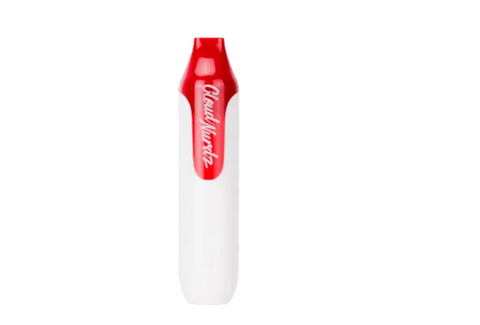 Features
5% Nic Salt
10ml E-liquid capacity
600mAh battery
mesh coil
3500 puffs
20 different flavors are available
Pros
The device is portable and lightweight.
It is cost-effective and reasonably priced
The vaping experience is clean and seamless
It produces minimal odor, making it ideal for discreet vaping
Cons
The device does not have any airflow adjustment or regulation features.
Air Bar Max
The Air Bar Max is a disposable vape that comes pre-filled with either 20 mg or 50 mg nicotine salt vape in a 6.5ml capacity. It features a draw-activated firing mechanism, a 1250mAh battery, and a soft nozzle that protects teeth and allows for comfortable mouth-to-lung vaping. It delivers around 2000 puffs and is available in flavors such as Blueberry Raspberry, Berry Shake, Peach Mango, and Sakura Grape.
Features
5ml E-liquid
0% Nic Salt
1250mAh battery capacity
2000 puffs
11 different flavors are available
Pros
The design is both intelligent and fashionable
The mouth-to-lung draw is seamless and comfortable
The flavor is uniform and dependable
The device is user-friendly and uncomplicated
Cons
There is no mechanism to regulate or adjust the airflow.
Evo Drip SO4500
The Evo Drip SO4500 is a revolutionary sub-ohm rechargeable disposable vape that offers excellent performance without compromising quality. It comes with an 850mAh battery and provides a smooth Direct to Lung (DTL) hit with impressive cloud production.
The device has a sleek design and is pre-filled with 15mls of 10 mg (1%) nicotine-strength e-juice. The 0.5 Ohm Coil and high airflow ensure a satisfying DTL hit with deep and flavorful puffs.
Features
1% Nic Salt
15ml e-liquid
850mAh battery capacity
4500 puffs
5 Ohm resistance
17 different flavors available.
Pros
This device is designed to meet the needs of users who prioritize performance without compromising on the quality of disposables.
The combination of lower nicotine levels (10mg) and high airflow results in a more profound and flavorful vaping experience that is both enjoyable and long-lasting.
Cons
The absence of adjustable airflow may not suit the preferences of certain users.
FAQs About Low Nicotine Disposable Vape
Why Should I Vape With Low Nicotine?
For individuals who want to quit smoking, low-nicotine vapes can be effective and are often considered as the perfect last stage in their effort to gradually reduce their nicotine consumption. These vapes with lower levels of nicotine can still provide the desired buzz without being too intense or too mild.
How Do I Use A Disposable Vape With Low Nicotine?
Here are the steps to use a low-nicotine disposable vape, presented in a list format:
Remove the vape from its packaging.
If there's a button, press it to turn on the indicator light. If there's no button, skip this step.
Slowly and deeply inhale through the mouthpiece. This may light up the indicator on devices without a button.
Exhale the vapor after taking a long breath
How Does A Low-Nicotine Disposable Vape Work?
A low-nicotine disposable vape works by heating up a liquid that contains nicotine, flavorings, and other ingredients to produce a vapor that the user inhales. The amount of nicotine in the liquid is lower than traditional vaping liquids, so users can still enjoy the sensation of smoking without getting too much nicotine.
Best Vape Wholesale Supplier-UPENDS
Welcome to Vape UPENDS, where innovation and style converge to provide you with a vaping experience like no other. We are ecstatic that you have joined our community because vaping is the source of our unending passion.
Modern technology, elegant designs, and careful attention to detail go into the creation of our products, which are sure to make an impact. We are excited for you to use the wonderful products that our team of talented professionals has worked so hard to create.
You'll get access to our special line of goods as a member of the Vape UPENDS community, and they're sure to captivate you. We want you to experience the sophistication of and total immersion in the UPENDS environment.