If you think technology has proceeded at a rapid pace over the past few years, wait for the world of vapes. Vaping has become extremely popular with many companies coming up with innovative vape kits. Disposable vapes are among the most demanded devices and have become the hottest category in the vaping industry by far.
However, it is not just about the vapes but the components that make these kits a big hit. One such important component is the mesh coil. In this article, we will learn about mesh coil vape so that you know your vape kits better.
Let's get rolling…
What is mesh coil vape?
A mesh coil is an important component of a vape device. It is a wide strip of metal with holes that are punched through it and that's why it looks like a piece of mesh. This mesh effect is given to increase the surface area of metal that comes into contact with the wick material. It allows more e-liquid to be vaporized and the users get a greater depth of flavor.
Coils are one of the most underrated parts of a vape kit but play a crucial role. Therefore, it is important to know everything about them before you buy your vape kit. It is better to know the components of your vape kit for a more enjoyable and satisfying vaping experience. 
How Does a Mesh Coil Work?
Talking about the basic function of coils is to heat the e-juice and turn it into vapor. A mesh coil comes in contact with the wicking material to heat the e-juice inside the pod. As the coil heats up, it helps the e-liquid to vaporize at once. This creates extra vapor and more intense flavor for a more satisfying vaping experience.
The design of a mesh coil has similar resistances to regular coils with the only difference being that they heat up evenly. As they have a meshing construction, it allows them to ramp up quickly. Therefore, mesh coils are more responsive compared to regular coils.
Mesh Coils: Pros/Cons
As you might have guessed, the biggest benefit of using mesh coils comes from the increased surface area. You can expect the following benefits of using mesh coil vape…
Faster heat-up time
More vapor and intense flavor
Longer lasting coils
Even heat distribution
Better flavor production
Less power is needed to reach optimum performance
Cross-compatible with existing tanks
Thick clouds
Less dry hits
No hot spots or loose pieces of wire
Consistent vaping experience
Cons…
Too much vapor for some users
Takes practice to install it correctly
Heavy e-liquid consumption
A bit fragile
Mesh Coils VS Regular Coils
In recent years, we've seen a race among vape manufacturers to provide more innovative products to their customers. They are trying to maximize the surface area of coils leading to dual coils and then mesh coils. Thinking outside the box, many reliable companies are now providing mesh coil vapes. It is one of the biggest evolutions in coil technology as it increases the surface area.
Talking about regular coils, they come in all shapes and sizes. Let's check out the difference by comparing different coils…
Similarities
Both mesh and regular coils work on the same principle but provide slightly varied effects. Both kinds of coils heat up when the firing button is pressed. They vaporize the e-juice to create vapor which is inhaled through the mouthpiece.
Differences
What makes mesh coils a popular choice for both vape manufacturers and vapers is the larger surface area they provide. Mesh coil heats up at a faster rate which leads to more vapor production and intense flavor.
Moreover, mesh coils improve performance by evenly distributing the heat on the entire metal sheet. This also means that there are lower chances of dry or burnt hits compared to regular coils. A mesh coil vape is characterized as a cooler vaping experience as mesh coils do not get extremely hot.
Talking about the usage, regular coils are mostly used with small pod mod vape systems whereas mesh coils are commonly used in sub-ohm tanks.
5 Most Popular Mesh Coil Vape Tanks
Mesh coil vape tanks are high-quality vape tanks that are made using the most advanced mesh-type coils. These tanks and their coils work great with high VG e-liquids and are therefore perfect for sub-ohm vaping. No matter if you're a beginner or an experienced vape user, sub-ohm tanks are like a mush have in your vape collection.
Listed below are some popular mesh coil vape tanks you may consider…
Freemax
Fireluke 4
: The Freemax Fireluke 4 adopts brand-new FM COILTECH5 0/Double-D Mesh technology. It features a parallel mesh structure with two single mesh coils that are connected in parallel. It has a large 5mL tank and a leak proof design to protect your e-juice from leaking. Moreover, There are 17 coils available to choose from, including triple and quadruple mesh coil options.
nexMesh Pro Tank: Best known for their excellent mesh coils, nexMesh Pro Tank provides an extremely accurate flavor and massive vapor production. The mesh coil heats up quickly and the tank has a large 6mL maximum e-liquid capacity. It features a silicone guard on the fill port to protect your e-liquid from leaking. It comes with two unique coils, including a Clapton mesh coil and a dual coil. 
HorizonTech Aquila: One of the most preferred sub-ohm vape tanks that comes with a mesh coil to deliver excellent flavor. It uses mesh coils built with Encircle (E2) and Quadruple (P4) mesh structures. The structure consists of organic bamboo pulp cotton for the wicking material. These coils have a push-and-pull mechanism at the bottom of the tank. The dual mesh coil delivers great clouds and manages to get every last drop of flavor.
Voopoo UFORCE-L
: Known for its simple and clean design, the Voopoo UFORCE-L vape tank is a top airflow tank. It holds 4mL of e-liquid with the straight glass and 5.5mL with the bubble glass. It is compatible with PnP coils and there are lots of coil options available. It comes with both a 0.20Ω coil and a 0.15Ω coil. These coils are made with Voopoo's Dual in One tech which means they have a double mesh design.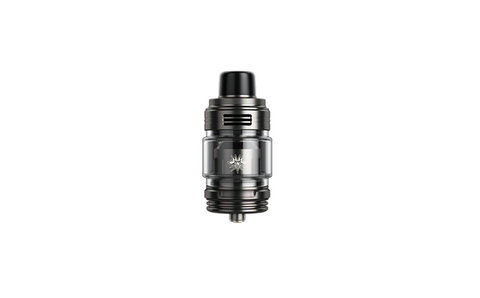 Hellvape Hellbeast 2
: Hellvape is known to manufacture great rebuildable tanks and now it came up with an impressive sub-ohm tank, the Hellbeast 2. This 24mm tank uses a new line of P series coils that uses natural organic cotton for wicking. The tank uses a large mesh coil for heating the e-liquid. The vape tank comes with a quarter turn, making it easy to fill. It can hold 5mL of e-juice with bubble glass and 3.5mL with straight glass.
FAQs About Mesh Coil Vape
What are mesh coils best used for?
Mesh coil vapes have become extremely popular and used in everything from salt nic mouth-to-lung to sub-ohm direct lung kits. They also work great with lower-wattage mods.
What is the difference between regular and mesh coils?
Mesh coils provide a larger heating surface area and therefore deliver larger coils without too much wattage consumption. On the other hand, regular coils are lengths of wire coiled into a spring shape and consume more wattage to produce vapor.
Do mesh coils hit harder?
A mesh coil vape provides a smoother hit compared to vapes with regular coils. It also gives a cooler vape, unlike regular coils that provide warmer vapor.
Do mesh coils have a longer lifespan than regular coils?
As mesh coils provide equal heat distribution throughout the resistor, they last longer compared to regular coils. Regular coils tend to burn out sooner and are also prone to hot spots.
Is it good to invest in a mesh coil vape?
Mesh coils have become very popular as they provide many benefits over regular coils. They are a longer-lasting solution for anyone looking for more clouds, intense flavor, and all this with less energy consumption. However, the biggest concern about mesh coils is the huge e-liquid usage.
UPENDS: Your One-Stop-Shop for Wholesale Vapes
When we talk about the latest vaping trends and technologies like mesh coil vape tanks, UPENDS brand provides the most innovative products. Our team of experienced professionals is committed to creating vape products that are designed to cater to the dynamic needs of vape users. Our devices perform beyond expectations as they are made from premium-quality material using the latest technology.
UPENDS is a pioneering vaping company that provides a wide range of products, including Disposable Vape Kits, Pos Systems, Pod Mods, and Accessories. As we strive to reach a global audience, we are looking for authorized vape distributors and agents at different locations. If you think you're a great fit, let us embark on this journey together. Contact us for more details…