Ready to buy the best disposable vape on the market? Here is a list of the best models that will satisfy your vape demands. Check this list carefully chosen for you and take the best one home with you.
1.UMI MAX
UUMI Vapor is a Mexican brand that offers incredible flavors at a very affordable price. 
UUMI vapor disposable vapes give you the best vape experience with a compact system and with a yield of 1700 puffs. Pre-loaded with 5% Nicotine e-liquid. 
Available flavors are: 
Lychee Ice - Delicious Lychee flavor that you will love.
Cool Mint - A refreshing mint flavor.
Lush Ice - Delicious Watermelon flavor.
Strawberry Banana - Delicious blend of strawberry and banana flavor.
Peach Ice - A delicious Peach flavor.
2.MASKING HIGH GT
Masking High-GT disposable vape is a compact, lightweight and portable vape. It is made of aluminum alloy + PCTG (anti-bacteria) mouthpiece. 
Powered by 360 mAh battery with 500 puffs of vapor. Besides, the cartridge capacity is 2ml to meet your needs. 
Each device comes with pre-loaded e-juice (3% - 4% nicotine), which is enough to keep you satisfied all day long.
Flavors available are: 
Grape Paradise
Peach Ice
Ice Mango
Strawberry Lychee
Cool Mint
Lush Ice
Cocktail
Blueberry Raspberry
Apple ice
Energy Juice
Coffee Tobacco
Ice Coke
Guava Ice
Banana Ice
Pure Tobacco
Melon Ice
Coconut Ice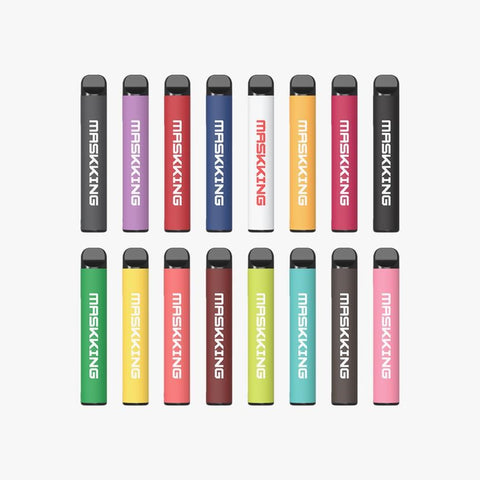 3.BARZ MAX
Barz Max is a device that comes with no hassle and no refill worries.
It is pretty easy to use, has a capacity of 600 Puffs, pre-loaded with 5% nicotine e-liquid. 
This vape is an upgraded version of the original Barz disposable and has a 2.2ml e-liquid capacity and 420 mAh power, plus overheat and short circuit protection. 
Available flavors are: 
Cool Mint
Melon Ice
Blue Razz
Pineapple Ice
Mango Guava
Banana Ice
Lush Ice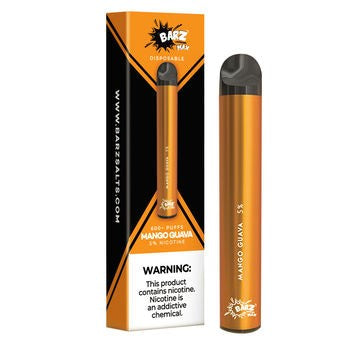 4.STICK FREE COOL
Ystick Freecell is a disposable vape from SMOK with a compact and discreet size, and it is fully loaded and pre-loaded with 6% nicotine e-liquid, with no keys or buttons.
It is powerful and inexpensive; it has an approximate duration of 300 puffs and 1.4ml of e-liquid.  
Available flavors are: 
Purple Berry
Mango
Mint Ice
Tobacco
5.POD KING
Vaping is even easier with Pod King, and it offers a capacity of 500 puffs with a concentration of 5% nicotine in 1.3ml of e-juice. 
Available flavors are: 
Lush Ice
Strawberry Banana
Watermelon Lemonade
6.YAYA MAX
If you want long battery life and the most puffs possible, as well as superb flavors, the YAYA MAX is pretty much impossible to beat at this point. It will deliver 2500 puffs per pen, and the flavor selection is excellent, as you can see below:
Lush Ice
Cool Mint
Strawberry Lemonade
Banana Ice
Honey Dew Ice
Apple Grape
Strawberry Kiwi
Coconut honey
As for nicotine concentration, look for 5% nicotine salts per pen. That's pretty strong, so each YAYA MAX disposable vaporizer pen should last a week or more at a time, though this will depend on usage.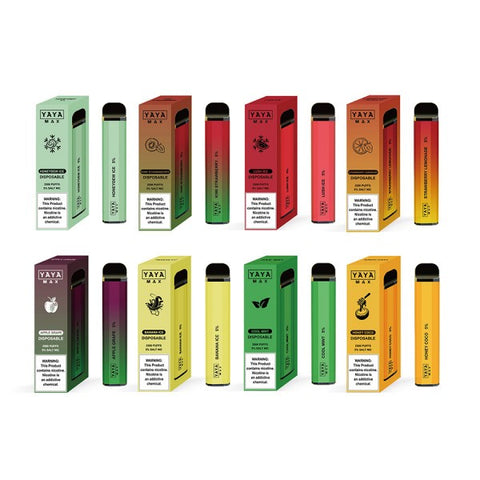 7.PACHAMAMA
The Pachamama synthetic disposable is outstanding for a number of reasons. The first is that it contains synthetic nicotine, which is the nicotine that is not obtained from cigarette plants, which is significant because it could be our only way to circumvent upcoming FDA anti-vaping regulations.  
Available flavors:
Lycée Ice
Pink Lemonade
Peach Ice
Banana Ice
Pineapple Ice
Guava Ice


Aside from that, it comes in a variety of pretty tasty flavors and 50MG dosage nic-salts, so if you're looking for a good disposable vape pen, the Pachamama Synthetic Disposable Vape Pen would almost certainly get the job done.
You're looking at 1200 of each unit of puffs. The Pachamama Disposable Synthetic Disposable Vape Pen even has a 7000 mAh pack, which means it can last for months if you don't reach it continuously.
8.LUSH FLOW
The Lush Flow disposable vaporizer is the best in all ranges. It has many flavor options and all vaporizers come with 6 ml of nic 50MG salts inside.
The Lush Flow disposable's MTL draw is fantastic, almost as amazing as it appears. And, since each one yields 1500 puffs, you can theoretically use a single Lush Flow vaporizer pen for about a week, based on usage.  
The battery capacity is 900 mAh, and it goes all the way to the end.
9.HIIT GO
The HIIT Go Disposable Vape offers an excellent taste and appealing smell. Still, it loses out to the aforementioned disposable vapes because it lacks the longevity and puff count of the other disposable vapes.
Unlike the above disposables, the HIIT Go Disposable Vape only runs 1.6ml of vape juice inside. The liquid is very salty and has 50mg of nic. But it's much less than what you get in the other options on this list. It was included because it is very inexpensive and offers excellent flavor.
10.EON SMOKE
If you're looking for the biggest nicotine hit possible, EON Smoke disposable vaporizers are what you should be looking at. Available in various strengths but at 6.8% nicotine, EON Smoke disposable vape pens are the strongest (nicotine-wise) on this list.
EON Smoke disposable vape flavors:
Mango
Lush Ice
Watermelon
Berry Ice Cream
Pomegranate
Green apple
Citrus fruit
Strawberries
Blueberries
Pink Lemonade
Pineapple
Tobacco
MOJO
MOJO is another brand you may have heard of. They make great disposable vapes, which many vapers adore and use on a daily basis. Each MOJO disposable vape is the equivalent of a pack of cigarettes, which equates to approximately 400+ puffs. The MOJO delivers a powerful, intense hit that smokers would enjoy. It also comes with a range of nicotine strengths, ranging from 1.2 ml of nicotine salt to 5.0 percent.  
MOJO flavors:
Tobacco
Menthol
Fresh melon
Lemon Dessert
Pineapple ice
Strawberries
Peach
Grape
Mango
12.ZERO
The Zero disposable vaporizer is a brilliant setup that is ideal for any current smoker looking to quit cigarettes as soon as possible. It has tons of flavor options and the ability to purchase a sample pack, including seven disposable vapors, excellent battery life (around 300 puffs each), and many flavors.
Designed for today's smokers, the Zero disposable vaporizer is all about delivering a pleasant, close pull that feels similar to smoking a cigarette.  Available in various Nic Salts concentrations: 0%, 1.8%, 3%, and 5%, the Zero disposable vaporizer is not as strong as EON's but delivers what counts (flavor, ease of use, price, and performance).
Zero disposable vape flavors:
Banana
Tobacco
Menthol
Blue Raspberry
Blueberry Lemonade
Chocolate
13.POSH
The Posh Disposable Vape is an utterly premium affair with its bright colors and metal case. If you thought disposable vapes looked cheap, think again. The Posh Disposable Vape looks as lovely as some $50 capsule vapes. And it has plenty of performance and great flavor too.
If you like colorful vapes and want lots of options in terms of flavors, as well as high-concentration Nic salts (they're 6%), the Posh Disposable Vape is one of the best options right now. It has excellent battery life, excellent MTL draw, and unique flavors, some of the best I've tried.
Some of these vape flavors are:
Frozen Grape
Blueberry Ice
Fresh Melon
Lush Ice
Mango frost
Pineapple slush
14.VAPOR4LIFE
Vapor4Life standard disposables have a very similar look to a cigarette, with a paper effect on the one side of the battery and a real-looking marbled butt section for the cartridge. While this doesn't interfere with the actual performance, you'll get from the disposable, and it's an incredible design choice that causes the transition from cigarettes to feel slower.
The disposables come in tobacco, menthol, mint, watermelon, and coffee, and a small color-coded strip between the two parts of the stick reflects the particular taste. All come in a nicotine level of 3.6% (or 36 mg/ml), which is strong enough to please smokers just starting, even with a fundamental disposable gadget. This additionally assists you in exploiting the battery life to the limit because you should not inhale juices with high nicotine content continuously.
15.UPENDS
With a built-in 850mAh battery and a power of 4.5ml, Upon is designed for long-lasting performance. One Upon kit is equal to 3 regular 1.5ml capacity disposable vapes. And the best part is all the flavors it has:
Lycée Crush
Raspberry Blueberry
Cold Mint
Juicy Grape
Pineapple Ice
Cuban Tobacco
This brand has excellent vape models that will best suit your needs, particularly if you are a vaping expert.
Entering UPENDS.com will help you choose the best vapers to enjoy a healthy experience at a fair price.
Their products come in the form of a lightweight and compact pen, allowing you to vape everywhere you go. The best thing is that, because of its wide variety, you will be able to vape for even longer periods of time without wasting more money than required.
UPENDS, the newest expanding e-cigarette company is now recruiting agents worldwide, which is an excellent choice for a more elevated vaping experience.
Get your disposable vape now!
Now that you've got all of these fantastic solutions at your disposal, it's time to pick the one that best suits your needs and dive into the world of vaping.