Have you heard about Kurvana disposable vapes before? Would you love to know more about the disposable vape products that are produced by Kurvana Brand? Hang on! Kurvana is a well-known cannabis brand in the vape market and its vape products are one of the best in the market. In this article, we will look deeper into the Kurvana brand and its disposable vapes to see why this brand is making the news in the vape market. Relax and Enjoy!
1.
About Kurvana Vapes
Kurvana disposable vapes were founded in 2014 in California, the country is a leading brand in the production of cannabis vapes and products. They have always maintained standard quality when it comes to their product and they ensure that their product passes through rigorous testing in certified testing labs to ensure that they are healthy and safe to use. To further prove the credibility of their product, each of their vape product comes with a labelled lab result which further guides you to know more about what you are buying and to see if it is the right one for you. Kurvana Vapes also have amazing customer care service and various discount offers for their customers.  
2.
Kurvana Disposable Vape Pen (ASCND) Review
This product is made using 100% original materials. It is made from terpenes that are fully extracted organically from nature. The ASCND is an all-in-one vaporizer that is loaded with cannabis. The extraction process adopted in the making of this product involves up to 95% or more cannabinoids, there are no artificial ingredients used as ingredients for his disposable vape. The product features a heating system that gives it an optimized airflow which enhances a high dose per draw. This cannabis vape is one of the most natural, purest, and high-quality cannabis vapes you will ever come across in the market. There are no dirt, heavy metals, or pesticide in this vape, and the label on the product notes every single ingredient used in producing it- it is all-natural. For people looking to switch easily from smoking to vaping, this is a good choice for them. It is easy to use, effective, and original.  It features a unique bottomless battery with a beautiful design; with this battery, you do not need to press any button before using the device.
The product contains 90% THC, and it is available in 0.5mls and 1ml cartridges. Kurvana Disposable Vape (ASCND) is available in 15 different strains that include Cosmic Glue, Cactus Cooler, Earth OG, and Ghost OG, amongst others. These products give you a calming, relaxing, euphoric, and sleepy effect. They are also very effective when used as a means of pain relief. It should be noted that this product contains highly potent cannabis so you might want to take it slow if it is your first time trying out cannabis products so that you would not get too overwhelmed initially.
2.1 Kurvana Disposable Vape ASCND Collection
C Jack
This contains sweet, citrus, and pine flavour. It is an award-winning product that was specially bred to increase potency by increasing the THC content level. C Jack is a hybrid Cannabis that has been in the market as far back as 2013. To get C-Jack's parent strains, Sativa dominant jack Herer Strain and Hybrid Skunk #1 strain were crossed. The result of crossing these two strains gave an excellent effect, while Jack Herer added creativity and focus to it, and Hybrid Skunk#1 gave it a very delicious and satisfying smell. This combo has given the product a unique feature and has made it one of the most bought cannabis cartridges in the market. C Jack is exactly perfect for vapers that are into recreational activities as it is very effective in boosting mood, producing euphoria, and stimulating creativity. Its psychoactive effects are almost immediately felt as soon as you start vaping. It is a Sativa/hybrid strain.
This product contains <0.20% total CBD, 96.95% total cannabinoids, and 92.19% total THC.
Amnesia Haze
This is a mix of citrus, lemon, and earthy flavours. The Amnesia Haze Strain was gotten from crossing Afghani Hawaiian and Jamaica Cannabis strains. This results in an earthy aroma and a strong lemon taste. This strain is very good for relaxing the mind and forgetting your worries, it works well as a pain relief too- gives something like an amnesia feeling. This product contains <0.20% total CBD, 97.30% total cannabinoids, and 94.13% total THC.
Cactus Cooler
This is a combination of orange, citrus, and earthy flavours. It gives a taste of desert fruits with an aftertaste of heady kush in your mouth. The strain was gotten by crossing Blue Dream and OG Kush strains together. The aftermath result gives a tranquillizing feeling, something that cools your head off stress, pains, and worries. This product contains <0.20% total CBD, 93.49% total cannabinoids, and 90.19% total THC.
Cherry Truffle
This is a smooth blend of cherry, diesel, and sour flavours. This strain gives more of a sour taste and it is best for vapers that love sour tastes. It is derived by crossing the Cherry Noire strain and Afghani Strains of Cannabis. It gives the body and mind the full relaxation they deserve after a stressful or tiring activity. It is made using natural, primary terpenes with no form of preservatives at all. The Cherry Truffle Strain contains <0.30% total CBD, 96.30% total cannabinoids, and 91.46% total THC. This is even especially potent amongst the other strains in this collection.
Cosmic Glue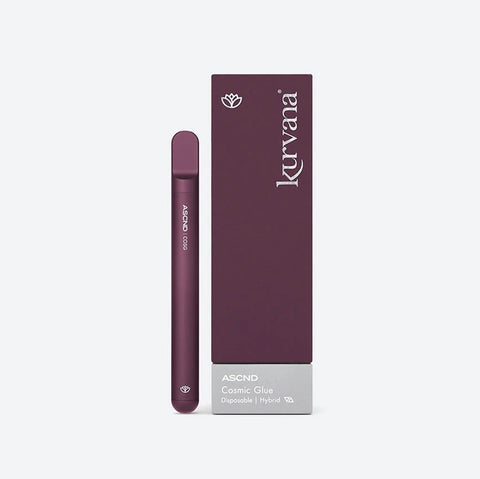 Cosmic Glue Strain mixes lemon, diesel, and pungent flavours. It is a little bit bitter, slightly sweet, and then sour. If you are not someone that fancies sweet vapes, then this is for you. It is a cross of the G. G. #4 Strain and Space Queen, it gives your body a euphoric effect, relaxing your mind and soul, and erasing your worries and anxiety. Cosmic Glue is one of the best-selling strains in this collection. It contains <0.20% total CBD, 96.08% total cannabinoids, and 91.21% total THC.
Dutch Treat
Dutch Treat Strain contains pine, sweet, and citrus flavours. It is for lovers of sweet vapes. It gives you a really happy and joyous feeling while boosting your energy. The Strain is gotten by crossing Nothern Light Strain and Haze Strain, the result is superb. When you first put this vape in your mouth, the first taste you will feel is sweet pines, this is immediately followed by a rich citrus taste that will keep you asking for more, this particular strain is special and unique. It contains <0.20% total CBD, 95.56% total cannabinoids, and 91.97% total THC.
Earth OG
This is the most popular strain in this collection. It is a mix of earthy, herbal, and spicy flavours. This strain is mostly loved by old vapers who love herbal tastes. When you inhale this, the first taste that you get is baking spice flavour mixed with soil/earthy flavour, then there is a slight hint of rich OG. If you love your vape products sweet flavoured, then this is not for you. The strain is gotten by crossing the Sour Diesel strain and Ghost OG Strain. It contains <0.20% total CBD, 95.11% total cannabinoids, and 92.15% total THC.
These are only some of the strains in the Kurvana Disposable Vape (ASCND) Collection, there are others too. You can go through the label on each of them to see the ones that best suit your taste and desire.
2.2 Pros
Highly Potent
Quality Material
Variety of flavours and strains to choose from
3.
Kurvana Disposable Vape Review
The product is made of pure, natural ingredients with no artificial ingredients at all as noted by the brand. Each product contains all the ingredients used in producing it and they are made to pass through rigid clinical tests and reviews to ensure that they are safe to consume without containing any harmful ingredients whatsoever. Kurvana Disposable vapes are one of the best for lovers of cannabis vapes, there are several flavours available, with varieties of strains to choose from. The brand is well experience, and we love its expertise.
Most of the disposable vapes in this collection contain very high content of cannabis and so they are very potent, we would not recommend them to people that are inexperienced with cannabis products. If you are however very used to vaping or smoking cannabis, then we are certain that you will fall in love with the originality and potency of the cannabis content in this product.
4.
Frequently Asked Questions (FAQs)
Is Kurvana Disposable Pen Rechargeable?
Yes! Like many other disposable vapes out there, Kurvana Disposable vapes are rechargeable so you can charge them at any convenient time for you and us them.
How do I Charge Kurvana Disposable Pen?
It is very simple to do. All you need to do is to plug it into an electric outlet and watch the LED light indicator display. For most vapes, the colour of the light changes once it is fully charged- which means it can be unplugged and is ready to be used.
5.
UPENDS: Trusted Vape Products Fast-Seller
UPENDS is another vape store that you can trust with the wholesale supply of only original and quality vape products. Upcott is one of those reliable vape pens you can get from UPENDS store. Visit upends.com for quality vape products.