There are all kinds of different reasons people use vapes. Some are replacing the traditional cigarette, some are looking to quit smoking altogether, and some are professional trick vapers.

Based on careful research, UPENDS develops products to meet the needs of those people looking to replace cigarettes in their life.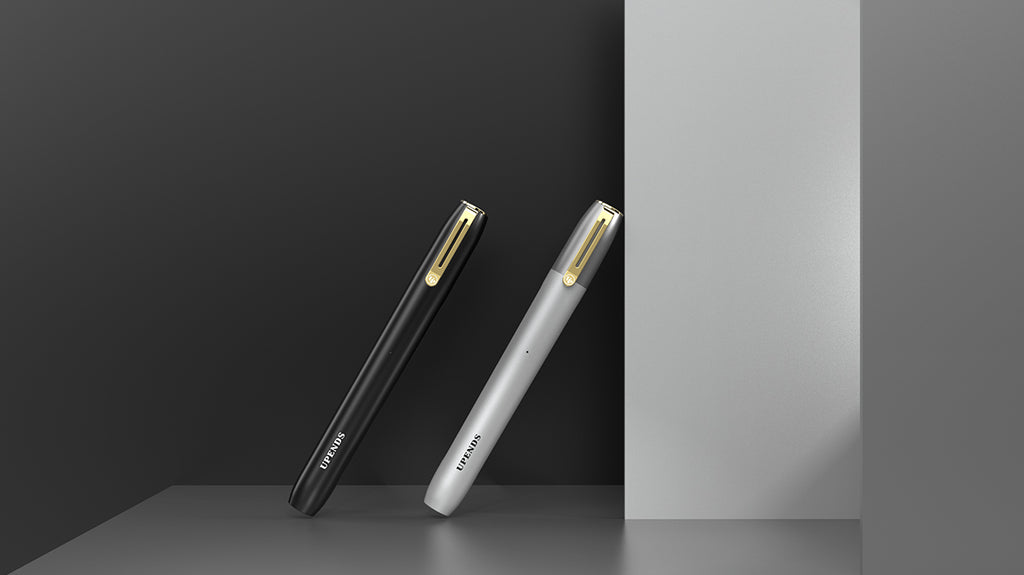 In developing the Uppen vape pen, we held to strong design principles right from the initial concept, all the way to launch. Its design combines Western architectural aesthetics with classic ergonomics.  We find inspiration in life and bring it perfectly to the product.
The inspiration for Uppen
Vape Kits
Inspired by the classic Roman column, Uppen's shape echoes beautiful architectural lines.

Mouthpiece
Reflecting the clarinet's shape, the mouthpiece has been ergonimically designed for optimum comfort.
Dirt-Resistant Cap
The snug-fitting cap provides secure mouthpiece protection, effectively eliminating dirt, while the clever reverse-insert design prevents cap loss.
Pen Clip
18K gold pen clip shows an extra touch of class, clearly demonstrating your excellent sense and taste.
Technological innovations

ETCHIPTM Coil
With the bespoke ETCHIPTM coil, Uppen produces original and fulfilling vapor.The bespoke 1.2 Ohm Etchip™ Coil has been engineered to provide an even temperature and controlled liquid delivery, for a distinctive smooth, fulfilling draw and
 no popping, spitting or leakage. 

The Antibacterial Nanometer Silver Ion Mouthpiece
The mouthpiece uses a unique antibacterial material, which effectively reduces the breeding of bacteria, ensuring a safer, more sanitary experience.

Magnetic Auto-focus Connection
Magnets automatically draws the pod back into position with an instant vibration to indicate proper connection. You can handle it without even a glance.
UPENDS may be a new brand in the vaping landscape, but both its technical and brand strength are at the industry forefront. Our products have been planned with a high-end design focus and meticulous attention to detail right from the start.
Therefore, it is no surprise that UPENDS products have already received strong approval from customers in the market. For the vaper, the quality of the brand is clear - UPENDS is a premium vape brand.