The Yocan Lit vape pen is a unique vape device manufactured by the famous company Yocan. The device is one of the unique lighter-designed vape pens and concentrate vaporizers that can be used as double cartridge batteries. It has one of the most impressive features that we are going to look at in the review.
Yocan has had some impressive vape units in the industry and they have proven to be good performers. The device is sturdy, compact and can easily be carried around for outdoors vaping escapades. It has a well-curved design that can fit in your pockets or in your backpack.
Being one of the smallest pen designs, the vapor production and flavor is unmatched. With the single firing button, you can trust that the device is one of a kind performer.
Features and specifications
400 mAh internal battery

Dual quartz coils

A wide range of colors available

Vape on the go twist pen

Variable voltage charging systems

Micro USB charging features

LED light to indicate battery features

Extra magnetic adapter included

Single button operation

QDC Technology

Preheat vaping function
Build and design quality
The Yocan Lit is a small vape mod that appears to slightly elongated that the average pens. The device is a simplistic design and has managed to be a favorite among vape users with its exquisite design. With the small size, it is 86 grams and has a good handling technique.
The excellent build is not stressful and you will enjoy holding and using it. There is a little maintenance needed to keep it serving you for a very long time. It is one of the many Yocan device that uses the smooth connection styles and this adds to their premium features which has an overall good look. Good looks and performance is what you need to expect.
The casing has a protrusion that makes the device easy to hold and durable. Combined with the well curved mouthpiece, the general appearance of the device is improved and you will always feel like taking it out of the pocket and looking at it. The tank capacity is at 2ml which has been approved to fulfill TPD requirements and no leakage issues whatsoever.
The top design has screws on the battery using a top design mouthpiece. You have a non-adjustable flow and it has air holes on the top cap making it a better draw for Direct-to-lung vaping and if you loosen the air holes it can be a good mouth-to-lung vape device.
The battery gives a power output of between 1.8-4.2 volts, and with the adjustable power settings, you can set it to use any kind of voltage which matches your vaping needs. If your battery runs out of power, you can recharge it using a USB charging port that is located at the bottom of the pen.
You can enjoy a pass-through vaping feature when you are charging so you do not have to cut out the fun part of vaping even if you are out of power. The taste is wonderful and the throat hit is flavorful and rich.
How to use the Yocan lit
The device can be used immediately you are done charging it. To start the device, click the fire button five times and do the same thing if you want to turn it off. The light will flash for a few seconds when you can proceed to vape.
To start, hold the fire button to take a hit and once through, let go of the power button. Once you feel like you are getting dry hits, you need to refill your tank. If you continue vaping, you might burn up your coils and heating elements. 
To refill the Yocan Lit, you need to take out the mouthpiece and pour your e-liquids into the tank. The refill process is simple and once you have filled in your juice, ensure you hit the max line or three quarters of the tank to avoid spillage and spitting. You can therefore screw back the mouthpiece and ensure it firmly holds into position.
Flavor and vapor quality
The Yocan Lit has a good combination of the material and uses the Quartz Dual Coil technology for its heating purposes. The QDC allows for airflow to be recycled twice and let out huge clouds of vapor. You can choose between the 0.6ohm coils for more vapor production or 1.2ohm coils to give more flavor. Yocan is known for having the most versatile products, and you can enjoy vapor and flavor all from the same device. 
Battery and charging of the Yocan Lit
The battery of the Yocan Lit has a 400mAh battery which has a bypass system. You can enjoy a warranty on your device from the time you bought it. The battery level is found on the side of the battery and it has color coded to indicate the battery percentages you are left with.
Light is located right above the battery logo. They indicate as white-70%, Blue-30-705, Red- less than 305. When the unit flashes red lights, you need to plug it into a USB charging system that was included in the package box. When fully charged, the lights will shut off.
Performance
The most cumbersome process when using this unit is the refill process. You need to unscrew the mouthpiece from the battery and pour in e-juice into the tank. When refilling the tank, keep it at the max line to allow you control your vaping habits to avoid spitting and leakages. After your liquid is in, keep it settling down for like 10 minutes to ensure it gives you a good hit, proper flavor and vapor.
The Quartz dual coils give a very impressive taste and profile that gives a sufficient throat hit. The vapor produced does not differ so much from the cigarette smoke, which is good for beginners who like a mouth-to-lung vaping style. With the 4.2volts, you are sure the battery can last for a very long time.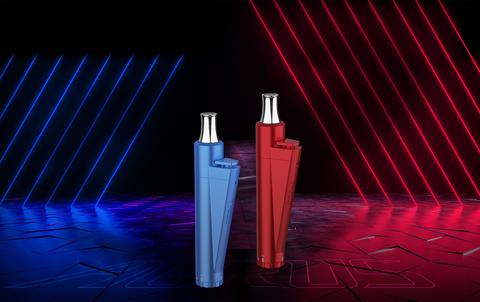 When you have fully charged your device, it can last you for up to two days. The 2ml tank can hold liquids up to 2ml which ensures you do not run out of liquid within the session. If your battery runs out as you vape, there is a pass-through feature that still allows you to vape even as you charge. 
Pros and cons
Pros 
Compact and handy design

Zero leakage issues

Long lasting atomizers

A lower price with better quality

Greater tasting flavor

Improved safety features
Cons
The fire button tends to be loose

Smaller 2ml tank

Less flexibility

Non-adjustable airflow
FAQs about Yocan Lit
Is the Yocan Lit worth it?
The Yocan Lit is a good all-in-one device that should not be overlooked. It delivers the best vapor and performance with so little maintenance needed, all you have to do is keep it working well and you will be good.
ALTRENATIVE VAPE: UPENDS
UpOx
The UpOx is a super-value mini-open pod system with a performance that puts down all other pod systems. It has a fantastic price that will come off as a surprise.
You can trust that the Etchip flavor master coil will serve you well, giving you the most original flavors. The features of this pen are easy to use and durable as well. It is a good choice for people who are trying to get off the daily tobacco usage.                      
Conclusion
The Yocan Lit is a good device with good quality and gives efficiency at a reasonable price. It is simple and convenient to ensure that vape users fall in love with it every day. It is not wrong to believe that this device is one of the best for beginners because it is easy to use and it is easy to fill. You do not need to carry out special maintenance to keep this device serving you for a very long time.