A vape shop is a retail establishment that specializes in selling electronic vaping devices, accessories, and e-liquids. Vape shops typically offer a variety of vaping products, including different types of devices, replacement parts, coils, tanks, batteries, and a wide range of e-liquid flavors. Some vape shops may also provide educational resources and guidance on how to use vaping products safely and effectively, especially for those looking to quit smoking traditional cigarettes.
Due to the rising number of vape shops, many vapers, more the new vapers, may find it hard to choose the right vape shop. Because of this, we have set aside this article to guide you on one of the best vape shops: Volcano Vape Shop, that you can count on.
Who is Volcano Vape Shop?
Established in 2009 as the original vape shop in Hawaii, VOLCANO eCigs has emerged as a prominent distributor and retailer of vapor products based in the picturesque state of Hawaii. It has evolved into the largest vape company owned and operated within Hawaii, boasting a locally situated warehouse and a network of 16 retail outlets.
Location: 330 Sand Island Access Road, Suite No. 400 Honolulu, HI, 96819
Contacts: support@volcanoecigs.com
                (866) 866-6370
Main Products: E-Liquids, Disposable Vapes, Devices, Accessories, Tanks and Coils
Volcano Vape Shop Vape Equipment Review
Volcano vape shop stocks a wide selection of vape equipment that you can choose from. All these vape equipment are sourced from leading vape equipment developers that you can always trust. The vape equipment you can obtain from Volcano Vape shop includes;
Lucid Charge Disposable Vape Pen
Key Features
550mAh Capacity Rechargeable Battery
Type-C Charging Port
14ml Non-Refillable E-Liquid Capacity
7000 Puff Count
Mesh Coil Heating Element
Draw-Activated
The Lucid Charge Disposable Vape Pen, featured at Volcano Vape shop, presents a standout vaping device with a range of exceptional attributes. Its 550mAh rechargeable battery ensures extended usage, complemented by the convenience of a Type-C charging port for fast and user-friendly recharging.
Boasting a substantial 14ml non-refillable e-liquid capacity and an impressive 7000 puff count, the vape pen offers prolonged enjoyment without frequent refills or replacements. The inclusion of a mesh coil heating element enhances flavor and vapor production, while the draw-activated mechanism simplifies usage by eliminating the need for a button.
With these features, the Lucid Charge Disposable Vape Pen promises a satisfying and seamless vaping experience for enthusiasts.
Suorin Drop 2 Pod Kit
Key Features
1000mAh Capacity Rechargeable Battery
Type-C USB Port
7ml Capacity Refillable Pod
Bottom Fill System
14W Maximum Vaping Wattage
Draw Activated
8 x 52 x 17.6mm Dimensional Size
The Suorin Drop 2 Pod Kit offers an array of impressive features designed to enhance the vaping experience. It is powered by a high-capacity 1000mAh rechargeable battery, ensuring extended usage periods and minimizing the need for frequent recharging. The convenience of a Type-C USB port allows for fast and efficient charging, catering to users' busy lifestyles.
With a generous 3.7ml capacity refillable pod, the kit provides ample space for favorite e-liquids, while the bottom fill system simplifies the refilling process.
Operating at a maximum wattage of 14W, the device strikes a balance between flavor and vapor production. The draw-activated mechanism abolishes the need for buttons, making it effortless to use. In summary, the Suorin Drop 2 Pod Kit offers a blend of user-friendly features and performance enhancements, making it an appealing choice for vaping enthusiasts.
GeekBar Meloso Max Disposable Vape
Key Features
600mAh Capacity Battery
Type-C Charging Port
LED Light Indicator for Battery and E-Liquid Level
14ml E-Liquid Capacity
9000 Puff Count
Dual Mesh Heating Element
The GeekBar Meloso Max Disposable Vape is equipped with a range of notable features that contribute to its exceptional vaping experience. With a robust 600mAh capacity battery, this device offers prolonged usage periods before needing a recharge. The inclusion of a Type-C charging port ensures quick and efficient recharging for users' convenience.
A LED light indicator displays both battery and e-liquid levels, allowing you to monitor your device at a glance. The sizable 14ml e-liquid capacity provides ample space for favorite flavors, and the impressive 9000 puff count offers an extended lifespan.
The dual mesh heating element enhances flavor and vapor production, creating a satisfying and flavorful vape. Overall, the GeekBar Meloso Max Disposable Vape combines convenience, performance, and longevity, making it an enticing option for vaping enthusiasts.
UWELL Caliburn GK2 Pod Kit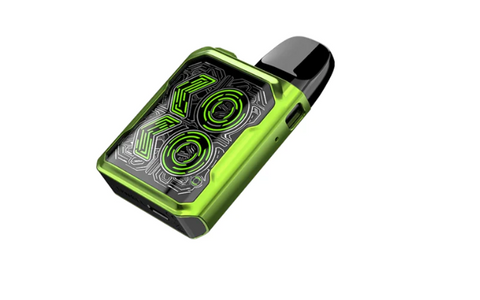 Key Features
690mAh Capacity Battery
2ml E-liquid Capacity
Refillable
LED Light Indicator
Draw Activated System
The UWELL Caliburn GK2 Pod Kit presents a compelling set of features designed to elevate the vaping experience. With a substantial 690mAh capacity battery, the device ensures extended usage on a single charge.
Its 2ml e-liquid capacity pod is refillable, allowing users to easily replenish their preferred e-liquids for uninterrupted enjoyment. A LED light indicator provides clear visual feedback on battery status and usage.
The draw-activated system simplifies operation, eliminating the need for buttons and making vaping effortless. Overall, the UWELL Caliburn GK2 Pod Kit combines a user-friendly design with efficient performance, making it a standout choice for vapers seeking convenience and satisfaction.
Geek Vape Aegis Boost Pod Mod Kit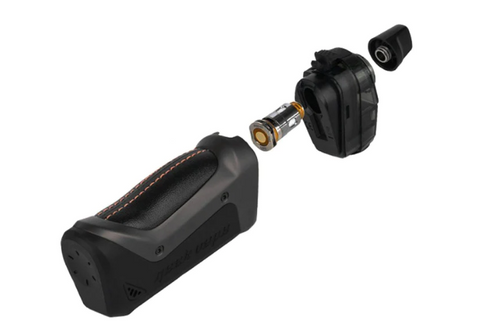 Key Features
1500mAh Capacity Battery
7ml Capacity Refillable Pod
5-40W Output Wattage
0 -6.0V Output Voltage
Anti-Dry Hit Technology
Replaceable Coil
Geek Vape Aegis Boost Pod Mod Kit is a remarkable fusion of durability and portability. This pod device stands out as the lightest and most rugged option available, boasting an IP67 Rating that safeguards it against mishaps like drops and exposure to rain.
Its robust composition, featuring zinc alloy, leather, and silicone, not only ensures longevity but also offers a comfortable grip and stylish aesthetics. Uniquely engineered as a pod mod, the Aegis Boost seamlessly combines the convenience of replaceable pods and the sleek form factor of contemporary pod systems, all while harnessing the enhanced power and extended battery life akin to traditional mod devices.
With an impressive maximum output of 40W, meticulously optimized for variable Aegis Boost coil resistances, and fueled by a built-in 1500mAh battery, you're guaranteed an enduring vaping experience that extends for days before needing a recharge. Engineered with Geek Vape's advanced AS chip, this device guarantees optimal performance, delivering lightning-fast firing speed, power efficiency, pinpoint accuracy, and comprehensive protection mechanisms.Top of Form
Falcon 2 Sub Ohm Tank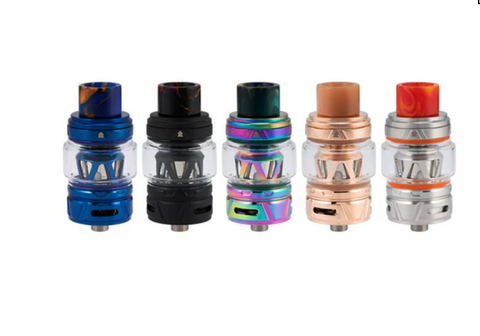 Key Features
2ml E-liquid Capacity
Variable colors
25mm Base Diameter
Bottom Airflow Control
14-ohm Mesh Coil
Meticulously constructed, the Falcon 2 sub-ohm tank showcases a blend of premium stainless steel, resilient Pyrex glass, and top-notch o-rings. The top cap is adorned with a harmonizing 810 resin wide-bore drip tip, facilitating abundant airflow and offering compatibility with alternative 810 drip tips.
This version introduces notable upgrades, including an expanded juice capacity now reaching 5.2mL, a notable enhancement from the previous 3.4mL.
Innovatively engineered sector mesh coils amplify performance, while the coil installation and refill mechanism have been refined and augmented with a locking button, ensuring both safety and steadfastness.
Alternative Wholesale Vape Shop: UPENDS
UPENDS is a reputable wholesale supplier of vaping equipment, offering a comprehensive selection of vape devices, accessories, and e-liquids to retailers and distributors. With a focus on quality and innovation, UPENDS aims to assist businesses in meeting the diverse demands of the vaping industry. Their range of products caters to different vaping technologies, ensuring a reliable and varied selection for customers. As a trusted partner, UPENDS is dedicated to providing top-notch vaping solutions and supporting businesses in delivering high-quality products to their clientele.
One of the award-winning UPENDS vape devices is the UPENDS Mirror. The UPENDS Mirror, a celebrated vape device, boasts an elegant design characterized by a captivating beam of light, setting it apart as a visual masterpiece. Powered by a 500mAh rechargeable battery and featuring Type-C charging, it ensures extended vaping sessions while offering convenient and swift recharging capabilities. Its impressive 10ml e-liquid capacity minimizes the need for frequent refills, allowing users to indulge in their favorite flavors for an extended period.
A key highlight is the upgraded mesh coil, which enhances flavor and vapor production through even heating distribution, ensuring a smoother and more satisfying vaping experience. The device's true versatility shines through its diverse array of variable flavors, ranging from the invigorating Grape Energy to the timeless Double Apple. This extensive flavor selection caters to a wide range of taste preferences, making the UPENDS Mirror a dynamic and enticing option for users seeking flavor variety.
In essence, the UPENDS Mirror amalgamates aesthetics, performance, and choice, making it a premier choice among vape devices. Its sleek design, robust battery, efficient charging, substantial e-liquid capacity, upgraded coil technology, and wide flavor spectrum collectively position it as a pinnacle of vaping innovation, ready to cater to the preferences of vaping enthusiasts.