What is Vape Royalty?
When it comes to purchasing premium e-juices and quality vape products, vape royalty is the vape shop to visit. They have been in the vaping business for years, thus enabling them to understand your dynamics as a vaper. Their online shop is user-friendly, and you can order goods at any time.
For vape royalty to satisfy your vaping needs, they have teamed up with top brands such as SMOK, Vandy vape, Naked 100, Jam Monster, and many others. This allows you to have a wide selection of vape products.
So, in today's guide, you will learn more about vape royalty shops.
Vape Royalty Contact Details
You may want to reach out to vape royalty customer service or visit their offices. So, how do you contact them? Don't worry as their contact details are as follows;
So, you can use any of the contact details to send a message to vape royalty.
Vape Royalty Main Products
Whether you want e-juices, devices, tanks, coils, rebuildable, and accessories, be sure you will get them at the vape royalty shop. However, you will get to know the best-selling vape products in different categories in this part.
This is to help you select the right vape product. Additionally, it is to help you reduce the time you spend checking thousands of similar products on the vape royalty website.
Let's go!
The Best-Selling Vape Pod Systems
Pod systems are among the best vape products due to their portability and compact nature. Furthermore, many vapers prefer this product because it is user-friendly. This is because it uses refillable cartridges, enabling you to replace the coil easily.
At vape royalty, you will find many pod systems. But which are the best-selling? The following are top-selling pod systems at vape royalty.
SMOK NORD 2 Pod System
With over one thousand customer reviews, SMOK Nord 2 is the popular pod system in vape royalty. This product costs less than $25 and has an attractive look. It comes in nine different colors giving a variety to choose from.
SMOK Nord 2 has a 0.69" OLED display and a 1500mAH rechargeable battery. The battery is long-lasting, allowing you to enjoy vaping. Its cartridge is refillable, and the capacity is 4.5ml. Additionally, this vape product is compatible with RPM and Nord coils.
You will get one RPM pod with a 0.4ohm mesh coil and a Nord pod with 0.8ohm Nord DC MTL coil during purchase. The Nord pod is for mouth to lung users and those who prefer using nic salts.
Uwell Caliburn Pod Kit
The second best-selling pod kit in vape royalty is the Uwell Caliburn. Uwell Caliburn pod kit comes in various colors: black, gray, red, blue, pink, and rainbow. Also, it comes with two mechanisms for powering the device on.
The chassis of the pod system is made of aluminum, assuring you of its durability. Uwell Caliburn has a 520mAh rechargeable battery whose output wattage is 11W. It uses the pro-FOCS coil system to get the real taste of your e-juice.
Refilling the pod is simple as it uses the top-fill method. The pod has a capacity of 2.1ml, and it has a resistance range between 1.2 to 1.5 ohms.
Voopoo Drag X 80W Pod Mod Kit
Drag X is a pod mod kit by Voopoo and has excellent reviews by users, not only on vape royalty. It uses a single high ampere 18650 battery. I love this kit because you can either use it for MTL or DTL.
It features the GENE.TT chipset. This chipset has a protective safety feature. Voopoo Drag X has a zinc-alloy frame and leather/carbon fiber panels to look attractive. Additionally, this pod mod kit uses the Voopoo PnP coil series and the Gene.TT chipset helps the coils from burning.
The Best-Selling Vape Starter Kits
Vape starter kits are the best vape products for novice vapers. This helps one to get the best vaping experience. At vape royalty, you will find many starter kits from brands like SMOK, Geek Vape, IJOY, FreeMax, Uwell, and more.
To reduce finding the suitable starter kit, we sampled the top starter kits on the vape royalty online shop.
FreeMax MARVOS T 80W Starter Kit
FreeMax MARVOS T 80 W carries the day when it comes to starter kits. It has a 3000mAh battery capacity providing you with ample vaping time. FreeMax has three adjustable power output levels making vaping easier.
It uses the new FM Chip 2.0 technology and a state-of-the-art 810 drip tip. The pod's capacity is 4.5ml, which can last you for a long. FreeMax MARVOS uses the bottom fill system, and detaching the pod is simple as it is attached using a magnet.
Furthermore, it has protection from overheating, overcharging, short circuits, and overloading.
Geek Vape Aegis Max 100W Kit
The geek vape aegis max 100w kit upgrades the aegis solo kit. When you have this kit, you can use a single 18650 or single 21700 battery, which must have an output power of between 1-100W.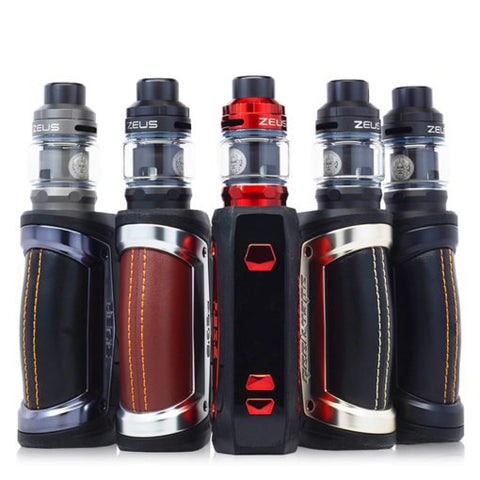 Aegis Max has the IP67 rating, which assures you protection from damage due to overcharging, overheating, and overcurrent.
Furthermore, the kit is resistant to shock, dust, and water. It has an OLED display that shows you the battery level and output power. Additionally, it has two adjustment power buttons.
The Best-Selling Vape Tanks & Coils
Are you looking for replacement tanks & coils? Then you will find the best tanks & coils at vape royalty. But there are so many, so to help you, here are the best-selling tanks & coils.
Horizon Flacon 2 II Tanks Replacement Coils – 3 Pack
These replacement coils are meant for Horizon Flacon 2 tanks. Never try fitting them on Falcon tank or Falcon king tank. It uses the Horizon sector mesh coil technology. These replacement coils have a 0.14ohm resistance and a working wattage of 70 – 75W. When you purchase this, you will get three replacement coils.
Uwell Valyrian II 2 Coils – 2 Pack
Uwell Valyrian II coils costs between $10 to $12. It has a 0.15ohm quad mesh coil, 0.32ohm UN2 single meshed coil, 0.14ohm UN2-2 dual meshed coil, and 0.16ohm UN2-3 triple meshed coil. To install this coil, you need to use the threaded coil method. It has a stainless-steel construction and comes in a two-pack.
The Best-Selling Vape Juice & E-Liquid
Purchase the best vape juices and e-liquids from vape royalty. Here you will find vape juices from different brands like Jam Monster, Sadboy, Puff Labs, Naked 100, and more. So, the following are the top-selling vape juice & e-liquid you should purchase from vape royalty.
7 Daze – Reds Apple 60ml
This vape juice is made from apple juice, providing a sweet taste when vaping. It is in a 60ml bottle and has a refreshing taste. Also, you can choose a 0, 3, or 6 mg nicotine level of the 7 Daze red apple e-liquid.
Naked 100 Menthol – Berry (Very Cool) 60ml
The nicotine level in this vape juice is either 3mg or 6 mg. This gives you the option depending on your vaping experience. Furthermore, the Naked 100 Menthol – Berry has a sweet and tropical taste giving you an exciting vaping time.
Vape Royalty Discount Coupon Code
Below are discount coupon codes you can use on vape royalty shop.
Extra $10 Off for Over $100 At Vape Royalty:

20% Off Vape Royalty Discount Coupon Codes:

Vape Royalty Reviews
When it comes to purchasing the best vape products in the market, vape royalty takes the day. They work from Monday to Friday from 9:00 Am to 5:00 pm PST. However, you can make your order 24/7 as the website is up all time.
I like this vape shop because of its affordable prices and high-quality vape products. Whether you are a beginner or expert vaper, be sure you will get the product you are looking for in this vape shop.
Therefore, make a date and visit their online shop today. Also, it has a physical shop, and you can locate them on the map before the end of this article.
Vape Royalty Shipping: How Long Do Vape Deliveries Take?
Once you complete your order, the next step is shipping, and the question that arises is how long it takes for vape royalty to ship products. It takes 24 to 48 business hours to dispatch orders after purchase.
Additionally, they currently do domestic shipping in the U.S. and haven't commenced international shipping.
Find Vape Royalty Shops Near Me (My Location)
Using this free Vape locator tool to help you to find Vape Royalty vape shops near me(my location).
UPENDS: Wholesale Vape Supplier
The demand for high-quality e-cigarettes is on the rise, which has prompted the establishment of many manufacturers. One of them is UPENDS, a wholesale vapes e-cigarette supplier. They are recruiting retailers and wholesalers around the globe to help them resell their products.
Click these links to learn more about the UPENDS retail and wholesale program.
Click here to become our partner:
Click here to contact us and see more latest products: