Great moments are marked by unique events that bring out the best and rare feelings. Vaping has become a viral and most reliable way of relaxing and having fun with desirable effects. Vaping apes the traditional way of nicotine consumption that has improvised and has achieved the modern standard make. The use of vape devices has significantly triggered more nicotine consumption as vaping includes mouthwatering flavors that bring a difference in every successful vaping session.
This blog leads you to the most coveted and reliable vape device known as the Torch disposable THC vape. With every detail you get, you will be a step closer to significantly improving your vaping experience.
What is Torch Disposable THC vape?
Key Specs
E-liquid Capacity- 1g
E-liquid Type- Live Resin Diamond
Battery Type- Rechargeable
Coil technology- Ceramic
Special Features- No leakages, no logs, rapid charging
LED battery life indicator
The Torch Disposable THC Vape is a unique vape device that is popular for its absolute reliability and the exceptional flavor it brings to every vape user. There is a number of premium quality vape e-liquids that the Torch Disposable THC Vape comes with that ensure that you are left smacking your lips and yearning for more puffs. This wonderful vape device comes with a powerful battery, tank, and atomizer.
Like any other disposable vape device, the Torch Disposable THC Vape is designed to be disposed of once its contents are depleted. This is because you cannot refill the Torch Disposable THC Vape. The device's battery is as well non-rechargeable, and once it runs out of power, you will have to replace it with a new one.
From the physical outlook, the Torch Disposable THC Vape is designed to achieve a small body, and this makes it lightweight enough to give you the ease to carry and use at your convenience. The secret behind the original and exciting flavors from the Torch Disposable THC Vape is the ceramic coil technology employed. The vape device is usually known to use a live resin diamond e-liquid for its consumers to enjoy.
Battery Life and Charging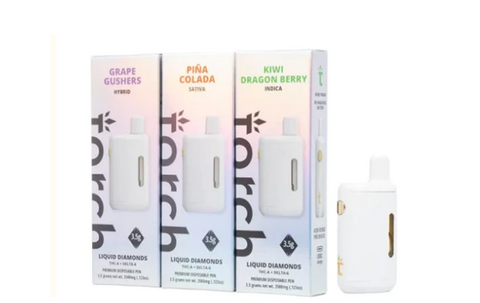 It is quite rare to find such a unique disposable vape device that employs a rechargeable battery. Most disposable vape devices tend to be non-rechargeable, where you only have to dispose of the vape even when its contents are not yet depleted. The moment you realize the vape device is heating with less intensity and the battery life indicator shows you that it is time to recharge the device, then you have to connect your Torch Disposable THC Vape to power. There is an efficient LED indicator that plays an essential role in monitoring the power level of your battery and lets you know when to recharge the Torch Disposable THC Vape.
Ease of Use
Everyone desires a device that gives the easiest way of operation, especially if the device is meant to be used frequently. The Torch Disposable THC Vape comes with a pre-filled e-juice that comes in your favorite nicotine strengths and flavors. The Torch Disposable THC Vape is already pre-filled and pre-charged; once you unbox it, you can start using it right away. You will appreciate the draw-activation technology that is engineered in this device. The draw-activation technology lets you start the device by making your first puff. The moment you stop vaping, the Torch Disposable THC Vape automatically shuts off to save on battery and other possible inconveniences.
General Performance
You will be marveled once you get to understand the true colors of the Torch Disposable THC Vape that make it stand out among disposable other disposable vape devices. It all starts with the wonderful ceramic coil technology followed by exciting features that are endowed in this top-class vape device. You are entitled to enjoy authentic, delicious flavors. Vape users who have tried this vape device report dense clouds that bring real fun to vaping.
The Torch Disposable THC Vape ushers you into a sensational performance that is full of hassle-free operation. The Torch Disposable THC Vape will impress you with how slowly it drains its battery. This makes it an ideal vape device for traveling with as it is as well, as it displays high portability levels with the powerful influence of the polycarbonate chassis construction that is installed to offer you a real thrill of a perfect vape device.
Cost of Purchase
The price of every vape product tends to vary for every shop, but you will be surprised to learn despite the excellent features displayed by the Torch Disposable THC Vape. You will find your Torch Disposable THC Vape at an average retail price of $24.99. It is best recommended that you research the most affordable price for you.
If at all you intend to buy a Torch Disposable THC Vape from an online shop, you need to incur the expense that is accrued from shipping and other customs.
Manual, Review & Instructions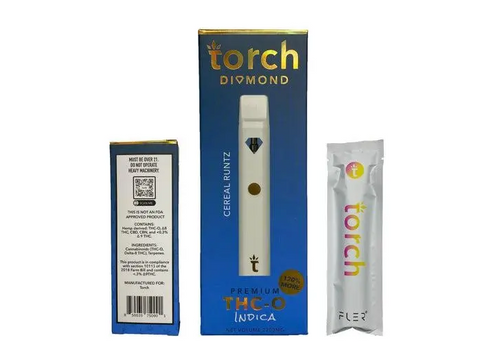 The Torch Disposable THC Vape device avails you of up to six variable strains that you can choose from. The wonderful strains that are offered by this amazing vape device come in different nicotine strengths. The following are the strains you will get from the Torch Disposable THC Vape;
Candyland Strain- this is a one-of-a-kind sativa marijuana strain that can be used to ease the moderate pain in patients that have as well sour moods. Your entire body is stimulated by the powerful effect of the strain.
Cherry Ak Strain- this special strain is availed to you in a reddish-purple color that brings the savory aroma that keeps you excited all day long. You stand a chance to enjoy the smooth cherry that ensures you appreciate the creamy taste that you desire.
GG4 Strain- the Glue 4 strain is an essential e-liquid that perfectly caters to body relaxation that is accompanied by euphoric effects that will keep you locked with its mouthwatering taste. You will appreciate the pungent and sour aroma that makes the GG4 Strain to be a top-selling flavor.
Guava Gelato Strain- this strain welcomes you to the savory taste of the tropical aroma and creamy flavors that make your vaping sessions worth looking for. The strain is known to offer you dense clouds that will surely excite the buds.
Pros
It comes with a powerful battery
It delivers high-quality puffs
It comes with an LED battery life indicator
It comes in a number of flavors
It is easy and simple to operate
It uses a Type -C charger for fast recharging
Cons
The device's tank cannot be refilled
It is expensive
Frequently Asked Questions about Torch Disposable THC Vape?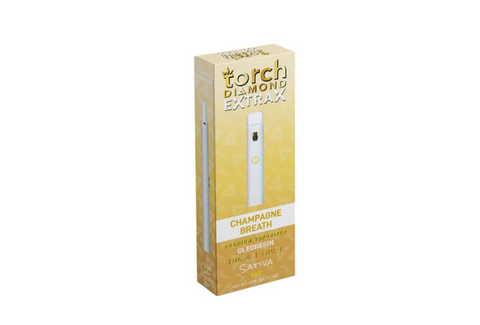 Why is my Torch Disposable THC vape Not Working?
One of the factors that may cause your vape device not to function as expected is that the battery is low. You will have to ensure that your Torch Disposable THC Vape's battery is fully charged. Another reason that may hinder the smooth vaping experience is the coil is a clean and secure connection between the coil and the battery.
How do I turn ON my Torch Disposable THC Vape?
The Torch Disposable THC Vape is a simple and easy-to-use device that employs draw-activation technology. With the first draw, the device will start the heating process. Once you leave the Torch Disposable THC Vape to be inactive for a while, it will automatically shut off.
Which Torch Disposable THC Vape is Best?
 The best vape device for you depends on your taste and preference, and you need to select the one that best works for you. Some of the top Disposable THC Vape devices you can try out include the Torch, Puff bar, Ezzy Oval, and Mojo disposable.
Best Vape Wholesaler Supplier; UPENDS
UPENDS is the leading company in China that is prominent for its premium quality vape products that ensure you get the best from vaping. The vape products are availed in different designs and tastes that are meant to ensure that you enjoy the best vaping experience. Visit your UPENDS.com today and enlighten your vaping lifestyle for brighter days.