What is Smok Mico?
Mico is another vape device from Smok. And just like most vape pods, mico is small in size, sleek, and lightweight for easy portability. The pod comes in seven different resin designs as well as five carbon fiber designs.
What is in the Package?
1 MICO Device
1 0.8ohm Mesh Pod
1 1.0ohm Regular Pod
1 Lanyard
1 USB Cable
User Manual
Smok Mico Specs
Dimensions: 56.3x46.5x14.8mm
Weight: 65g
Construction: Zinc Alloy
Battery Capacity: 700mAh
Direct Output Wattage: 10-26W
Pods Capacity: 1.7ml
Draw Activated Firing
Smok Mico Design and Build
Mico vape pod is a small device with a square shape and smooth edges. It weighs 65 grams with dimensions of 56mm H X46.5mmW. It is lightweight for easy and convenient portability. Generally, Mico has a simplistic design with minimal branding.
The device has a transparent window on one side for viewing the e-liquid progress. Unlike, other vape devices brands, you do not have to remove the pod to check the level of the eliquid.
Smok Mico has a general nice build which feel nice to hold. It is not sticky and does not leave fingerprints marks on the device.
Mico comes with a lanyard which you can attach at the top corner. Due to its small size, the lanyard is a pretty good idea.
Turning this vape device on and off is easy. It has a switch on the side which you can slide upwards to turn it on and downwards to turn it off. When the switch is on, the device's LED blinks 5 times.  
Smok Mico Pods
The Smok Mico comes with two pods. However, you purchase a ceramic pod separately. The mico pods are: 0.8ohm Mesh Coil and 1.0ohm Regular Coil Pods.
The device has a slot at the top where you can insert the pod. The pods sit well into the device due to a magnetic attraction present. It does not wiggle or shift. Although the magnetic strength is good, it is easy to remove the pod from the device.
Both the Smok Mico pods have a capacity of 1.7ml. They are easy to refill using the small rubber plug on the side. The opening is large enough and allows most droppers to fit in well.
Both Smok Mico pods have tabs of either side of the mouthpiece for easy removal of the pod from the device. The mouthpiece is slippery and without these tabs, it is hard to pull the pod out. The mouthpiece of both pods is a bit curved but, it is comfortable for your mouth.
Smok Mico Battery
The Smok Mico vaping device comes with a 700mAh capacity battery, which is pretty okay for such a small device. If you are at vaping, the battery is going to last a whole day. Smok Mico draw doesn't get weaker as the battery starts to go off, this is because it is a direct output device.
When the battery is fully charged, it fires at 26W and down to 10W when it is about to die. There is a LED indicator near the Power button which lets you see the level of the battery.  The LED light indicates in three colors: Green when the battery is between 70-100%, yellow when the battery is 30-69%, and red when the battery is less than 29% charged. It takes approximately two hours to completely charge the battery which is relatively fast.
Safety and Pre-cautions
Smok Mico has excellent safety features to guarantee your safety as you enjoy your vape. If you take a draw for too long, it has an 8 second cut-off, low voltage protection, short circuit protection, and pod detection.
Performance
 Both pods give a great flavor too. The 0. 8-ohm coil is the higher-power pod provided in the Smok Mico kit. The flavor is great thanks to the mesh coil which enhances the performance. Also, the production of vapor is impressive. The draw is a bit airy and has a bit of tightness in it. However, you can still vape comfortably for both mouth-to-lung and direct-to-lung draws.
The 1.0ohm regular coil is great for vaping and wicking. But, the vapor and flavor cannot compare to the 0. 8-ohm coil. The coil has a slightly tight draw which is perfect for mouth-to-lung vaping. The tight draw is ideal if you are long-term vaper.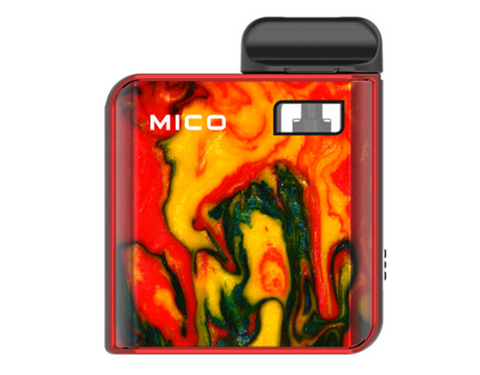 Ease of Use
The Smok Mico Kit is easy to use, especially when it comes to refilling and replacing the pods. To refill the pod, first uncover the hole and drip the eliquid. Hold the device sideward as you refill to let the air out. Leave the device for at least five minutes to let the eliquid soak in before you can start vaping. Also, replacing the pod is easy. Pull out the old pod and drop in the new one.
Pros and Cons of Smok Mico Kit
Pros
Sleek and compact sized
Excellent design and body build
Easy to use
Two 0.8 and 1 ohm pods
700 mAh Capacity battery
Fast charging time
It has LED battery indicators
Great performance with both coils
Easy to reach On/off switch
Automatic operation which is user-friendly
Ergonomic and comfortable mouthpiece
Affordable at $24.95
Cons
It does not have airflow adjustments
Spits Back Thin Eliquid with Mesh Pod
It is Restricted DL
Smok Mico FAQ:
1.How long does a Smok Mico vape last?
On average Smok mico can you the whole day if you are heavy vaper. If you are an average vaper, it can last for two days. A single pod can last for up to a week, but that again depends on how heavy you vape.
2.How do you charge a Smok Mico vape?
To charge your vape device, simply plug in the USB cable in on the charging slot.
Is the Smok Mico vape worth it?
Yes, Smok Mico is worth it. If you are new into the vaping world, it would be a great start. Also, if you are looking for sleek and simplistic design in a pod, then it is worth it.
How much is an Smok Mico vape?
It comes in affordable price of $24.95.
How do I turn on my Smok Mico vape pen?
It has an on/off switch on the side of the device. Pull the switch plug upwards to turn on the device and downwards to switch it off.
UPENDS is another vape brand that is renowned for making top-quality vape products. One of the vape device we are going to review here is the Upone.
Upone is a great-quality disposable vape with a larger capacity compared to most regular disposable vapes in the market. Upone has a capacity of 4.5 ml, which is three times bigger the regular ones which ordinarily have a capacity of 1.5 ml. So, if you are looking for sleek,
Specs
Battery: 850mAh
Eliquid: 4.5ML
Resistance: 1.6Ω
Power: 7.5W
Battery
Upone comes with an 850 mAh battery capacity which is great deal for a disposable vape. It is likely to last you for quite a long time.
Flavors
The Upone comes in six different flavors. You can choose from great flavors such as Lychee crush, Cuban tobacco, Banana apple, ice pineapple, fresh mint, and, living grape.
Safety
UPENDS is focused on ensuring the safety of the vapers when using their products. Upone is a safe to use disposable vape. First, the vape is made with safe material.
The quality of Upone disposable vape is assured by the GMP pharmaceutical grade manufacturing environment. So, you can relax pretty knowing your safety well taken care of as you enjoy your vape.
Additionally, Upone runs on a safety-guaranteed battery which is classified as grade A. The mouthpiece of the device is made with quality and food grade plastic which further assures you of your safety when you vape.
The cotton used in the wicking system is derived from natural and organic farms. It is made with non-pollutant cotton materials.
Performance
The performance of the Upone disposable vape is like no other. If you want to experience great thick clouds, try Upone. Every puff from Upone gives you a strong and vapor output. This is possible thanks to the specially made cotton base coil which is thick.
In addition, you will not experience annoying problems most vapers experience such as spitting, popping, and leakage.
Also, the mouthpiece is specially designed with thick cotton filter which helps to prevent condensate and spitting problems.
Conclusion
The Smok Mico kit is a great vape pen, especially for new vapers. It is sleek, comfortable, portable and easy to use. It is specially made for vapers who prefer the restricted lung hit.
Additionally, it comes at an affordable price with great features. It is comfortable to hold and comes with a lanyard for a little extra safety.
Generally, Smok Mico is a great portable device and it will be a great addition to your vape collection. However, if you are looking for a non-refillable or disposable portable vape device, get yourself the Upone from UPENDS.