Suppose your clear intention is to experience breathtaking moments of vaping without involving nicotine. In the current market, it is quite easy to find a vape device that will help you enjoy vaping without experiencing the effects that are brought about by nicotine consumption. Over the years, people are gradually shifting to using 0mg vape e-juices.
Vaping without nicotine content has got significant benefits as you are offered seamless options that you can choose from. This exciting blog presents you with a top list of the premium quality non-nicotine vapes you are to choose from whenever you land in a vape shop.
What is a Non-Nicotine Vape?
A Non-Nicotine Vape is a unique type of vaping device that does not deliver any nicotine content. These vape devices are different from traditional cigarettes that contain tobacco that produces smoke, and this leads to smoke production that can be harmful to your health. Instead, the Non-Nicotine Vapes involve the heating of a given e-liquid to produce vapor that is worthwhile and healthy when inhaled. Numerous disposables and refillable vape devices offer nicotine-free e-liquids, and you should get to know them for your vaping success.
Vaporesso XROS 3Mini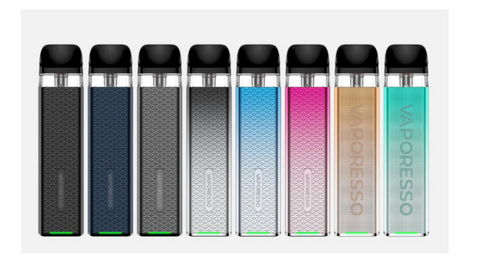 This is a simple and compact pod system that is the best for heating non-nicotine e-juice. The Vaporesso XROS 3Mini is the latest release from the amazing Xros range that comes with a 1000mAh battery that features a superb design. Even though the vape device does not come with an airflow adjustment, you are free to enjoy the device's tight mouth-to-lung draws.
You will love to refill the vape device for as much as it needs as it gives you the ease of refilling as features a top-fill system. The device employs the new, improved 1.0-ohm mesh pod. You are not limited to one resistance as the Vaporesso XROS 3Mini allows you to use 1.2- and 0.8-ohm coils that deliver you exceptional vape clouds. The vape device is rechargeable, and it comes with a USB-charging port and USB-C charger.
Key specs
6 colors
USB-C charger
Variable resistance coils
MTL draw
1000 mAh built-in battery
Pros and Cons
Pros
It comes with a powerful battery
It is rechargeable
It comes in six attractive colors
It is easy to refill
It is highly portable
Cons
It does not feature an adjustable airflow
GeekVape Wenax SC
This is a great mouth-to-lung vape device that delivers a very close vaping experience to that of actual smoking. It is worth recognizing the built-in 1100mAh battery that can support up to three power levels of the device. Thanks to the Wenax has intelligent coil recognition; this feature helps in setting the device's power levels concerning the type of coil. You will gladly get a chance to choose from the six attractive colors of the Geek Vape Wenax SC.  You get to engage two G series coil options that include 0.6 ohms and 12 ohms.
Key Specs
1100mAh battery
6 color options
Type-C charging
MTL Draws
6- and 1.2-ohm mesh coils
Pros and Cons
Pros
It is incredibly affordable
It is highly portable
It comes with six decent colors to choose from
It features intelligent coil recognition
It delivers accurate flavors
Cons
It is not ideal for mouth-to-lung vaping
Caliburn A3
This is one of the latest updated versions of the most popular vape devices in the vape market. The Caliburn A3 comes with a 520mAh battery that is designed to charge through a Type-C charger. This device has a maximum output of 13W. Thanks to the top fill system that allows you to refill the device with outstanding ease. The Caliburn A3 allows you to fire it through the auto-draw feature or press a physical button. The button can as well be used to deactivate the device.
With the Caliburn A3, you will be able to enjoy its excellent MTL draws that are best recommended when consuming nicotine-free e-liquids. This Non-Nicotine vape device employs 1.0ohm coils that ensure you get instant vapor production.
VooPoo Doric 20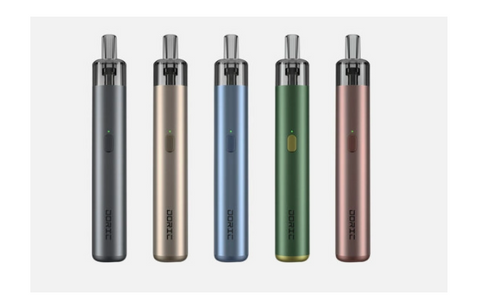 It is a great feeling when you can use such a stylish minimalist vape pen that will help you enjoy your nicotine-free flavor. The VooPoo Doric 20 presents you with a powerful 1500mAh battery that is capable of producing up to 20 watts. A fire button is installed for you to press whenever you need to start vaping, and if you choose to make things easier, you can start vaping right away. This is made possible due to the presence of the draw activation technology on this amazing vape device.
This Non-nicotine vape device is an ideal choice for MTL vaping and lets you access the accurate flavors of the specified vape flavor. The precise flavors are achieved by the impressive performance of the new ITO coils that come in 1.0 ohms and 1.2 ohms.
Key Specs
MTL draws
Stylish design
20W power output
1500mAh built-in battery
5 ml e-liquid capacity
USB-C charging port
ITO coils: 1.0 and 1.2 ohms
Adjustable airflow
Anti-leakage side filling
Pros and Cons
Pros
It features a powerful battery
It comes with a huge e-liquid capacity
It delivers accurate flavors
It has a lightweight design
It offers a comfortable grip
It is affordable
It features anti-leakage side filling
It allows adjustable airflow
Cons
It does not offer direct-to-lung vaping
Cube Zero
The Cube Zero is an excellent performing non-nicotine vape device that comes with a huge e-liquid capacity of up to 11ml. The vape device comes with a pre-filled e-juice that is capable of offering you up to 3000 puffs for every pen you purchase. Unlike most vape pens, the Cube Zero vape allows you to customize your vaping level as it comes with adjustable airflow. This a top selection of vape devices that offer superb flavors that include, Slushy, Dragonnade, Strawnana, Red Apple, Tropic Wildberry, Summer Menthol, and Melonerry.
You can easily find the Cube Zero vape in single packs or in a pack of three distinct flavors that do not feature any trace of nicotine.
Key Specs
Delicious flavors
11ml e-liquid capacity
3000 puff counts
Adjustable airflow
Pros and Cons
Pros
It comes in a wide range of excellent flavors
It delivers a huge puff count
It allows you to customize your vaping sessions with adjustable airflow.
It delivers accurate flavors
It features a long battery life
Cons
Uwell Whirl S2
The Uwell Whirl S2 is such a fantastic vape pen that perfectly delivers quality vape clouds with phenomenal convenience. The non-nicotine vape device comes with a 900mAh battery that allows you to charge it via a USB-C charger. It is pretty much fun when you are in a position to use the Uwell Whirl S2, as it gives you the ultimate ease to vape. The vape device as well features power levels that are programmed to match the resistance of the coil that you engage.
The Uwell Whirl S2 offers you two coils that feature 0.8 ohms and 1.2 ohms. These quality coils are responsible for exceptionally accurate vape flavors.
Key Specs
Coil resistance 0.8 ohms and 1.2 ohms
6 attractive colors variation
MTL vaping
USB-C charging port
900mAh battery
Pros and Cons
Pros
It comes with a powerful battery
It allows MTL to vape
It comes in six attractive colors
It comes with a variable vape coil resistance
Cons
UPENDS Upbar RS
The Upends Upbar RS vape is a disposable vape device that comes with a nicotine-free e-liquid that allows you to find the perfect alternative if your core intention is to quit nicotine consumption. You will marvel at how such small and sleek vape equipment can be as well as attractive and ultimately compact. You find it easy to carry the Upends Upbar RS around as it can perfectly fit in your pocket.
The v comes with a 1.2ml of pre-filled e-liquid that allows you to enjoy flavorful puffs of up to 300. The vape e-liquid engaged is made of premium quality ingredients that offer you an exceptional vaping experience.
Key Specs
Omg nicotine
400mAh battery
600 puffs
Pros and Cons
Pros
It has a huge puff count
It is highly portable
It comes with excellent flavors
Cons
FAQS about Non-Nicotine Vapes
Are Non-Nicotine Vapes Legal?
Yes, they are legal in most countries, and it is recommended that you confirm whether the country you reside in allows their use.
Can I refill a Non-nicotine Vape?
You can refill a non-nicotine vape as long as it is not a disposable vape.
Is my Non-nicotine Vape rechargeable?
Most Non-nicotine vapes are rechargeable to allow you to enjoy your vaping moments to the fullest. Almost all Non-nicotine vapes are rechargeable.
Wholesale Vape Equipment Supplier; UPENDS
UPENDS exhibits its unwavering passion for developing a vaping lifestyle for all its customers that will excite your senses and give you the new energy you deserve to keep going. UPENDS team engages experts that are in dire thirst to innovate and develop vape equipment. The UPENDS ensures that you enjoy the latest vape features in the market. Visit UPENDS.com for you to kick off an exciting world of quality vape products.