Vaping has become the latest trend among youngsters and most of them have started it to quit smoking. This is one of the biggest reasons that people are shifting from traditional tobacco cigarettes to e-cigarettes or vape pens or other disposable vaping devices.
In this article, we will discuss Kroma vape by Innokin to see what's unique about it…
What is Kroma Vape?
The Innokin Kroma-Z pod kit is the latest addition to the Kroma vape line. This sleek vape kit comes ready to use out of the box and is customizable as per your vaping preferences. Much like the original Kroma-A, the Kroma-Z is adorned with some amazing features. It has an internal battery like its predecessor but this time it got a whopping 3000 mAh battery.
The Kroma series by Innokin has many products, including Kroma Z, Kroma R, Kroma-A ISUB-B, KROMA-A ZENITH, and KROMA 217. Kroma-Z is the latest member of the Z-coil family and is designed to provide an enjoyable vaping experience. It is a pod-style device and is fully compatible with the entire Z-Coil line.
Let's know more about this vape pod…
Innokin Kroma-Z Pod Kit: Product Intro & Specs
Kroma-Z Specs…
E-Liquid Capacity: 4.5 mL (TPD Version 2.0 mL)
Battery Capacity: 3000mAh built-in
Airflow: Airflow ring on base of coil, AFC on Device
Output Wattage: 6-40 watts
Charging: USB-C Port
Voltage: 1 - 7.5 V
Maximum Output: 14.5 V
Resistance Range: 0.2 - 3.5 Ω
Body Material: Magnesium Alloy
Colors Available: Midnight Green, Black, Midnight Blue, Grey, White, Pink
Kroma-Z Features…
Compact and Sleek Design
Adjustable Airflow
A Side-Firing Bar with LCD Screen
Easy to Fill with E-Liquid
Smart Coil ID
Easy External Airflow Control
All-New Kroma Z Tank
Auto Coil Detection
Compatible with Entire Z Coil Series
Magnetic Pod Connection
Innokin Kroma-Z Vape Pros/Cons
Pros…
Bright and sharp display
Good battery life
Multiple Airflow Adjustments work well
Functional design
Easy to refill
Affordable coils
Versatile pod mod
Great build quality
Cons…
Too dark pods
Average flavor on both coils
40W maximum output
Bulkier compared to similar pod devices
What's in the Box?
Innokin Kroma-Z comes ready to vape out of the box and here's what you get in the box…
1 x Kroma-Z Vape Pod Mod Kit
1 x 0.3 RDL Z-Coil
1 x 0.8 Z-Coil
1 x Extra RDL Drip-Tip
1 x Extra MTL Drip-Tip
1 x Type C USB Cable
1 x Quick Start Guide
1 x Warning Booklet
Innokin Kroma-Z Review
Kroma-Z Design and Build Quality
The Innokin Kroma-Z Vape gives a wonderful first impression as it looks heavy and expensive. However, it is not that heavy, thanks to the Magnesium Alloy body. Unlike shiny plastic devices, it has a matte rubberized coating that gives a smooth feel and does not let the device slip out. The airflow adjustment control is thoughtfully placed right under the thumb, making it convenient to use.
The fire button is cleverly done and is part of the display panel. You can use the fire button from anywhere from the top of the display or top of the panel. Coming to the display, it is quite big and bright. The company has managed to use all the available space for display. It provides all the important information such as battery level, wattage, coil resistance, etc.
Battery Performance
The Innokin Kroma-Z Vape Pod kit comes with a 3000mAh battery which means it will last a good day or more even at the max 40 watts. When using this device as an MTL, you can get around 2 days of battery life even at 20 watts. However, do not expect the battery to get charged in just a few minutes as we have a massive battery here. Charging is not that quick but you get a good juice and don't have to worry about it for days.
The Coils
One of the most liked things about the Kroma-Z vape pod is that you won't have to remove the pod to fill it with your favorite e-liquid. It makes the device more convenient to use while you are on the go. It simply means you can refill it anytime, anywhere without juggling with the body or worrying about any mess or spills. The pod has two strong magnets that keep the locks in place and doesn't let it move even the slightest.
Additionally, you can choose between 7 coils as the device is compatible with the entire Innokin Z-Coil line. Compared to similar devices with these coils, Kroma Vape has remarkably affordable ones. It also features the Smart Coil ID so that you don't have to remember the recommended wattage level for each coil. The Smart Coil ID automatically identifies the coil to adjust wattage.
Kroma-Z Features and Functionality
The pod-style Innokin Kroma-Z comes with some impressive features such as an all new 0.3ohm 30-40w RDL Z-coil, 3000mAh battery with Type-C quick charge, Magnesium Alloy lightweight body, magnetic and locking tab pod connection, 4.5mL e-liquid capacity, easy external airflow control, MTL Mouthpiece, RDL Mouthpiece, airflow control ring, and an available 510 adapter.
Overall, the Kroma-Z is a great vape pod capable of detecting the installed coil's parameters and adjusting the wattage accordingly. Being one of the latest kits released by Innokin, it comes with some amazing features like a long-lasting battery, interchangeable airflow rings, a great level of versatility, and a side-fill silicone stopper. Moreover, the vape pod is compatible with the entire Z-Coil range.
FAQs About Innokin Kroma-Z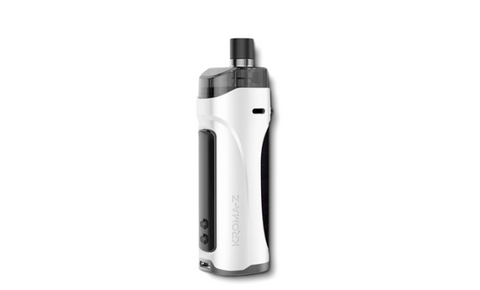 How to replace the coil in Kroma-Z Vape?
It is easy to replace the coil in Kroma-Z Vape as you simply have to twist the ring to align with the coil and pull it out. Now, insert the new coil and again twist the ring to lock it up.
What about the battery life of the Innokin Kroma-Z Vape?
The device comes with a 3000mAh battery and should last approximately all day even using it at 40 watts. If you use it at 20 watts, it can give you around 2 days of battery life.
Does the Innokin Kroma-Z leak?
Well, the Kroma-Z by Innokin got no such complaints about any leakage so far. However, it is important to use and store these devices with utmost care to extend their lifespan.
What makes the Kroma-Z vape unique?
Kroma-Z is a pod mod capable of both MTL and DTL vape. Moreover, it has precise airflow adjustment compared to similar devices available from other brands.
What is the best wattage for Innokin Kroma-Z pod mod?
If you're using the 0.3Ω Z-Coil, the recommended wattage is between 30 and 40 watts. It is primarily designed for DTL vaping or we can say Restrictive Direct Lung Vape.
What is the best e-liquid for my Kroma-Z pod mod?
It will depend on your preference though but you can go with e-liquid with at least 50%PG/50%VG for the 1.0Ohm Zenith/Zlide coils. For the 0.48Ohm or 0.5Ohm or 1.6Ohm Zlide coils, you can go with a high VG e-liquid.
How long does the Innokin Z coil last?
A vape coil typically lasts at least a few days allowing you to fill the vape tank several times. However, if you find that the flavor quality has degraded, replace the coil.
UPENDS: Your One-Stop-Shop for Vape Products
UPENDS is a renowned name in the vaping world and provides a wide range of premium-quality products. From disposables and pod systems to pod mods and accessories, you can do everything under one roof. Besides providing an array of products, the company is known for its research-driven manufacturing and innovation.
While talking about innovation, UPENDS has recently introduced two new vape products that are taking the world by storm. UPENDS MIRROR and GT UpBar are two products that are gaining huge popularity because of their design, features, and functionalities.
UPENDS MIRROR comes with a light color contrast design and some amazing features while the GT UpBar is inspired by the sports car. These two vape devices have a sleek and streamlined design. They also offer a stronger taste, more puffs, and multiple flavor choices.
All teams at UPENDS believe in thinking out of the box and providing our global customers with some of the most innovative products. To make this happen, the company is looking for authorized vape wholesalers and agents at different locations.
Feel free to contact us and discuss how you can be a part of this company and become a wholesaler.