What is Geek Bar Pro Disposable 50 mg (1500 puffs)?
If you are a fan of disposable vapes but need one that provides a longer lifespan and a lasting enjoyable experience, check out the Geek Bar Pro.
The Geek Bar Pro is an upgraded version of the Geek Bar, which was a highly loved disposable vape.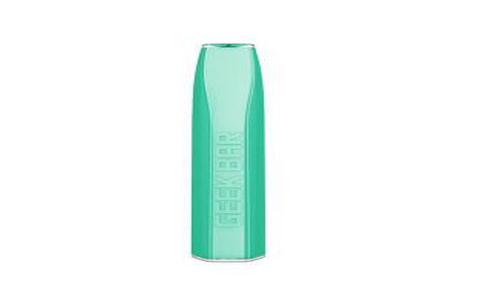 The Geek Bar Pro offers a unique, trendy design, wide variety of flavors, top-quality vaping performance, and highly pleasurable content. 
Features of the Geek Bar Pro Disposable
Some of the things you get out of the Geek Bar Pro include:
Special, fashionable, yet highly functional design
850 mAh long-lasting battery
6 v voltage output
5 ml of e-liquid pre-filled, giving up to 1500 puffs
5% salt Nicotine content
Translucent hexagon lamp
Draw-activated firing mechanism
Parameters
| | | | | |
| --- | --- | --- | --- | --- |
| FLAVOR | AVAILABILITY | UNIT PRICE | SUBTOTAL | QTY |
| Cool Mint |   | Login for Pricing | $0.00 |   |
| Peach Ice |   | Login for Pricing | $0.00 |   |
| Pink Lemonade |   | Login for Pricing | $0.00 |   |
| Strawberry Banana |   | Login for Pricing | $0.00 |   |
| Passion Fruit |   | Login for Pricing | $0.00 |   |
| Grape Soda |   | Login for Pricing | $0.00 |   |
| Icy Cola |   | Login for Pricing | $0.00 |   |
| Aloe Mango Melon Ice |   | Login for Pricing | $0.00 |   |
| Tesco |   | Login for Pricing | $0.00 |   |
| Lemon Tart |   | Login for Pricing | $0.00 |   |
| Strawberry Ice Cream |   | Login for Pricing | $0.00 |   |
| Guava Ice |   | Login for Pricing | $0.00 |   |
| White Geek |   | Login for Pricing | $0.00 |   |
| Orange Soda |   | Login for Pricing | $0.00 |   |
| Blueberry Bubble Gum |   | Login for Pricing | $0.00 |   |
| Yellow |   | Login for Pricing | $0.00 |   |
| Green Mango |   | Login for Pricing | $0.00 |   |
| Grape |   | Login for Pricing | $0.00 |   |
| Blueberry Sour Raspberry |   | Login for Pricing | $0.00 |   |
| Red bull |   | Login for Pricing | $0.00 |   |
There is no return or swap policy for disposable vaping items, for whatever reasons, either for defects or otherwise.
Why Should I Buy a Geek Bar Disposable 50 mg (1500 puffs)?
The Geek Bar Pro offers several perks to users, including:
1)      Lots of Flavors
GeekVape spoils users for choice with their commendable sets of flavor offerings. Users can select 20 tasteful flavors, including ice, menthol, and fruits. In addition, there are assurances that everyone will find a strain that suits their preferences.
No matter your preference, you can expect smooth and lasting taste performance.
2)      Top Performance
You can refer to the Geek Bar Disposable as a disposable vape with the performance of a non-disposable device. The feature that demonstrates this the most is the 3.5 voltage that you typically find with more advanced vaping products.
The impact of this is stronger puff hits, leading to a more enjoyable experience.
3)      Long-lasting
The performance and experience that the Geek Bar Disposable 50 mg provides will leave you doubting if it is a disposable device. You get to take it for as long as possible. First, a 4.5 ml chamber holds your preferred flavors, coupled with a 5% nicotine salt content. With this, you can get up to 1,500 puffs per device. Estimates show that this can last more than a week.
However, you don't just get a filled tank. The power capacity is also top-notch. There is an 850 mAh battery, providing you with a nonstop supply of power to take your Geek Bar. You probably won't need to charge your device until you exhaust the rich contents.
4)      Trendy Design
Despite supplying amazing features, the Geek Bar doesn't compromise on the device's appearance. The Geek Bar Disposable 50 mg (1,500 puffs) comes in a crystal-clear hexagon shape design. As a result, it is quite compact, and you can hold it firmly. In addition, the body has a luminous effect, in which light changes when you vape in and release the puff.
Sitting atop this trendy design is a use-fit mouthpiece that seamlessly supplies high-quality puffs straight to your lungs.
5)      Built with Safety in Mind
GeekVape has been able to pack all the decent offerings in the Geek Bar Disposable 50 mg without adding any harmful materials. First, it pegs the nicotine salt content at a maximum of 5% of the total content in the vape. This beats the maximum percentage that several regulators set.
Furthermore, GeekVape avoids the use of tobacco content in its products, ensuring even more safety.
Geek Bar Pro Flavors List
Some of the most enjoyable vaping flavors are available from the Geek Bar Pro. Top among them include:
1)      Yellow Geek Bar
This flavor has a more fruity undertone and often contains a mix of mango and pineapple flavors. The result is a sweet sensation in the throat, coupled with smooth hits on the lungs.
2)      Icy Cola Geek Bar
The icy cola features a cola-based strain with cinnamon, citrus, and sweet vanilla flavors to produce a thoroughly enjoyable drink. The cola in itself provides strength and can induce hyperactivity. However, the fruit flavor combination helps balance that out, adding a more calming effect to the final flavor output.
3)      Red Bull Geek Bar
If you need a vaping flavor that has some elements of an energy drink, the Red Bull Geek Bar is the product for you.
With the Red Bull Geek Bar, you're promised a long-term energy supply, offered via brash throat hits and prolonged nicotine satisfaction.
4)      White Geek Bar
The White Geek Bar provides a tropical taste and is one of the most natural tastes you get from vaping products. The White flavor lightens your spirit but doesn't lead to too much excitement, keeping you levelheaded.
Other popular ones include the Tesco Geek Bar and the Gig Bar Vape.
How Many Puffs in a Geek Bar Pro?
The Geek Bar Pro provides you with a 4.5 ml tank bearing various flavors of e-juice. This quantity offers as many as 1,500 puffs. Each Geek Bar Pro roughly gives you almost 90 to 120 traditional cigarettes.
How Much Nicotine is in a Geek Bar?
GeekVape recognizes the importance of safety and keeping nicotine content under control. The nicotine content as a measure of the total quantity of vaping content in the Geek Bar Pro is 6%.
How Do You Use a Geek Bar?
Here, we give a step-by-step guide to taking a Geek Bar vape:
First, unbox the Geek Bar by sliding the product out of its packaging.
The Geek Bar is disposable, so you don't need to worry about coils or other instruments for setup. You already have that done for you.
There are rubber buns on each end of the Geek Bar. Undo the rubbers, and then you have your product.
Stick the mouthpiece into your mouth and start inhaling.
How Long Do Geek Bars Last?
Various factors affect how long you get to use the Geek Bar.
Generally, the manufacturer stipulates that you have 4.5 ml of e-liquid content, giving you up to 1,500 puffs. If you're a frequent vaper, you may use up this content quicker than someone who takes the Geek Bar occasionally.
Another factor that affects the lifespan is the battery life. With 850 mAh, you can use the Geek Bar for as long as possible. You won't need to recharge until you exhaust the last e-juice content.
Where can I Buy a Geek Bar?
You can get the Geek Bar both online and offline. However, the best place to purchase it is online. It saves you the hassle of trying to locate any local store that has got the Geek Bar. If you don't live in a major city, this will offer a great advantage.
If you're in the UK, some of the best online stores to get the Geek Bar vape are:
Geek Bar Wholesale UK
The Geek Bar is currently one of the fastest-selling vape products, and it is only advisable for vape stores to get on board. However, if you want to retail the Geek Bar in the UK, there are various options, including:.
1)      Get a Link Directly With the Manufacturer
This is the more difficult option. First, getting access to the manufacturer may be difficult because you're a retailer. Then, often, the manufacturer will require you to order a minimum quantity of vapes, which can be significantly large.
2)      Get Deals with Established Wholesalers
The better approach is to enter into contracts with established Geek Bar wholesalers in the UK. There are several of them, but some of the most active players include:
Conclusion
The Geek Bar changes the game with vaping products. First, it packages the features of an advanced vape product in the body of a compact and disposable one. Thus, users easily access larger tanks, long-lasting battery life, and a high voltage.
However, this emphasis on quantity doesn't mean you don't get quality. Geek Bar has a product base of around 20 flavors for users to choose from. Each flavor was carefully developed and is suited for various individual tastes.