Every summer deserves to be approached in style as you can find seamless ways of having fun. You need to stay cool and refreshed as you relax as you as well carry out your daily chores. You can be a vaping enthusiast who is looking for the best way to attain a top-notch vaping experience with the best vape equipment. This article welcomes you to the most exciting disposable vape device that achieves premium quality construction along with an attractive, sleek design that will surely make you a proud vape user. The Elf Bar 1500 disposable vape is here to offer you a refreshing and satisfactory vaping experience.
What is Elf Bar 1500 Disposable Vape?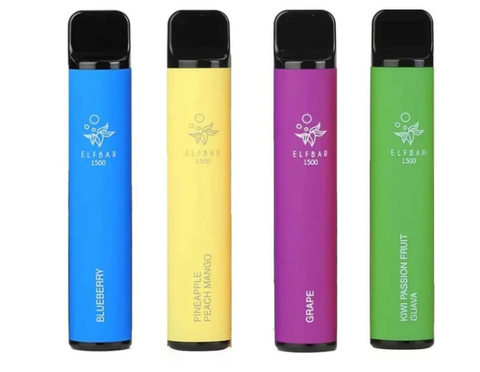 Key Specs
Puff Count: 1500
E-juice Capacity: 8ml
Battery Capacity: 850mAh
Nicotine strength: 2%/5%
Portable
Pre-filled
The Elf Bar 1500 disposable vape is a world-class disposable vape device that is designed to gain full public appeal. The vape device features a slim and stylish physical make as it manifests its delicate-looking body. The vape device comes in its pre-filled state that allows you to enjoy the ultimate happiness it serves. You deserve a vape device that perfectly delivers nicotine satisfaction. The Elf Bar 1500 disposable vape includes a 2% and 5% nicotine salt content which as well ensures that you enjoy smooth throat hits.
Ease of Use
The Elf Bar 1500 disposable vape is the ideal vape device that a beginner in vaping can employ. The disposable vape device allows beginners to start vaping right from when the vape device is purchased. You will admire the simple inhale-to-vape technology that allows you to avoid buttons that can be a bit tricky to operate the device. You do not have to learn anything about how to use the Elf Bar 1500 disposable vape. You will marvel at the coolness and enjoyment mood this amazing vape device sets for you. Thanks to the lightweight nature of this disposable vape, that allows you to carry it without any fatigue.
Convenience and Portability
These are the core features that make the Elf Bar 1500 disposable vape stand out among the seamless vape models that exist in the vape market. The vape device comes in the most portable condition as it is designed to achieve a lightweight nature. You can easily vape on your way to the office while relaxing on a poolside or as you stroll on the beach, as the Elf Bar 1500 disposable vape allows you to hold it with all the ease you need. All the summer adventures are made to be enjoyable once you engage the Elf Bar 1500 disposable vape as your number one companion.
General Performance
 It is quite an exciting adventure once you involve in this outstanding gadget, as it employs a precise airflow system that ensures that you receive decent vapor. There is a perfect voltage combination that harmoniously works with the airflow system for you to enjoy the flavorful vapor. The 850mAh battery is meant to give you the savor of coolness that you need throughout the entire summer. With the Elf Bar 1500 disposable vape, you are assured of nicotine satisfaction as there are 2% and 5% nicotine content. Enjoy the premium quality vaping experience, as you will crave more flavorful throat hits.
Flavor
The Elf Bar 1500 disposable vape brings you a wide range of flavors that include the Blue Raz Lemonade, banana ice, Apple Peach, and more. Every flavor that is presented by the Elf Bar 1500 disposable vape is thoroughly crafted with the highest quality expertise to bring you the freshness and deliciousness that will make your every inhale count. The disposable vape device ensures that you experience the icy cool sensations and the fruity blends that overwhelm your taste buds with the savory taste. You are given a great chance to make more from your summer with the amazing flavors that you are free to access.
No Maintenance
The disposable nature of the Elf Bar 1500 disposable vape is a big move to ensure that vaping does not become a responsibility but something to enlighten your day. Traditional vaping devices could require you to clean and maintain them, but the Elf Bar 1500 disposable vape does not need any of that as it is carefully disposed of once its contents are depleted.
E-Liquid Flavors
Here is a clear venture into the most coveted Elf Bar 1500 disposable vape flavors that you can easily choose from. Check them out and find your favorite;
Strawberry Banana
This is an excellent flavor that is worth vaping as it indulges in the classic paring of ripe bananas and strawberries. You will have a mouthwatering session with the luscious sweetness of the perfect blends that brings you the smoothness of bananas and the delectable taste that will make you a happy vape user. You will be left satisfied after a memorable and flavorful session with the Strawberry Banana- Elf Bar 1500 disposable vape.
Mango
Get the best experience with the tropical paradise that delivers you an enticing flavor that perfectly resembles that of mangoes. The Elf Bar 1500 disposable vape ensures that there is a balance between the tanginess and sweetness that the e-liquid should have. With this vape e-liquid, you will be in the best position to enjoy the exotic essence of the mango fruit flavor.
Watermelon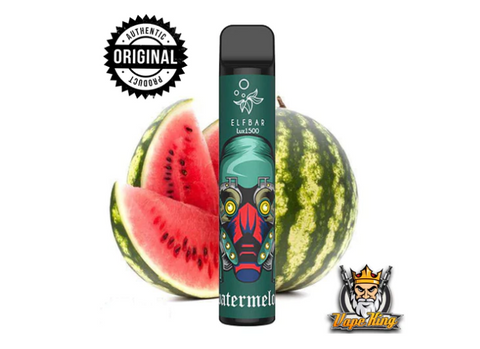 The best way to quench your thirst during a hot summer is to engage the watermelon flavor that is delivered to you by the Elf Bar 1500 disposable vape. The flavor is capable of offering you a burst of mouthwatering delicious flavors that will keep you going for as long as you desire. The watermelon flavor serves as the perfect flavor to use on any hot day.
Kiwi Passion Guava
Show yourself, love by purchasing the Kiwi Passion Guava flavor that is delivered to you by the Elf Bar 1500 disposable vape. This is a striking blend of passion fruit, kiwi, and guava flavors. For every puff that you take, you will appreciate the tangy combination that will invigorate your senses and gives you a refreshing feeling. With this premium quality flavor, you can make your day more relaxed and even more fun.
Energy Ice
Bless your day with an invigorating burst of energy and sweetness from the Energy Ice flavor. This exceptional vape flavor is made from a great combination of icy twists and the boldness of energy drinks. This gives you a refreshing feeling that will get your senses stimulated and your body rejuvenated.
Strawberry Ice Cream
If you are a vape user who yearns to quench the thirst for a dessert with the creamy delight that strawberry ice cream brings you. You will adore the unmatchable combination of sweetness that emanates from strawberries that come along with the richness of ice cream. The flavor is capable of offering you a unique experience that will make you a happy vaper.
Cool Mint
if you dream of making your vaping sessions even more exciting, you need the refreshing cool mint Elf Bar 1500 disposable vape avails to you. Most vape users who get a chance to use the cool mint flavor attest to the outstanding burst of icy freshness that is complemented by an invigorating mint sensation. The vape flavor leaves you energized and makes you enjoy every puff you take.
Coconut Melon
The fusion of coconut and melon will serve as the best remedy to escape a tropical oasis. The perfect combination of the creamy sweetness of coconut with the taste of melon will offer you the tropical gateway with every exhale that proves the flavor worth it.
Frequently Asked Questions about Elf Bar 1500 Disposable vape.
How long does an Elf Bar 1500 disposable vape last?
Unlike other vape devices, the Elf Bar 1500 disposable vape proves to offer you up to 1,265 puffs every day. The disposable vape device can as well last up to two weeks of use before you dispose of it. But remember, how long the Elf Bar 1500 disposable vape can last depends on how often you take your flavorful puffs.
Is the Elf Bar 1500 disposable vape?
The Elf Bar 1500 disposable vape is one of the most reliable, efficient, and, most importantly, the most convenient disposable vape you can find. The vape device is capable of offering you a wide range of quality flavors that will make your vaping sessions more delightful.
Best Vape Wholesale Supplier- UPENDS
It is high time that you take a venture into the vastly changing world of vape products from UPENDS. In UPENDS, this is where innovation and style are harmoniously incorporated to deliver you top-rated vape products. You will treasure the special offers that the upends present you as lets you access premium quality vape products at a very affordable price. UPENDS offers you a unique opportunity for you to immerse yourself in the seamless imagination and answered dreams of the advanced technological features that products from this company display.