Vaping has become one of the commonest leisure activities for many people in the world today. It has become a substitute for smoking and has assisted many individuals to quit smoking. Vaping has been achieved through the use of vaping devices such as the Crafty Vape+ vaporizer to help you achieve your vaping goals.
Through this guide, we are going to look at the Crafty Vape+ vaporizer and see what it offers.
What Is Crafty Vape+ Vaporizer?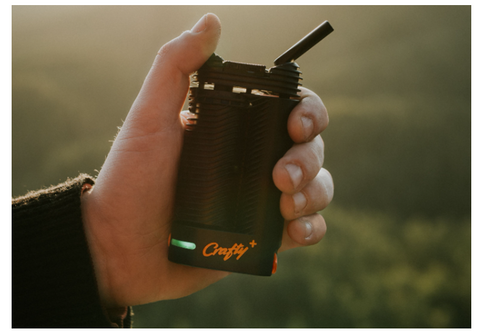 The Crafty Vape+ Vaporizer is a portable hand-held vaping device that allows you to vaporize herbs and oils of your choice in its vaporizing chamber. It comes with a powerful battery that is also rechargeable, so you can use it for a very long time as it is reusable. The Crafty Vape+ Vaporizer has been evolving in many generations through the years; let us now have a look at the latest version of the Crafty Vape+ Vaporizer.
Crafty Vape+ Vaporizer Review: Is It Worth It?
The Crafty Vape+ Vaporizer has an impressive performance and an improved quality that makes it suitable for both beginners and experienced vapers. It is crafted in such a way that it fits in the palm of your hand and fits well in your pocket, as compared to many smartphones. It is simple to use, and it produces flavorful and cool vapor all the time.
The Crafty Vape+ Vaporizer comes with numerous fantastic features. Let us learn more;
Key Specs
Size: 57mm by 33mm by 110mm
Weight: 135g
Heating: hybrid
Heating-up-time: 60 seconds
Battery capacity: 3300mAh
Temperature: 40-210 degree Celsius
Warranty: 2 years+
Country of manufacture: Germany
Features And Design
Its outer surface is crafted with ridges that improve its grasp and prevent it from slipping from your hands. It is also ergonomically designed by having a depression at its center; hence, it fits perfectly with the contours of the hand.
Its outer shell is made from a heat-resistant and resilient plastic material designed to disperse heat effectively and maintain the device's weight. Its chamber is constructed from durable aluminum, while the vapor path consists of stainless-steel components.
Battery Life and Charging
The latest version of Crafty Vape+ Vaporizer comes with a powerful battery of 3300mAh that can last for 45 minutes, which is the equivalent of 4-5 vaping sessions when it is fully charged. Older versions have the normal USB charging cable and port; this is very useful as you can easily find the cables whenever you go, so do not worry if you just left yours at home. And their charging time is about 1-2 hours.
The latest version uses a USB-C charger and charging port that charges very fast. This has shaved off 25 minutes of charging. The new battery has also reduced heating up time to only 60 seconds. The Crafty Vape+ Vaporizer system has incorporated an alert whereby it vibrates to alert you when the battery is getting low.
The pick is kept opposite to the power button at the bottom of the Crafty Vape+ Vaporizer. When stored, the pick covers and protects the Crafty Vape+ Vaporizer's charging port.
Cost Of Purchase
The cost of purchasing the Crafty Vape+ Vaporizer is relatively affordable based on its features and the service it offers you. In many retailers, the cost is about 298 €. The price can always vary based on various variables, such as the time of the year and the location of the retailer. It also comes with a two-year warranty against any defects.
When you buy the Crafty Vape+ Vaporizer, it does not come alone but also with its accessories. They include a USB cable,3 seal rings, 3 normal screens, 3 coarse screens, a dosing capsule, a cleaning brush, and the instruction manual.
Flavor
The Crafty Vape+ Vaporizer does not come with any of its vaping products, such as the herb and concentrates. You have to buy them separately. So, you are the one to choose the flavor of the herb or concentrate that you would like.
Ease Of Use
The Crafty Vape+ Vaporizer has come up with a fascinating feature that incorporates Bluetooth connectivity into your smartphone. The app complimenting the Crafty Vape+ Vaporizer has been designed to enhance your entire vaping experience. It is available for both Android and iPhone. It can also work with or without the Bluetooth app.
These are the controls you can access through the Bluetooth app: temperature control the LED display brightness, and it also gives you the option of deactivating the vibrating feature if you wish to do so. You can also save temperature settings of your choice for future vaping sessions. You do not have to be touching the device all the time as the app gives full control over it.
The Crafty Vape+ Vaporizer gives you an easy time to clean it. It is crafted in such a manner that it is easy to disassemble and take them apart without damaging them. This gives you a chance to maintain its hygiene and ensure its longevity. In addition to that, when you purchase it, it comes along with a cleaning brush that facilitates the cleaning process.
It is activated by simply tapping on the power button to activate it. It also has a one-button control that controls all the 3 pre-set temperatures. A single click will set the basis temperature to 180 degrees Celsius, while a double click will set a booster temperature that is +15 degrees Celsius, and finally, a triple-click will set a super booster temperature that is +30 degrees Celsius.
General Performance
The Crafty Vape+ Vaporizer has an enhanced feature that guards the battery life; the battery life is preserved by a two-minute auto-shutoff timer that works faultlessly by resetting every time you press a button or take a hit.
The Crafty Vape+ Vaporizer employs a combination of convection and conduction heating, known as hybrid heating. Convection heating works by heating your herbs with heated air instead of directly heating them from a heating source. As you draw from it, you are protected from the hot air by a metal ring that is put in place at the heating chamber to help insulate the hot air.
The Crafty Vape+ Vaporizer is coated with ceramic in the heating chamber. This ceramic chamber makes cleaning easier as well as provides a more durable and reliable heating element for your dry herbs.
The Crafty Vape+ Vaporizer has a unique in-built cooling unit that is made from medical-grade plastic used in surgical implants. It cools every hit before it reaches your lips for an excellent delivery.
The Crafty Vape+ Vaporizer has a filling aid that is designed to allow you to fill the Crafty without touching the herbs. The process of filling the Crafty takes around 30 seconds.
Pros And Cons
Pros
It is made up of sturdy plastic that feels solid in your hands.
It has a unique architecture that has vents that allow it to dissipate so it does not overheat.
It is small and compact with very many components in it.
It is portable and easy to carry around, and it is even pocket-friendly.
The Crafty Vape+ Vaporizer has a battery that lasts long and sustains 4 to 5 vaping sessions.
It charges very fast.
It has a simple-to-use app.
Cons
It does not come with the vaping products such as the herbs.
Frequently Asked Questions About the Crafty Vape+ Vaporizer
What can you vape with the Crafty Vape+ Vaporizer?
The Crafty Vape+ Vaporizer can be used with both concentrates and dry herbs such as wax.
Can I adjust the temperature on the Crafty Vape+ Vaporizer?
Yes. It comes with 3 pre-set temperature levels, and you can regulate them depending on your needs. You can customize your Crafty vape even further by using the free app.
How long does the Crafty Vape+ Vaporizer battery last?
When the battery is completely charged, it can last for around 1 hour when operating continuously. When charging it, it takes around 90 minutes to be fully charged; that is when you are using the USB-C cable. When using the ordinary USB cable, charging time can increase by 25 minutes.
Alternative Vape Pen - UPENDS UpBar GT
One of the best vaping devices for providing a wonderful experience is the UPENDS UpBar GT. It is made and developed by the UPENDS firm, which is situated in China and has more than ten years of experience.
UPENDS UpBar GT presents with a sleek, curved shape that fits well in the hand. It has a 2ml capacity and is outdraw activated. Its V-shaped structure is made to increase flavor quality, reduce condensate, and speed up vapor generation.
The UPENDS UpBar GT comes in a variety of flavors so that your taste preferences are taken into account. Banana ice, ice mint, Tobacco, Blueberry Ice Peach, White Peach, Lemon Mojito, and Mixed Berry are some of its tastes.
Wholesale Vape Equipment Supplier: UPENDS
The vaping sector's best and most prestigious brand is UPENDS. It has a good reputation in the production of vape products and devices of the highest level and quality. It aims to produce high-quality, user-friendly products with a wide range of mouthwatering flavors to pick from at very affordable prices.