Considering the infinite information about vape devices online, you are most likely to find it hard when it comes to when you wish to settle for the best vape product. Over recent years, vape models have substantially increased, and most tend to be similar, but they are not. The current vape market is flooded with different types of vape devices, and among them are disposable devices.
Disposable vape devices have dominated the world's vaping industry as they bring convenience and absolute fun to your vaping lifestyle. This article is here to help you go for the greatest vaporizer that will give you a new vaping experience. You are in the best place to gather the simplified details about the most coveted vape device in the market-Cookies disposable vape pen.
What is a Cookies Vape Pen?
Key Specs
Rechargeable: Yes
Diameter: 100 by 12 mm
Charging type: USB-C
Thread Type: 510
Resistance: 1.4ohms
Battery: 350mAh
Pen capacity: 0.5 ml
Coil Type: Ceramic coil
Atomizer protection: Yes
Low voltage protection: Yes
Overcharge Protection: Yes
The Cookies Vape pen is a top-selling vape device that has gained the ultimate public trust that a perfect vape device deserves. You are free to take the chance to use the Cookies Vape pen in public as the device achieves a stylish, convenient, and discreet nature. The vape device is made to achieve a highly attractive design that brings the real image of the Cookies model. The Cookies Vape pen features a tank that is loaded with cannabis extract. The disposable vape device comes with a pre-charged battery and as well pre-filled to ensure that you can start vaping as soon as you remove the device from its package. This gives you the ease and freedom to use the Cookies Vape pen without any worry.
What you have to keep in mind is that there is no replacement designed to be done on any part of the Cookies Vape pen. If your vape equipment is meant to be used once and disposed of once, it no longer offers you impressive service.
Body Quality and Design
What makes the Cookies Vape pen stand out in physical outlook is the solid and sturdy design it displays. The Cookies Vape pen involves a 510 secure connection between the battery and the cart. The threads on the vape device are butter smooth to give you a comfortable grip whenever you hold it. You will love the ergonomics that are meticulously crafted to come up with such a competitive vape device. The vape disposable vape is made of high-quality material, which makes it achieves dominance and appeal in the market.
 The vape device is designed to offer a more discrete vaping experience. The Cookies Vape pen achieves a small, ergonomic, and portable physical design to allow you to carry it to any place of your liking with extreme ease.
Battery and Charging
Using a device with a powerful battery is one of the best things that can happen to you. The Cookies Vape pen comes with a 350mAh battery that is installed on one of the device's sides in a decent manner. There is a button that is meant to fire on/off the device if you click it five times. It is pretty much overwhelming that you can easily adjust the vape device's temperature by pressing a dial that is meant to change the voltage from low to high.
The disposable vape device comes with a USB-C charger that is known for its fast-charging capabilities hence making you get ready for the next vaping session without much delay. Thanks to the wide opening of the cartridge as it offers ample airflow that makes filling the cartridge nothing but fun.
Pros and Cons
Pros
It features an excellent physical shape
It offers you high-quality flavors
It comes with a long-lasting battery
It delivers a wide range of weed oil cartridge options
It is highly portable
It features the draw-activation technology
Cons
The Cookies Vape pen is quite expensive
Manual, Review & Instructions
Welcome to the various Cookies Vape pen devices that you are most likely to interact with and make the most from your vaping sessions. If you are in dire need of a gadget that gives you the vibe that you desire, then you will surely find happiness in vaping. Here are the Cookies Vape pens that you should think of whenever you need to make your vaping moments worth looking forward to.
Cookie Monster Frank Bar Pro Disposable Vape
You deserve a gadget that gives you the ultimate ease and comfort to use and brings you unmatchable flavors that keep you excited all day long. This is a perfect vape device that comes in a pre-filled state that allows you to start vaping right from the moment you receive the disposable vape. The Cookie Monster Frank Bar Pro Disposable Vape is capable of offering you up to 800 puffs.
There is the inhale activation technology that makes your vaping almost effortless. All you got to do is inhale into the mouthpiece and see the Cookie Monster Frank Bar Pro Disposable Vape offering you perfect mouth-to-lung vaping. You receive a feeling that is exactly like smoking an actual cigarette, as the vapor offers you the original flavors. It is a great privilege to involve in this dessert e-liquid-rich vape device.
Pink Butter Cookie Geek Bar Disposable Vape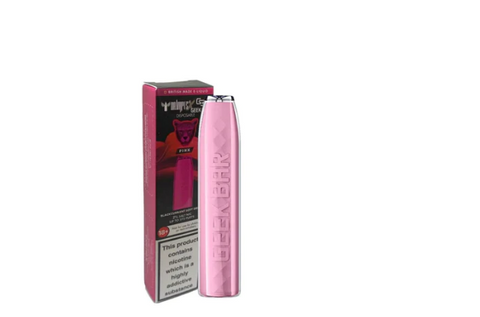 This is another wonderful vape device that allows you to use right after you have purchased it making it a favorite vape device for most vape users. For those who are new to vaping, they can easily adapt to the use of the Pink Butter Cookie Geek Bar Disposable Vape. The disposable vape device comes with a small 500mAh battery that gives a long-lasting performance that makes this gadget highly reliable. The vape device as well comes with a 2ml e-liquid capacity that allows you to enjoy up to 575 flavorful puffs.
Thanks to the capability of this amazing vape device, it lets you enjoy mouth-to-lung vaping. The Pink Butter Cookie Geek Bar Disposable vape, ensures that you enjoy smooth throat hits. This is done by the addition of 20mg of nicotine salts, and in the end, you will be granted nicotine satisfaction. Get ready to have fun with the menthol, tobacco, dessert blends, and fruit flavors.  
Frequently Asked Questions about Cookies Vape Pen
How do I use a Cookies Pen?
Unlike other vape devices, the Cookie Pen is much easier to use. The vape device is lightweight and gives you a comfortable grip. When you unpackage, the Cookie Pen is ready for use as it comes pre-filled and pre-charged.
When you start vaping, you should do it first with slow and short draws. If you start with fast and long draws, the vapor will choke you. You need to increase the intensity of the draws gradually until it reaches its peak. For you to activate your Cookies pen, you will be required to press the firing button five times. When the battery power is low, you will have to connect the Cookies pen charger to the USB port, and it will immediately start charging.
Which cartridges are compatible with the Cookies pen?
The Cookies Pen comes with 510 pre-filled carts that perfectly coordinate with the powerful battery installed along with the cartridge in the device. You will have to buy the cartridges at 30$ each for you to enjoy their noble services. You can use the high flyers, CBD, and premium carts for you to enjoy the real thrill with the Cookies pen.
What batteries are used in the Cookies Pen?
You will need 510-threaded connections that the Cookies pen is designed to use. You do not have to worry about how you can access them. You only need to visit your favorite online vape shop or visit your nearest vape store. The Cookies employs a 350mAh battery that is capable of offering you exceptional vaping performance for your daily use.
Best Vape Wholesale Supplier- UPENDS
Grant yourself a captivating vaping experience by engaging the latest features in modern vape devices from UPENDS. UPENDS is the true definition of modern innovation and style that brings a warm technological atmosphere to your reach. You are welcome to explore and discover the seamless range of exclusive offers of premium quality vape devices that will bring daily delight.
UPENDS is proud to offer you advanced and elegantly designed vape products that bring you an awesome and special feeling once you get to access one of them. The goal of UPENDS is to turn around your vaping experience and ensure that you enjoy mouthwatering flavors. The vape devices offer you refined flavors that create extraordinary moments for you.
The core mission of UPENDS is to offer you a wonderful vaping journey that will create a transformative future as it ushers you into a world of creativity. Get a chance to enjoy an enchanting vaping experience.