Full Spectrum also known as Whole plant CBD, contain other cannabinoids that are found in Marijuana plant. The extracts are got naturally from the plant itself. 
Each an every cannabinoid, offers various benefits for a liberal range of conditions. 
The following are the best full spectrum CBD vape juices Along with the aid of diagrams. 
VaporFi DIY CBD custom blend
It is one of the few full spectrum CBD vape juices which has one of the most transparent, regulated and verified vape juice producers. One can choose out of 31 tastes according to your favorite flavor. It contains artificial flavorings that is of great value. It is a full spectrum andis one of the few products that has been proved there are small concentrations of other cannabinoids than CBD in it.
SPIRO CBD Vape juice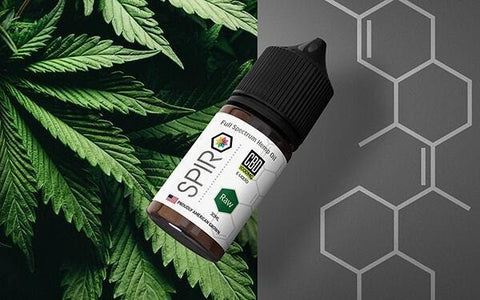 The Spiro CBD vape juice got 3 amazing flavors: The Raw Flavor that has a naturally sweet herbal taste that will sooth one's soul and has a calming effect
The Mint Flavor is basically meant for calming one's body and senses due to its light herbal flavor which is natural, of the hemp oils
The Citrus flavor it is a blend of Zesty and natural herbal sweet flavors. It soothes and relaxes. 
SPIRO's  full-spectrum CBD hemp formula vape juice is now available. Vaping CBD is the fastest and most effective way of absorption into your system, that is according to the study done. This is because it has the highest profile of cannabinoids and terpenes produced, providing you a very unique CBD vaping product.
CBDFx OG Kush CBD Terpene Vape liquid. 
The product is extremely high in levels of terpene and truly tastes exactly like OG Kush with a full spectrum of ratio of 9.08. Also the brandCBD FX got a Disposable Full Spectrum CBD Vape Pen that has different flavors such as Strawberry Lemonade, Blue Raspberry and Tropical Breeze.
Unlike CBD Vape Juice products that require additional vape gear, this pen is ready for use right out of the packaging. In each pen there is a total of 30mg of active full-spectrum organic CBD. For the new and intermediate CBD users, the dosage amount in the pens is perfect. The extract of CBD is derived from the hemp plant that are carefully selected in organic hemp farms. 
Naked 100 CBD E liquid
It is one of the few full spectrum based products and has the best throat hit of all the CBD Vape juices. It isone of the few terpenes with very low concentration of other cannabinoids. The Naked 100 CBD e-liquid is one of the few brands that are trusted in the production of the Vape juices. They've got great flavors such as Hawaiian POG and Real Berry. Naked 100 contains a ratio of 70% PG and 30% PG. 
CBD Hemp vape juice
The vape has a full spectrum with 600MG/30ML. They are one of the most well-known producers of premium CBD E-juices. Their high strength CBD vape oils are extremely effective. They've got very enticing flavors: Blueberry, Mango and watermelon. The flavors can be vaped or taken sublingually. 
Aztec classic Hemp Full Spectrum. 
The Aztec Classic Hemp, is the original Flavor of Hemp. The product is legally grown in Europe and it has resulted in it being a natural product. One should be alert that the cannabinoids used in this e liquid range its origin is from Sativa strain. As the Sativa Strain is more of a stimulant, one is recommended to use it during the day. 
Some of the products under the Aztec include Aztec Ice Mint, Aztec Super lemon haze among others.
Avida Blue Razz CBD Vape Juice
The vape got artificial flavorings and does not contain other cannabinoids than CBD. The main flavor is The blueberry flavor. 
The products under Avida come with a 30-day satisfaction guarantee for new customers. 
Blue Moon Hemp Kush
The product got a distinct cannabis taste. They keep their ingredients simple and uniquely processed. The most likely flavor you will encounter is the Kush Flavor, and it does with all the natural flavorings as well
CBD essence vape e liquid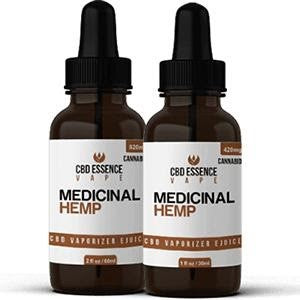 It has the Full spectrum CBD formula which is rich in minor cannabinoids. The product got a high quality American Hemp. Since it was established in 2014 it has been one of the more experienced brands on the market.
It is a high quality full spectrum extract since it does not only contain CBD but also Notable levels of minor cannabinoids.
Pure Hemp
The Product has a full Spectrum CBD formula with a High CBD Potency. Its CBD is of high quality since it comes from the organic hemp cultivated in Colorado.Pure Hemp is one of the best options for the strongest CBD vape oil. Reason being, it carries a 50 mg/ml potency thus it is considered relatively high. And the company offers full spectrum formula, meaning one will not only get CBD but also beneficial compounds such as terpenes. 
HempLucid CBD Vape juice
It is one of the first American Brands to obtain a certification for organic hemp from the USDA. The product has a high quality Colorado hemp- cultivated in Colorado. The product got only one flavor.
Koi CBD Vape juice
The brand was established in 2015 and is well known for its CBD oil. It has multiple flavors and potencies. It has developed a reputation for the past years since it has a high quality of Colorado hemp.
It is formulated with a standard base of VG and PG. It comes in different tasty flavors. 
CBDFx CBD Vape Juice
It is one of the most popular and established brands in USA. It gets its organic hemp cultivated from Kentucky. Its products go through thorough testing to confirm their safety and potency. 
The brand has Wide variety of flavors and formulas. 
From the above list, those were the 13 Best Full Spectrum Vape Juices. It is well depicted that one can comfortably acquire the flavor one wants since they are one of the best full spectrum vape juice with less cost. Because of having different flavors, either menthol, strawberry flavor or even Tropica, one could acquire. Still you can consider the location displayed on the brand's description, for easy accessibility of your favorite vape juice. 
Still it has been indicated if it is suitable for sub-ohms or not, so as to let the vapors be comfortable with the vape juice they are buying. 
The quality of the Vape juice it depends on its ingredients and for how long the brand has been in the industry. This will satisfy the vapor's interest. 
Wholesale Vape Sources: UPENDS  
UPENDS is the new rising e-cigarette brand. With this device, you can put your own flavor of CBD vape juice that you'd wish to have. UPENDS is still the leading brand and wholesaler of vaping products. The developer allow you to enjoy your vaping experience, at the comfort of your flavor at a wholesale price. Their products are developed and presented in a pen stylus design, easy to carry along, anytime anywhere one can vape. 
With UPENDS they assure each vapor of great disposal and allow one to vape at a lower cost. 
UPENDS gives a chance of vapors to refill the vaping pens once they are over, that explains the reason why they are of a lower cost. This will favor the vapor's in terms of spending money. 
The pod Kit is designed for people chasing both hygiene and style. It can be recharged within 1Hour. The Pod can only sustain 3-5 refilling with your own taste on the vape juice you are going to refill it with. 
The brand is focusing and ensuring on each detail during use and strive for easier, amazing and absolutely fine experience. 
One is suggested to place an order through their official website at UPENDS
, since the brand is establishing their global distribution panel.