Innokin, a renowned company in the vaping industry, has a long-standing reputation for producing high-quality vaping devices. The MVP series, in particular, has garnered a loyal following over the years.With the release of the Innokin MVP5 Ajax Kit, Innokin has taken their innovation and functionality to new heights. In this comprehensive review, we will delve into the features, performance, and overall user experience of the MVP5 Ajax Kit.
Features and Specifications of Innokin MVP5
The following are features and specification of MVP5. They include;
5200mAh battery: The MVP5 has a large built-in battery that can provide up to 120W of power and last for a full day of vaping on a single charge.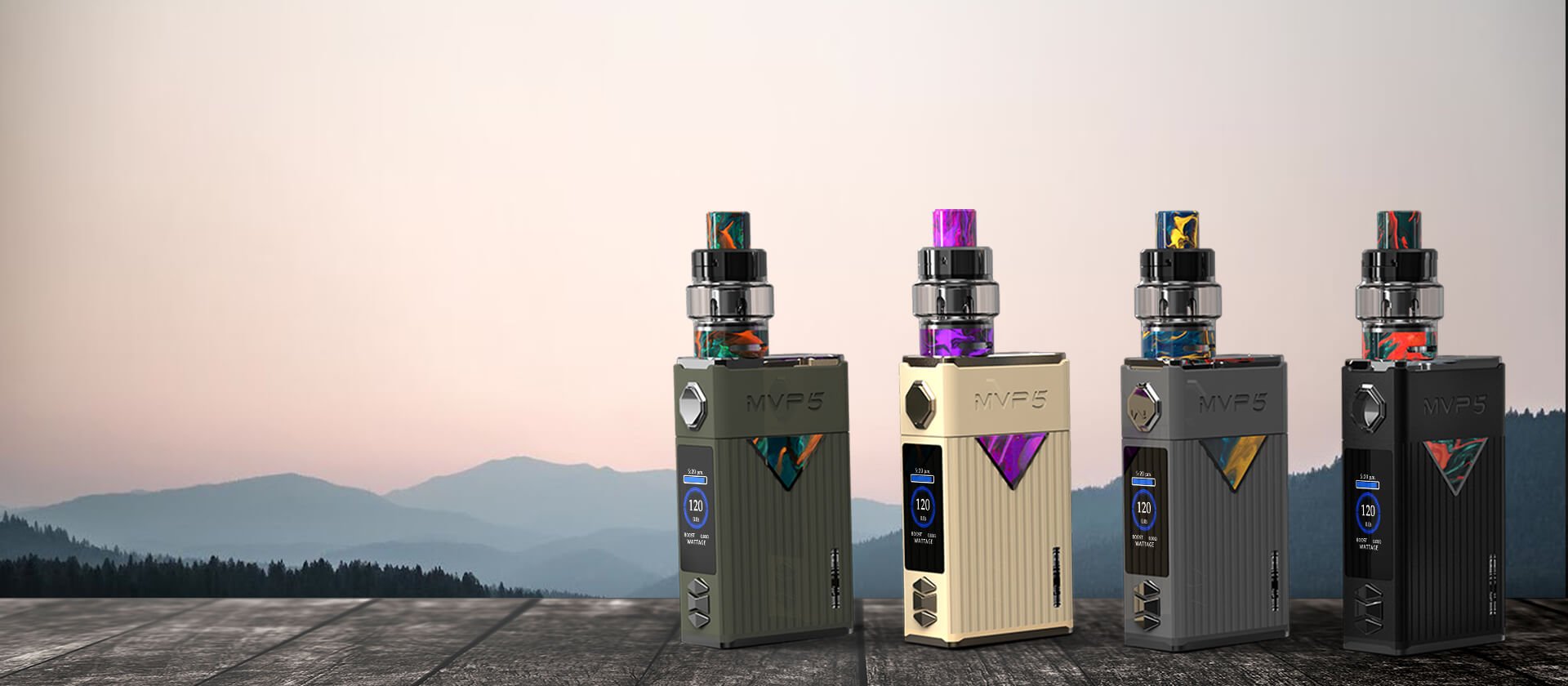 120W max output: The MVP5 can output up to 120W of power, making it a great choice for vapers who prefer a powerful vaping experience.
Temperature control: The MVP5 supports temperature control for Ni200, Ti, SS, and TCR coils. This allows you to vape at a specific temperature, which can help to prevent dry hits and produce more flavorful vapor.
Wattage presets: The MVP5 has 4 wattage presets that you can customize to your liking. This makes it easy to switch between different vaping styles without having to adjust the settings every time.
5ml Ajax tank: The MVP5 comes with the Ajax tank, which has a 5ml e-liquid capacity. This means that you do not have to refill the tank as often, which can be convenient when you are on the go.
LED flashlight: The MVP5 has a built-in LED flashlight that can be used in dark places. This can be helpful if you are vaping outdoors at night or if you need to find something in your bag.
Shockproof and dustproof: The MVP5 is shockproof and dustproof, making it a durable device that can withstand everyday use.
USB-C charging: The MVP5 can be charged quickly and easily using the included USB-C cable.
Design and Build Quality
The MVP5 Ajax Kit boasts a rugged and durable design, making it perfect for outdoor enthusiasts. Its solid construction instills confidence in its longevity, ensuring that it can withstand the rigors of daily use. The kit is available in five different specifications, with each variant featuring a distinct color scheme. The inclusion of a 510-drip tip adds a touch of elegance to the overall design.
Ajax Tank
The MVP5 Ajax Kit comes paired with the Ajax Tank, which offers a satisfying vaping experience. With a 24mm overall diameter, the tank sits flush on the mod, creating a seamless aesthetic. The sliding top refill system allows for easy and mess-free refilling, while the bottom adjustable airflow provides precise control over the airflow settings.
The tank has a juice capacity of 2ml, perfect for regular vaping sessions. However, for those who prefer longer vaping sessions without frequent refills, the inclusion of a bubble glass option increases the capacity to 5ml.
The Ajax Tank utilizes innovative mesh coils for enhanced flavor and vapor production. The Ajax Plex3D single mesh coil, with a resistance of 0.35 ohm, operates at a recommended wattage range of 30-55W.
MVP5 Mod
At the heart of the MVP5 Ajax Kit lies the MVP5 Mod, a true powerhouse that sets it apart from its predecessors. The MVP5 Mod boasts an impressive 5200mAh built-in battery, ensuring long-lasting vaping sessions without the need for frequent recharging. Additionally, the mod doubles as a power bank, allowing users to charge their USB-powered electronic devices on the go.
The MVP5 Mod offers a wide range of features and modes to cater to different vaping preferences. It includes three wattage modes: Normal, Boost, and Soft, providing users with flexibility in adjusting their vaping experience. Temperature Control (TC) and Temperature Coefficient of Resistance (TCR) modes are also available for those who prefer more advanced vaping techniques.
New Coil Detection and Ohms Value
One notable feature of the MVP5 Mod is its ability to detect new coils and display their corresponding Ohms value. When a new coil is installed or the atomizer is reattached, the mod will show a "NEW COIL DETECTED" message, along with the detected Ohms value.
Users have the option to keep the same Ohms value and mode as the last coil by selecting "SAME," or they can choose to save the new Ohms value and apply the selected mode by opting for either "WATTAGE" or "TC MODE."
This functionality ensures accurate resistance reading and allows users to tailor their vaping settings accordingly. For convenience, the mod also provides the option to select the correct coil type from the menu, making it even easier to configure the device for optimal performance.
Vaping Performance
When it comes to performance, the MVP5 Ajax Kit truly excels. The mod delivers near-instant firing times and consistent wattage ramping, ensuring a smooth and enjoyable vaping experience. Whether using the included Ajax Tank or other compatible tanks, the MVP5 handles atomizers with precision, accurately detecting resistance and recommending the appropriate wattage.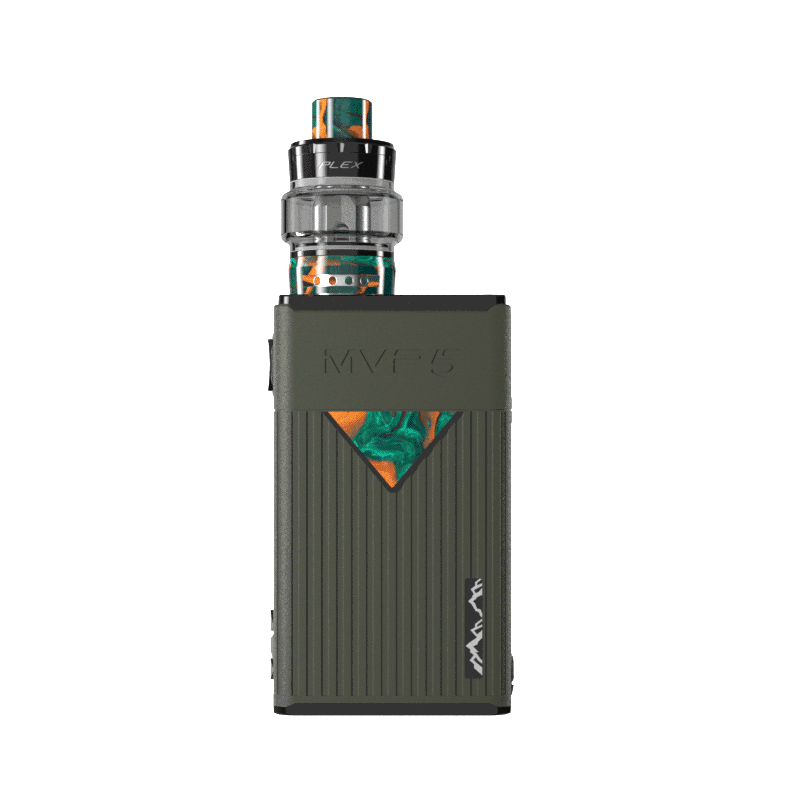 The MVP5 Mod offers a wattage range of up to 120 watts, providing ample power for both mouth-to-lung (MTL) and direct-to-lung (DTL) vaping styles. Users have reported no misfires, power spikes, or stutters during their usage, showcasing the reliability and efficiency of the device. The OLED screen, with its clear and vibrant display, enhances the overall user experience by providing easy access to essential vaping information.
Additional Features
Innokin has equipped the MVP5 Mod with a range of additional features, some of which are geared towards outdoor enthusiasts. These extras include a built-in 6-mode flashlight, altimeter, barometer, compass, and temperature detection.
While these features may seem like gimmicks to some, they can be valuable tools for those who enjoy outdoor activities such as hiking, camping, or adventuring.
The flashlight, in particular, offers six different modes, catering to various lighting needs. The altimeter, barometer, and compass provide useful information for those navigating unfamiliar terrains. Additionally, the temperature detection feature ensures that users are aware of the ambient temperature, allowing for more informed vaping decisions.
Pros and Cons
As with any vaping device, the Innokin MVP5 Ajax Kit has its strengths and weaknesses. Here are some of the pros and cons based on user feedback:
Pros
Amazing integrated battery performance: The 5200mAh battery provides long-lasting power and doubles as a power bank for charging other devices.
Gorgeous OLED screen: The vibrant display enhances usability and visibility of essential vaping information.
Durable and versatile: The rugged design ensures durability, while the range of features and modes cater to different vaping preferences.
Cons
Survival tools extras are a little silly: While the outdoor-themed features may appeal to some users, others may find them unnecessary or gimmicky.
Ajax tank isn't as good as the PLEX: Some users have reported that the Ajax Tank does not provide the same level of flavor and performance as the PLEX tank.
Limited availability: The MVP5 Ajax Kit may not be widely available in all regions, making it more challenging for some users to purchase.
FAQs About Innokin MVP5
What is the difference between the Innokin MVP5 and the Innokin MVP4?
The Innokin MVP5 is the successor to the Innokin MVP4. It has a larger battery, a higher wattage output, and supports temperature control for a wider range of coil materials. It also has a built-in LED flashlight and is shockproof and dustproof.
How long does the Innokin MVP5 battery last?
The Innokin MVP5 battery has a capacity of 5200mAh and can last for a full day of vaping on a single charge. The exact battery life will vary depending on the wattage you vape at and the frequency of your vaping.
How do I charge the Innokin MVP5 battery?
The Innokin MVP5 can be charged using the included USB-C cable. Simply connect the USB-C cable to the port on the side of the device and connect the other end of the cable to a power source. The battery will be fully charged in approximately 2 hours.
Best Wholesale Vape Supplier – UPENDS
UPENDS is a wholesale vape supplier that offers a wide variety of high-quality vaping products at competitive prices. They have a large inventory of products, including disposable vapes, vape kits, e-liquids, and more. UPENDS also offers a variety of shipping options and customer support services.
Some of UPENDS' most popular products include the UPENDS MAX POD, the UPENDS DISPOSABLE, and the UPENDS DRAG BAR PLUS DISPOSABLE. These products are all known for their high quality, long-lasting battery life, and flavorful vapor production. UPENDS is a great option for businesses that are looking to sell vaping products.
Conclusion
Innokin has once again demonstrated their commitment to innovation and quality with the MVP5 Ajax Kit. This vaping device offers an impressive array of features, excellent performance, and a durable build. Whether you're an outdoor enthusiast or simply looking for a reliable and powerful vaping device, the MVP5 Ajax Kit is worth considering.
With its long-lasting battery, versatile wattage modes, and innovative coil detection, the MVP5 Ajax Kit provides a personalized vaping experience. While the inclusion of outdoor-themed extras may not be for everyone, they add a unique touch to the device.
Overall, the Innokin MVP5 Ajax Kit is a solid choice for vapers who prioritize performance, durability, and versatility. It delivers on its promises and is sure to satisfy both beginners and experienced vapers alike. So why wait? Experience the ultimate vaping device with the Innokin MVP5 Ajax Kit today.